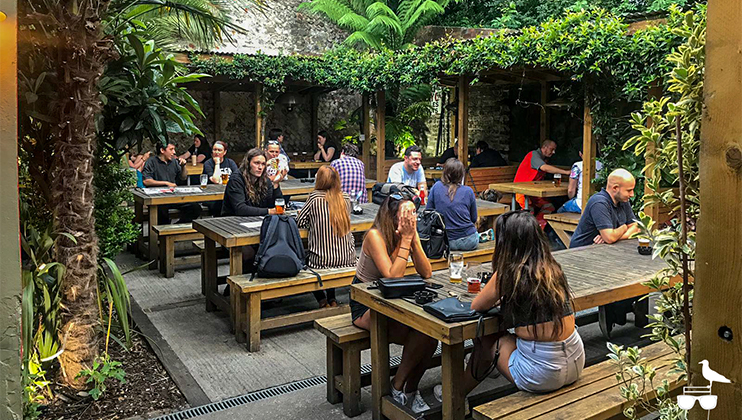 Discover Brighton's sunbaked beer garden oases, perfect for sunbathing, live music and good times.
For interesting gifts for adults, you can also check UK's best beer subscriptions
The George Payne
The George Payne on Payne Avenue in Hove has a distinctive, quaint vibe, and you certainly won't miss it with its pale blue walls and enormous pot plants out front. Their beer garden is compact and cottage-like, with trellis-growing plants and bouquets of flowers on each table. Real ales, ciders and good wines are served alongside home cooking in this relaxed and intimate pub.
Image Credit: The George Payne
The George Payne is located at 18 Payne Ave, Hove BN3 5HB.
---
The Gladstone
The Gladstone on Lewes Road is a proudly laidback joint, and a definite student favourite. Boasting a brand new beer garden with sleek wooden tables surrounded by leafy creepers and pot plants, they're a big purveyor of barbecued food, making their beer garden the perfect place to enjoy a burger and a pint in the summer heat.
Image Credit: The Gladstone
The Gladstone is located at 123 Lewes Rd, Brighton BN2 3QB.
---
Grand Central (Open from May)
The Grand Central is a large pub / bar beloved for its theatre, gin bar, location (it's right by the train station) and its secret rooftop terrace. This little suntrap, decked out with brightly coloured chairs and pot plants, is without a doubt one of Brighton's best kept secrets, and although not a beer garden in the strictest sense, we hope you'll make allowances when you see how pretty it is. A great spot to see the afternoon through to evening and watch the summer sunsets with a glass in hand.
Image Credit: Grand Central
Grand Central is located at 29-30 Surrey St, Brighton BN1 3PA.
---
The Sidewinder
The Sidewinder has been growing in popularity in recent years, and with a beer garden like that you can see why. Heated wooden booths mean even if the sun refuses to shine the outdoor option remains open, and a lounge area outside allows groups to sprawl across sofas in the heat. Located in the heart of Kemptown, some of Brighton's biggest DJs grace the pub's decks at the weekends, when you can also make the most of their 'build your own Bloody Mary' bar.
Image Credit: The Sidewinder
The Sidewinder is located at 65 Upper St James's St, Brighton BN2 1PJ.
---
Hove Place
Another of Hove's treasures, the outdoor area at this 'bistro pub' is a peaceful corner of calm. The Italian style garden features graceful Grecian sculptures interspersed with lush greenery and light-coloured furniture, and their proximity to the seafront means you'll feel transported to the Mediterranean. They also offer a great array of cheeses and charcuterie, so sharing platters are a must.
Image Credit: Hove Place
Hove Place is located at 37 First Ave, Hove BN3 2FH.