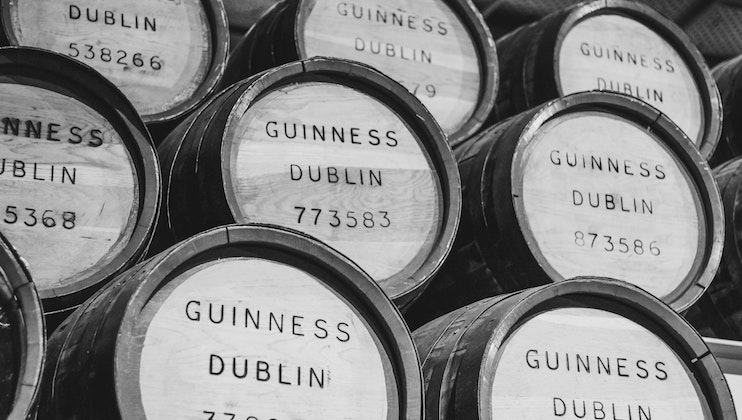 Enjoy a pint of the black stuff on St Patrick's Day next week!
---
Spotlight on: The Fiddler's Elbow
11-12 Boyce's Street, Brighton, BN1 1AN
Every day is St Patrick's Day at Brighton's premier Irish bar - especially throughout the much-loved month of March! Celebrate the best of Irish culture with a welcoming pub, regular Six Nation Screenings and, of course, a pint or two (or more) of Guinness! For those who don't know, Guinness is a dark stout that's produced in Dublin. It's best served ice cold in Ireland itself, but it tastes pretty damn good over here in England too!
The Fiddler's Elbow proudly declares itself as the best pint of Guinness in Brighton, as well as being the cheapest! Pints of the black stuff cost £3 all-day each Mondays, whilst a Guinness and whiskey chaser comes in at just £6.80 for a truly Irish experience! The bar will be celebrating St Patrick's Day in all its glory over the next week, with their annual street party bringing Irish dancers, Irish stew and as much Guinness as you can handle on 14-15 March! Catch some traditional Irish music on 16 and 17 March and be sure to bring along your lucky Shamrock!
---
Best of the rest:
---
Molly Malone's
57 West Street, Brighton, BN1 2RA
What? Ever-popular Irish Tavern with live music every night.
Where? Just down the road from the Jubilee Clock Tower, along West Street!
Why? Part sports bar and part Irish pub, Molly Malone's is another unbeatable spot for a pint of stout. Enjoy the traditional Irish music and catch the Six Nations and other sports games on the big screens - good craic to be had by all.
---
Shortt's Bar
46 St James's Street, Brighton, BN2 1RG
What? Live music and comedy venue with special St Patrick's Day celebrations!
Where? In the heart of eclectic Kemptown.
Why? Shortt's Bar might not necessarily be an Irish bar, but it's certainly an excellent spot to enjoy a year-round Guinness. With comfy, tavern style seating, a classic dart board and an excellent heated beer garden, Shortt's Bar are sure to offer you a warm welcome and a cold pint on St Patrick's Day and beyond.
---
The Bugle Inn
24 St Martins Street, Brighton, East Sussex, BN2 3HJ
What? Traditional Irish pub with over 150 years of local history.
Where? Tucked away in residential Lewes, just 5 minutes from The Level.
Why? The Bugle Inn have been serving Irish and English folks' pints of Guinness since 1850, with a long and fascinating history that links the pub with the wider area. Enjoy a tasty pint, an Irish whiskey chaser and a bite to eat at The Bugle Inn for St Patrick's Day!