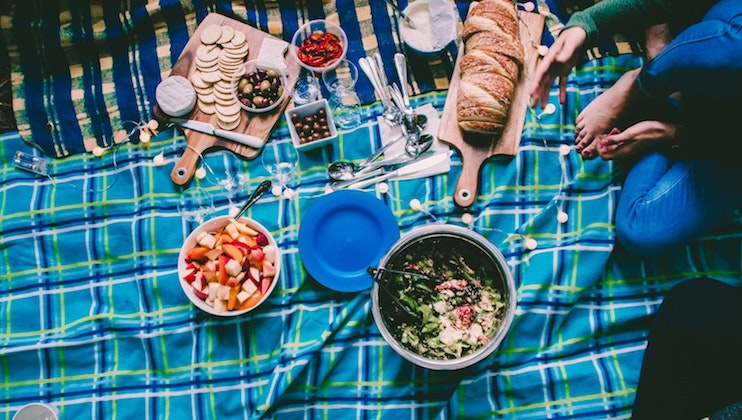 Today's the day you have decided to go for a picnic! Next step is deciding on where. We have put together our top five to help you decide...
---
Devil's Dyke
Devil's Dyke is in the heart of the South Downs and is one picnic spot that offers you both the view and escape from the busyness of city life that you are looking for on a weekend! While this beautiful spot offers a place that fits all types of activities, from kite-flying and cycling. It's a must-visit spot for a picnic. If you are feeling energetic after making your way through that picnic basket, visit here for a list of scenic walking tours carefully created by the National Trust. For those mushroom hunters out there, they have also put together a fungi hunt that kicks off in October.
Watch the Paragliders whilst you picnic - Image credit: Jake Archibald
More information can be found on the National Trust website
---
Ditchling Beacon
Apart from begin associated with various sporting events, with one of its roads famous for being incorporated into the 1994 Tour de France, Ditchling Beacon is another great spot for a picnic. The charm of Ditchling Beacon is the great height from which you can see stunning scenery for miles and miles around, making it the perfect picnic spot. Transformed into a nature reserve by the Sussex Wildlife Trust you also have the chance to catch a glimpse of a green hairstreak or chalkhill blue butterfly while you are tucking into your cucumber sandwiches!
Click here for more information
---
Hove Parks
Hove Parks offers a number of activities to keep those who can't sit still entertained - such as football pitches, tennis courts and even a bowling green. This a top spot for a picnic, as there is something for everyone! What makes this park extra special is the miniature railway (because who doesn't love one of those!). Brighton and Hove Society of Miniature Locomotive Engineers run this right through the park. All aboard!
Find out more about
---
Hove Parks
---
Royal Pavillion Gardens
Grey squirrels, robins, chaffinches, poppies and a fabulous assortment of other perfectly maintained trees and flowers, the Royal Pavillion Gardens has made it into this top five as one of the most delightful spots to spend a sunny afternoon picnicking. With a range of activities from choirs to garden parties and performances by the Salvation Army, this is certainly an all round spot for a grand ole' day out at the weekend.
Go to their website to find out more
---
St Ann's Well Garden
Who doesn't love a good tree? Our final stop on this epic top five is St Ann's Well Garden and what a selection of trees it has on offer! From native to exotic trees, counting the Horse Chestnut, Judas, Poplar, Dawn Redwood and Elm amongst its many varieties, this is certainly a visit picnic destination. However, there is more to this garden than its trees, it's also home to St Ann's Well, a story full of murder and intrigue... Most of all, this is a public park which must be enjoyed by picnic-lovers!
Head to the St. Ann's Well Garden website for more information