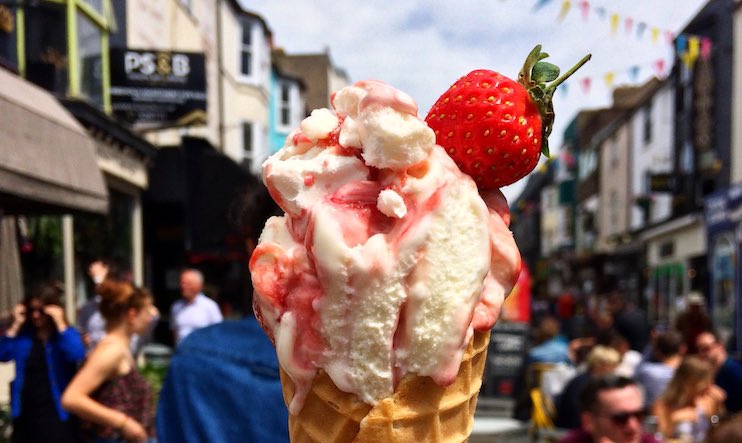 The sun is shining in Brighton and sorbet, gelato and good old-fashioned ice cream are on the menu
The sun is shining in Brighton and sorbet, gelato and good old-fashioned ice cream are on the menu.
Spotlight On:
---
Boho Gelato
6 Pool Valley, Brighton, BN1 1NJ
31 Ship Street, Brighton, BN1 1AD
Boho Gelato have been creating unique and exciting ice cream flavours in Brighton since 2010. Nine years on and the award-winning company still create 24 unique flavours daily in the basement kitchen of their Pool Valley shop. Of those 24 flavours, they transport 12 of their ever-changing flavours to the smaller shop on Ship Street, ensuring that both shops have vegan options and daily specials available.
Devoted to creating high quality gelato and sorbet whilst keeping it fun and fresh, Boho Gelato boast a huge range of 400 ice cream flavours. 24 flavours are made fresh in store each day, and the recipes change as and when the product sells out. Keep a keen eye on their social media to find out what's available before you head down, but rest assured there's always something for everyone. Opt for an expertly made artisan classic such as Sour Chery, Sea Salt Caramel or Cookies and Cream, or branch out with something a little different, such as Thai Green Tea, Pina Colada or Brioche Marmite. They also create seasonal specials like the best-selling Vegan Crème Egg and crazy concoctions like Avocado & Marmite. Check out this site for 3-for-2 on your Boho experience… as we're sure you won't be able to pick just one of these remarkable flavours.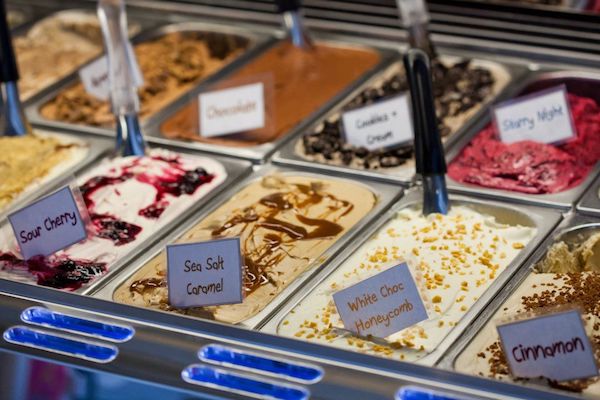 Image credit: Boho Gelato Italian Ice Cream via Facebook
---
Best of the rest:
---
Gelato Gusto
2 Gardner Street, Brighton, BN1 1UP
What? Premium ice cream parlour offering home-made ice cream and gelato using milk local to Sussex.
Where? North Laines.
Why? Founded in 2012, Galto Gusto's owner trained at the University of Gelato in Bologna and has been creating luxury ice cream products ever since. A stylish parlour where you can also enjoy quality Roastery Department coffee, as well as milkshakes and freakshakes created from their own ice cream flavours. Try their Pistachio, Pink Champagne or Red Velvet Cake flavours.
---
La Mucca Nera
107 St James's Street, Brighton, BN2 1TH
What? A gelateria, pasticceria and wine bar all under one roof.
Where? Not far from the pier and towards Kemp Town.
Why? Owned by an Italian with two generations of gelato creators in the family and a true Brightonian, this ice cream parlour combines amazing flavours as well as true local produce. As well as artisanal gelatos and obligatory milkshakes, the gelateria also offers desserts, pastries and fresh coffee, as well as a range of classic cocktails. If you can think of a better way to spend a summers day than with a scoop of dairy free Strawberry Sorbet and an Espresso Martini, then please do let us know.
---
Scoop and Crumb
5-6 East Street, Brighton, BN1 1HP
What? Ice cream and dessert place that specialises in waffles, sundaes and good coffee.
Where? Heading down towards the seafront, opposite East Street Tap.
Why? Loads to choose from here at Scoop and Crumb, where you can customise a waffle, or grab an individual slice of cake or brownie. They do amazing sundaes, including hot ones and banana splits. They even do remarkable Big Boys which are 100% for sharing, such as the Die Happy which includes 18 scoops of ice cream, 8 sauces, 3 fruits, 4 toppings, pieces of brownie and some whipped cream.
16 Kensington Gardens, Brighton, BN1 4AL
What? Decadent ice cream parlour offering unique organic flavours.
Where? On Kensington St, near the White Rabbit pub.
Why? Central spot, ideal for grabbing a scoop or two whilst browsing the Laines. Friendly and helpful staff are immensely proud of the organic ice cream made in the basement of the shop, so don't hesitate to ask to try a flavour before committing to a scoop. With this in mind, dare to try something new and pick out an exciting flavour like Cardamom, Rose and Saffron or Ginger. Well worth waiting for a table and the slightly higher price point, this place is a local's favourite.