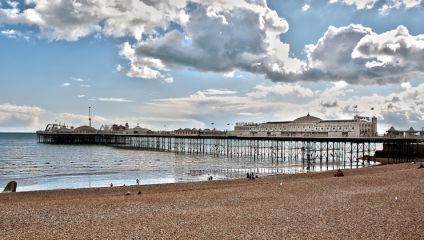 If you're giving sober October a go, then check out our guide to alcohol free fun in Brighton
Socialising with your friends shouldn't always leave you waking up with a brutal hangover, but it can be hard to find a fun friendship group activity that doesn't lead you straight to the pub. Here at Culture Calling we're giving Sober October a go, hoping to swap a month of bleary heads for a month of memorable days (and nights) out. Group chats at the ready - this is our round up of booze free things to do with friends!
---
Get active
We're not for a second suggesting that you and your friends should spend the month hitting the gym together - that doesn't sound fun at all. But Brighton has plenty to offer in the way of active fun that doesn't require a boozy start. Perhaps meet up and head to the Sky High trampoline park, where you can spend an entire hour bouncing and flipping for just £10. Be sure to head down on an evening to avoid the daytime onslaught of bounding toddlers, however! Alternatively, awaken your gang's competitive side and embark on a game of laser tag at Brighton's LaserZone, where you can navigate a smashed aircraft and score points using state of the art laser packs.
Providing you haven't got any friends that are deadly scared of heights, think about heading out to the treetop adventure spot of Branching Out Adventures or even have a go on the seafront Brighton Zip! And whilst it's a bit of a stretch to count crazy-golf as an active adventure, a night out at Globalls is another exciting evening activity that doesn't require a bev!
---
Treat yourself
If you're about to have a month free of drinking, then make the most of that and put your body into full self-care mode. Brighton is awash with really nice spas and they don't all have to break the bank. Visit The Float Spa with one or two friends to enjoy a floatation therapy session in your own private room, receiving discounts when you come as a group. Or, seeing as you're saving money on those sneaky after-work pints, splash out and visit Spa Tara for a luxury spa day. This includes use of the steam room, a variety of treatments and a two-course lunch at Bella Napoli! For a more alternative spa experience we recommend heading to Beach Box Brighton, where you'll find a natural wood-fired sauna conveniently located near the seafront for cold fresh water plunges.
---
Use your head
Your cognitive skills are no doubt going to be working at full speed without the hazy fog of Happy Hour drinks, so make use of this and enjoy a team escape room! On London Road you'll find Escape the Vault, a 40-minute experience where you're tasked with robbing one of Brighton's oldest bank vaults! It's £40 for a group of four, and all you need to bring is a fully charged smartphone. Or head down in a group of seven and take on the Bewilder Box, an immersive puzzle based adventure that'll let you live out your 1980's Crystal Mazedreams. Finally, you'll find four immersive escape rooms at Brighton's Pier Pressure, a place to hunt for missing jewels, look for your friends in a rave or solve the Modrophenia murder mystery! Just be sure to turn down the free drink they offer at nearby pub The Windmill…
---
Enjoy a mocktail or two
You've done great so far so keep it up. Your body will no doubt thank you when the onslaught of winter and festive drinking begins in mid-November! But, staying sober doesn't mean you can't simply enjoy sitting in a bar and having a laugh. So many bars and restaurants offer mocktails and alcohol-free options these days, so you won't get stuck drinking watered down orange juice all evening. Head to Plateau and try their Cold Fashioned, a coffee, syrup and orange & chocolate bitters cocktail that tastes like an Espresso Martini. The Latin American restaurant and bar Las Iguanas has an extensive menu of mocktails (and they're all buy one get one free), so head down for a Virgin Pina Colada or a Watermelon & Ginger Cooler! Finally, big chain restaurants like Pizza Express now offer a Seedlip & Tonic, the official alcohol-free equivalent of the G&T!