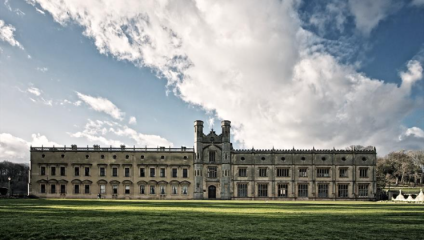 Bristol's got culture on every corner, with so many museums and gallery spaces to pick from, we've selected our top 5, and best yet, they're free!
Bristol is a city that can charm on any budget. From the fascinating remnants of a merchant past, to art galleries and museums, get out of the crowds and step into somewhere else this year - wallet not needed! Check out our selection of Bristol's free museums and galleries.
M Shed
Princes Wharf, Wapping Road, Bristol, BS1 4RN
A museum that challenges traditional ideas. Situated on the Harbourside, this timeless and industrial building tells the story of the city of Bristol. Exploring everything from the prehistoric times to the 21st Century with both thought provoking and fun recollections gathered by historians giving you the perspective of what it really was like to live in Bristol over certain time periods.
There are a number of rooms and exhibitions that visitors can explore for free with historical walks of the old city, behind the scenes tours of the city's maritime past and immersive art exhibitions such as 'Building a Martian House'. Visit the Bristol Places gallery to learn about the cities past and the events that led to its modern-day values and communities. Highlights include Bristol's very own dinosaur (Thecodontosaurus to be precise), exhibits on WW2 preparations and the evolution of Bristol's suburbs. Make sure to stroll around outside afterwards and marvel at the cranes (one of which was a treehouse home!), the expansive water and the nearby shopping and coffee magnet Wapping Wharf.
---
The Georgian House Museum
7 Great George Street, Bristol, BS1 5RR
Bristol's history is sadly one that is linked to the slave industry & the accompanying international trade of crops such as sugar. The Georgian House Museum shows us what a rich merchants house would have been like back in 1790 with all members of the households' lifestyles covered. Across 11 rooms, you can navigate hidden staircases, a cold-water plunge pool and a luxurious dining room. Guaranteed to leave an impression and make you thankful for the luxuries of modern life.
Entry is free however booking a slot beforehand is highly advised. You can do that here.
---
Arnolfini
16 Narrow Quay, Bristol, BS1 4QA
The Arnolfini is Bristol's International Centre for Contemporary Arts. Situated in a prominent Grade II listed building right next to the glorious Harbourside waters (a great place for a cider in the summer!), the building cultivates a rotating selection of ambitious and diverse visual art, dance, performance, film, music and exhibitions designed to appeal to a broad audience and most of which are free.
There are a number of enjoyable, interactive (and free) experiences for all ages to choose from adult creative wellbeing workshops to the wake this ground exhibition, celebrating what lies above the forest floor.
Check out the beautiful bookshop or excellent Arnolfini Cafe Bar on the way out for some incredible Bristol Beer Factory refreshments.
---
Bristol Museum and Art Gallery
Queens Road, West End, Bristol, BS8 1RL
Deep in student territory and situated on 'The Triangle' is the magnificent Bristol Museum & Art Gallery. With three cavernous floors and halls of galleries that cover many-many topics including - the last billion years of the Earth, Somerset's natural resources and Egyptian mummies. A visit will offer you as peaceful retreat from the busy streets outside. Make sure to take a trip up the epic Cabot Tower in the nearby Brandon Hill Park.
Current exhibitions include Miniature Masterpieces from Japan, a virtual reality experience exploring the Oracle of Zeus and William Hogarth's Altarpiece.
Being in the city centre, the museum tends to get very busy quite quickly and we highly recommend you book a slot. You can do that here.
---
Ashton Court Estate
Ashton Court, Long Ashton, Bristol, BS41 9JN
Whilst not necessarily a museum or gallery, we had to include Ashton Court Estate for reasons that are immediately obvious upon arrival. It's absolutely stunning and filled with history. Wild, yet regal, the estate is set over a sprawling 850 acres of wood and grassland (which are home to lots of deer!). There's rolling countryside, paths and bike trails to explore making it perfect for a weekend stroll, picnics and the famous festivals that are sometimes hosted there. Best yet, it's free and only two miles outside of the city centre.
The original Manor can be traced back to the sixth century; with the current great hall said to match the exact dimensions of the Saxon Hall. Not many people have explored this interesting mansion and the Grade I listed building is an architectural puzzle. With centuries of rebuilding and re-invention leaving it with an array of secret passageways and rooms.
Whether it's the Manor you're choosing to visit, or the grounds you wish to whimsically explore, both the nature and the history will leave you both revitalised and hungry to discover more.
---