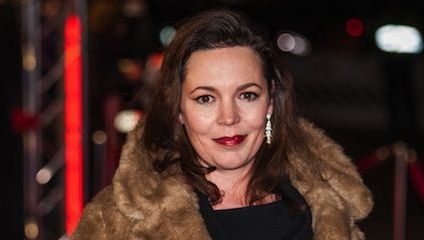 London Calling spoke to actor Olivia Colman about her West End return

Olivia Colman may have first come to prominence for her comedic work as Sophie Chapman in the Channel 4 comedy series Peep Show, but it is in playing serious - and sometimes difficult - women that the actress has won the greatest critical acclaim. The evidence comes in the form of three BAFTAs: one for what is arguably her most famous role - DS Ellie Miller in ITV's grim crime series Broadchurch - and another at this year's Golden Globes, when she was awarded the Best Supporting Actress gong for her performance in slow-burning thriller The Night Manager. But the actress's current starring role in Mosquitoes at the National Theatre is a return to the stage that is as surprising as it is welcome.

Olivia Colman doesn't do a huge amount of theatre work, which is odd because she is very good at it. Following her previous stint on the West End in Noël Coward's Hay Fever in 2012, Colman confessed in an interview that at one point during the run she made "really bad mistakes and got the giggles", something she felt West End audiences didn't deserve. But when referencing an actor who is so famously humble, it's difficult to know the true extent of her folly.
Olivia Colman in The Night Manager
Returning to the stage in Lucy Kirkwood's brilliant new play Mosquitoes, Colman is already wowing critics. She and Olivia Williams star as Jenny and Alice, two sisters sat at alarmingly different ends of the spectrum.
Alice, based in Geneva, is a brilliant physicist who has worked for 11 years on the Large Hadron Collider and is about to celebrate an important scientific breakthrough. Her sister, however, sits on the edge of a breakdown. Living in Luton, she sells medical insurance and is the sole carer for their mother who suffers from dementia. At the start of the play she is pregnant, but we soon learn that the child has died following her mother's failure to vaccinate her over fears of the MMR jab. Jenny's mistrust of science versus her sister's devotion to it is one example of the enormous gulf that exists between the two, albeit their disagreements over science are only a handful of many polar opposites.
"I think exploring human emotion and opinion is fabulously exciting," says Colman. "It's effectively saying, 'This is who I am and this is how I fit into the social equation'… and that may or may not be what you agree with.
"It's really interesting to explore this in a theatrical and artistic sense, because although we like to argue a point, challenge opinion and all that, and although people become really disenchanted with what others think and why they think it, it's really at the heart of humanity to be different from others. What would we be if we didn't have that?"
Olivia Colman
As far as Mosquitoes goes, being a downtrodden woman is surely familiar territory for the 43-year-old - her portrayal of long-suffering DS Ellie Miller being the performance that lifted her current status. Witness also her stunning role as a charity shop worker who eventually murders her abusive husband in the film Tyrannosaur - another defining contribution.
Yet Colman doesn't want to be defined purely in that way. "I think there is a shyness about the characters I play and perhaps, me being me, that comes across well, but versatility is key in the arts, no matter what you do. I've played the Queen of George VI in Hyde Park on Hudson, so I can give it a bit of authority when I want to," she laughs.
Whether aggressive or submissive in performance, Colman's own private life has been enviably straightforward. Raised in Norfolk, she spent a term studying primary teaching at Homerton College, Cambridge, where she would meet future collaborators David Mitchell and Robert Webb through the university's Footlights Society. Her early endeavours there led to her falling in love with her future husband - and father of her three children - Ed Sinclair at first sight.
"People say I am effortlessly laid-back in the roles I take," she says. "I'm not sure that's true - I just try to take a light-hearted approach to work because as important as it is, it's never more important than my family. That's my formula."
Olivia Colman in The Night Manager
The formula is evidently working - reviews of Mosquitoes heap high praise on both its female leads and you sense, at 43, the actress is exactly where she wants to be.
"I am very happy. I mean, look at where I come to work each day - it's an incredible setting," she smiles. "I've always said it: the National Theatre is a space that offers something for everyone, and so it should. It's about access, affordability and brilliant artistic endeavour by all involved.
"Theatre-going shouldn't be a privilege for the few - it's at the heart of how we create so much art these days and it defines us as a society, so we should continue to encourage, explore and celebrate that as much as we can."
Mosquitoes runs at the National Theatre until 28 September. Day tickets are available.