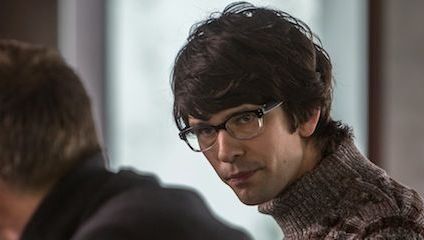 The TV, film and theatre star talks to London Calling about his varied career to date.

British actor Ben Whishaw is currently starring in Against at London's Almeida Theatre, which runs until the end of September. Here, the 36-year-old speaks to London Calling about staying behind the veil.

Having graduated from RADA in 2003, Ben Whishaw quickly began to turn heads when he landed the lead role in Trevor Nunn's production of Hamlet at the Old Vic - a production that received rave reviews, and a performance that garnered him an Olivier Award nomination for Best Actor.

Some actors might have been intimidated by the pressure of such a strong early accolade, but the Bedfordshire-born star has quietly blossomed to become one of the industry's more unassuming leading men. Elegantly hopping from theatre to television to film and back again, in Jane Campion's Bright Star he played the pensive John Keats; in the film adaptation of Perfume: The Story of a Murderer he was a withdrawn and warped sociopath; in BBC drama London Spy a hedonist gay youth. In mainstream cinema, however, he brought Q bang up to date in the James Bond franchise. But doesn't such a wide array leave him open to misinterpretation?

"It's a good question," he begins, "because there has been a real scope to my work. I'm a private actor in the sense that I really embed myself in the character and don't tend to do too much on the circuit outside of that - I don't really find that necessary.

"I think I have to say I'm not pursuing this path to make a statement - I'm just really passionate about what I do and it's nice to see the enjoyment it gives people. I really don't do bravado!"
Ben Whishaw
As for current projects - well, if they say theatre is a reflection of society, then playwright Christopher Shinn's Against at the Almeida could hardly be better positioned or timed. Set in Silicon Valley, Whishaw plays Luke, an aerospace billionaire whose tech creations have transformed the AI industry. Lately, however, this tech pioneer has been receiving messages from God - and now believes it's his duty to "go where there's violence". That calling leads him to meet the parents of a high school boy who massacred his classmates; he fraternises with prison inmates and spends time on a university campus that has found itself in the midst of a sexual assault maelstrom.
A self-assured CEO with the power of God behind him, Luke seems something of a departure for Whishaw, who is in the habit of playing more youthful and introverted characters.
"I guess it is a departure in that sense," he accepts, "but it still follows the fact I am drawn towards dark plots and storylines.
"I think that's something that comes across in who I am away from the stage or film set as well - I think we all need to invest in sadness and disappointment, even if in art and culture we want to surround ourselves with happy things. By doing that, I think what you get is a really intriguing counterbalance between human emotions, which is valuable."
An intention to sometimes head away from light and 'easier' scripts fits nicely given that Whishaw is an actor who once declared that having a plan would stop his career "feeling like an adventure", and who, despite his boyish charms, has always exhibited a certain fearlessness as a performer.
"Safety is boredom and I never want to be bored," he offers. "We have to keep moving forward without looking back - in everything we do."
Ben Whishaw as Q in S.P.E.C.T.R.E.
Though highly-praised for his film and television work, there is something about Whishaw on stage that seems to elevate his artistic energy, something critics have long recognised. The day after Hamlet's opening night, Telegraph journalist Charles Spencer wrote that it was "the kind of evening of which legends are made"; and on the subject of Against, The Guardian proclaimed him "outstanding as a tech messiah". Of his own talents, though, the mop-topped star is rather modest.
"I'm never happy with my performance apart from in that moment. I will scrutinise when I'm off-stage and when I fall back into 'me', but on stage I'm very extroverted and it's like I am a different person," he says. "I've long come to accept that's the way it is, and if that challenges and pleases audiences then I guess we can all profit."
Ben Whishaw
Indeed, that delightful shyness off-stage was no better exemplified than in 2013 when the mercurial artist made his Broadway debut playing John Proctor in Arthur Miller's The Crucible. Despite his starry surroundings, it was the ride to the theatre on the city's subway which most filled him with joy. Donning a heavy beard which he grew for the role, Whishaw revelled in the anonymity and opportunity to people-watch, even expressing annoyance when post-performance he was nabbed by selfie-seeking fans as he tried to slip quietly away. "Post-performance is 'me time' and I like to take stock rather than be surrounded by people, but I know why people want to shake your hand and have photos," he concedes.
Next year Whishaw will return to the stage as Brutus in Nicholas Hytner's production of Julius Caesar at Southwark's Bridge Theatre, a performance of which will be broadcast by National Theatre Live on March 22nd. He is also lending his vocal talents to Paddington 2, reprising his role as the voice of the beloved bear; as well as starring as the grown-up Michael Banks in the highly anticipated Mary Poppins Returns - continuing to successfully navigate the creative orbits of light and dark.
Against runs at the Almeida Theatre, Islington, until 30 September. Tickets from £10, but selling fast.