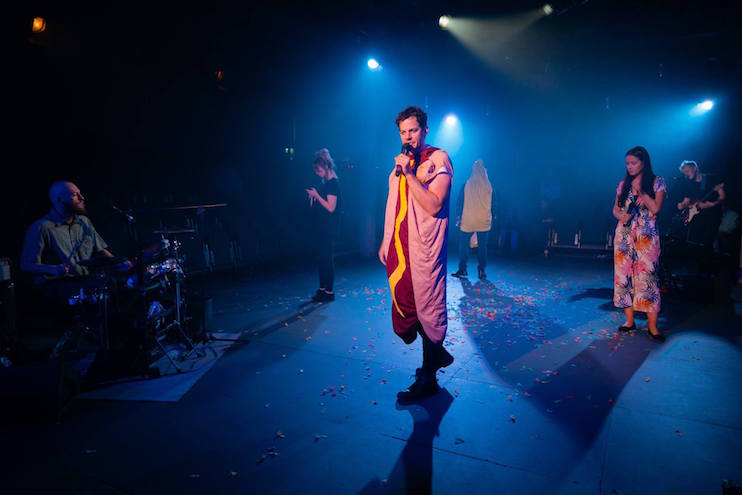 Gig theatre is the cool new kid on the block, and these are London's most exhilarating examples
Gig theatre is the cool new kid on the block, but what is it exactly? Some people think of it as a music gig and theatre show bumping uglies and birthing a Frankenstein of live performance. Others define the genre as writing by theatre-makers driven by live music, or musicians who fuse theatrics with story-focused compositions. But what they all have in common is the goal of creating an electric atmosphere where performers use music to power their message to the audience, and these are the most exhilarating examples on the London scene.
---
Misty at Trafalgar Studios
Critically acclaimed hit Misty has shaken the ground of the West End. As both writer and actor, Arinze Kene gives a forceful, moving and at times hilarious portrayal of London life for people of colour and the gentrification that is bleeding the city's spirit dry. With a throbbing and transcendental score played with fury and finesse by drummer Shiloh Coke, keyboardist Adrian McLeod, and Kene singing in a array of different styles from rap to operatic overtones, this is gig theatre at its most distilled. Catch this cultural phenomenon while you can, as it finishes its run at Trafalgar Studios in the coming weeks.
Image: Helen Murray
Misty is on at Trafalgar Studios till 17 November
---
All We Ever Wanted Was Everything at Bush Theatre
Gut wrenching, frenzied and raucous, the multi-award winning All We Ever Wanted Was Everything exploded onto the Edinburgh Fringe scene this year with a mix of original live music, daring new writing and a hyperactive ensemble. The show guides you through three decades of romance between Chris and Leah, their hopes, dreams and fears weaving in and out of Thatcher's reign as milk snatcher, through the Blair years, to the present day of Brexit mania. It may sound like a typical love story foregrounded with cultural milestones at first, but then there's a singing asteroid that brags about the coming apocalypse, the psychological grip consumerism has on the Western world, and the characters' (and the audience's) need to stop buying and start living, giving it not the smallest of unique twists.
Image: Bush Theatre via Facebook
All We Ever Wanted Was Everything is on at the Bush Theatre till 24 November
---
Hatch at Camden People's Theatre
Written and performed by Roundhouse resident artist Sarah Carton, Hatch is a solo piece which blends live music, spoken word and acting, centring on the emotionally bruising story of Jess, a female prisoner incarcerated for selling drugs on her lover's behalf. Carton takes us deep into the psyche of this anti-heroine through her hypnotic use of monologue, original songs and live electronic music. It's definitely worth experiencing this untold story about the young female experience in the UK's prison system, as Hatch won the Oberon Books New Play Award and the NSDF Camden People's Theatre Award this year.
Image: Rose Eye Productions via Facebook
Hatch is on at Camden People's Theatre 15 - 16 November
---
Rendezvous in Bratislava at Battersea Arts Centre
Theatre-maker Miriam Sherwood and her dramatically inclined grandfather Laco Kalina have created a brand new cabaret show together. He provides her with the stories, and she tells them, but there's one hitch: he's been dead for thirty-seven years. Sherwood's grandfather was a Slovakian satirist, joke collector and writer of cabarets. He survived the Slovak Fascist regime, only to be taken prisoner by Communists who believed he posed a threat to their authority. Using her grandfather's timeworn cabaret material and autobiographies, Sherwood has created a delicately funny and moving piece of gig theatre about intergenerational collaboration and creativity.
Image: Rendezvous in Bratislava via Facebook
Rendezvous in Bratislava is on at Battersea Arts Centre 13 - 24 November
---
Bottom at Soho Theatre
Following a sell-out Edinburgh Fringe run, writer and performer Willy Hudson uses bums, Beyoncé and burnt fish fingers to deconstruct this queer coming of age tale. With an authentic and comic approach, Hudson examines the power dynamics involved when identifying as a 'top' or a 'bottom' in a gay relationship, how these sexual dynamics play out in other more subtle ways, and the sexual stereotyping exploited in straight, gay and queer communities. Combining dizzying breakdances, banging beats and a charming stage presence, Hudson takes his audience on an intimate journey to reaffirm one's self-respect.
Image: Willy Hudson
Bottom is on at Soho Theatre 18 Dec 2018 - 5 Jan 2019