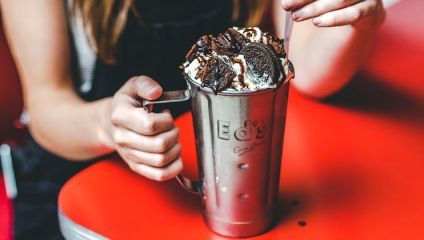 We've milked the city for the creamiest milkshake hotspots to find the best milkshakes in London.
From our all time favourite 'freakshakes' and the classic chocolate milkshake through to delicious vegan shakes and even 'make your own milkshakes', we've tracked down some of the best London cafes and shacks to bring you some of the best sweet deals.
Ed's Easy Diner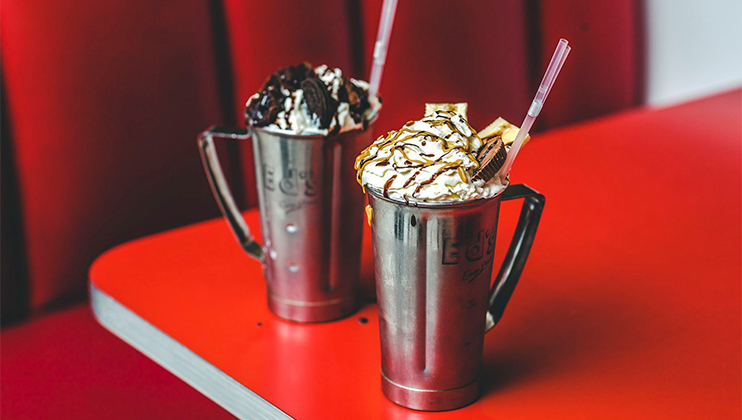 For some of the best straight-up ice cream milkshakes and delicious dairy free milkshakes head to Eds Easy Diner in London. This authentic retro diner with its upbeat tunes and traditional American diner seats creates the perfect mood and ambience for indulging in your favourite milkshake with friends or family. Eds diner are world famous for their extra thick milkshakes in traditional and most popular milkshake flavours, their dairy free milkshakes and their skinny shakes, made with frozen yoghurt in place of ice-cream, all made from Eds secret milkshake recipe.
Ed's Easy Diner can be found at multiple locations throughout London
---
Shake Shack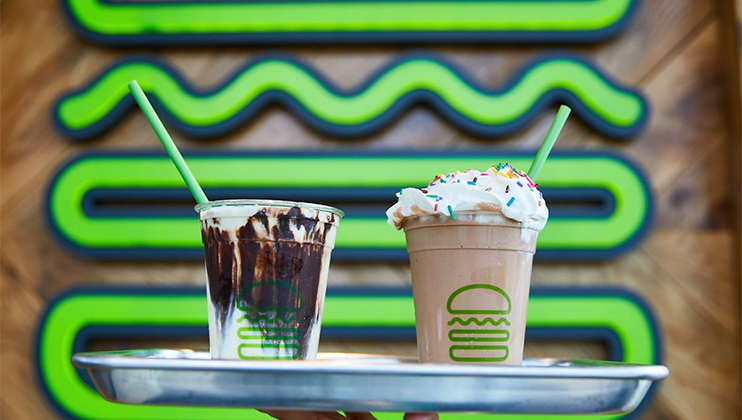 Despite being famous for its shack burger and its shake shack hotdog, hand-spun milkshakes and featured shakes are catching up and quickly becoming the new Shake Shack favourite. Since Shake Shack brought their famous frozen custards over from the US, they've been combining them with hand-spun milkshakes and spicing up an already decadent milkshake menu of vanilla, chocolate, strawberry, caramel and peanut butter.
Shake Shacks milkshake menu now combines a deluxe blend of buttery custards with any sweet treat you can imagine, from fudge sauce or truffle cookie dough to doughnuts or even a slice of pie. Be sure to ask about their special milkshake flavours when you pop into any one of the Shake Shacks in London.
Shake Shack can be found at multiple locations throughout London. Shake Shack Covent Garden, Shake Shack Canary Wharf, Shake Shack Leicester Square and more
---
Maxwells Bar & Grill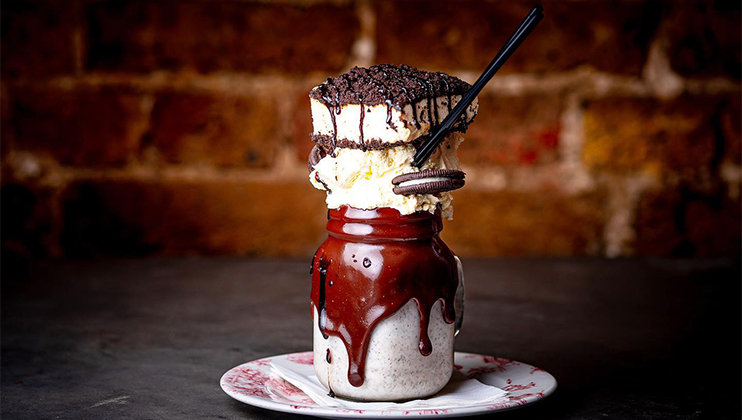 Renowned for its mouth-watering American classic dishes, this award winning American style diner based in the heart of Covent Garden is now also famous for its freakshakes. Pick from Maxwells famous freakshake menu and indulge in an Oreo Cookie Shake, (the complete oreo cookie sandwich), a Salted Caramel Donut Feakshake, (bursting with marshmallows, whipped cream and caramel sauce) or try their mouthwatering Freakshake From Mars, (a freaky blend of chocolate, cream, caramel and mars), or take a chance on their speciality freakshake of the day.
Maxwell's Bar & Grill can be found at 8 James Street, Covent Garden WC2E 8BH
---
MEATliquor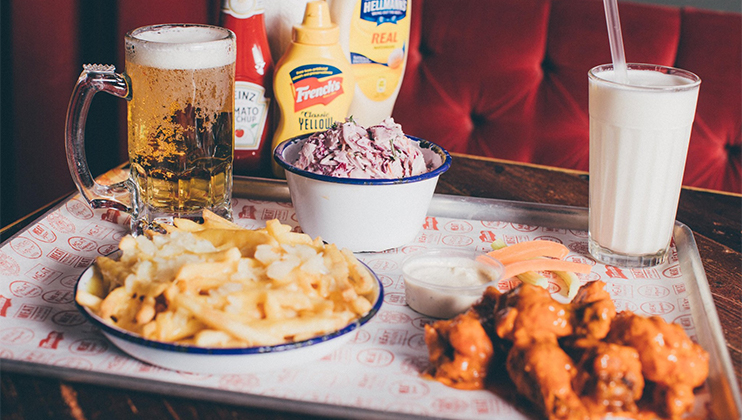 Fancy a boozy milkshake? Then look no further than MEATliquor in Covent Garden. If there was ever a school of hard shakes, MEATliquor's menu of alcoholic shakes tops the class. For a sweet bourbon hit, the 'Tennessee Maple Shake' packs a punch whilst the 'Honey Shake' comes dripping with Jack Daniel's honey and chocolate. For something truly indulgent try the delicious Black Forest Shake, a decadent mix of chocolate and cherry liqueurs. There's also a lots of great, traditional non-alcoholic milkshakes on the menu should the alcoholic milkshakes terrify you a little, opt for chocolate, strawberry, malt choc, salted caramel and vanilla.
MEATliquor, Jubilee Market Hall, Covent Garden WC2E 8BE
---
Canvas Café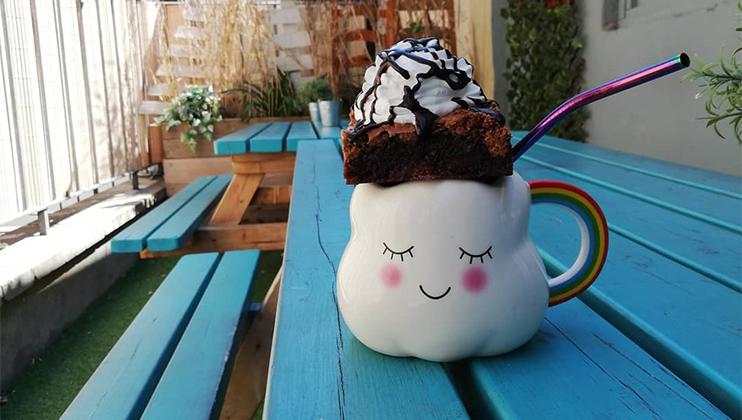 Canvas Café off Brick Lane in London is one of the best vegan cafes in London, a creative venue and community hub, crowned London's First Happy Café in 2015.
Canvas Cafe is home to the best vegan freakshake, with each freakshake carefully blended with handmade vegan ice cream and a choice of soya milk or almond milk. Choose from three vegan milkshakes: chocolate (topped with meringue and an almond macaron), raspberry (topped with whipped soya cream, raw cakes and cranberries), and every clean-eater's ultimate freakshake fantasy, avocado (topped with lashings of melted dark chocolate, raw cakes, and a sprinkling of pistachios).
Canvas Café can be found at 42 Hanbury Street, Brick Lane E1 5JL
---