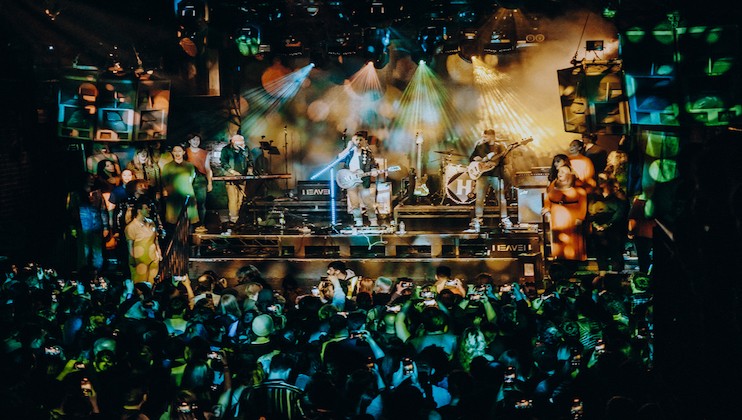 Explore London's Vibrant LGBTQ+ Nightlife: Uncover the Hidden Gems and Hottest Spots in the City's Best Gay Bars and Clubs.
London's LGBTQ+ nightlife is a vibrant tapestry of inclusivity and celebration, with its heart in Soho but extending across the city. From cutting-edge club nights to mesmerizing cabaret performances and dazzling drag shows, the options are as varied as London itself. London's reputation as an LGBTQ+ friendly city is well-deserved, with a rich history dating back to the 19th century. Whether you seek cozy pubs, hedonistic superclubs, or retro bars, London has it all. Soho is the epicenter, but gay bars and clubs can be found throughout the city, from Vauxhall to Clapham and beyond. During themed nights and Pride in London, these venues come alive, creating a welcoming haven for LGBTQ+ individuals and allies alike.
---
The Glory
281 Kingsland Rd, London E2 8AS
The Glory is East London's avant-garde oasis, where forward-thinking queer entertainment reigns supreme. Owned by renowned London drag queens Jonny Woo and Joh Sizzle, this pub-meets-performance haven is a must-visit. Throughout the week, it dazzles with a diverse mix of drag shows, cabaret acts, and LGBTQ+ arts events, while weekends come alive with wild disco dancing that'll have you screaming, "I need you tonight" into the faces of newfound friends. Don't miss their iconic 'Thirst Trap' Saturdays, where East London's finest drag talent takes command of the dancefloor. With a 4.1/5 rating and a reputation for hosting groundbreaking events like the UK's first queer Jewish night, this LGBTQ+ performance gem is not just one of East London's best gay bars, but also a vital chapter in the story of London's queer nightlife. So, step inside and savor the Glory – a venue that dares to think outside the box. Visit their website to stay updated on upcoming events and pricing details.
---
Eagle London
349 Kennington Ln, London SE11 5QY
Eagle London, situated in Vauxhall, underwent a transformative facelift that would make even Sharon Osbourne envious. The venue ditched its reputation for on-premises escapades and embraced trendy decor inspired by New York's Meatpacking District. On Sunday nights, the dancefloor welcomes a hip, fashion-forward crowd for the legendary Horse Meat Disco, a must-attend among London's best club nights. Duckie, an iconic queer collective, adds an artier twist with their Saturday afternoon party. Eagle London promises an unforgettable night out, where the spirit of New York meets London's pulsating LGBTQ+ scene. Be sure to check their website for upcoming events and pricing details, and don't miss the chance to "put your hooves up" at Horse Meat Disco, a nightlife experience that truly rocks. With its diverse appeal and cutesy beer garden hosting summertime barbecues, Eagle London has evolved into a welcoming space for the LGBTQIA+ community, from the seasoned veterans to the fresh, younger crowd.
---
Ku Bar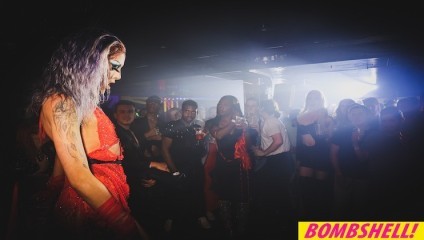 30 Lisle St, London WC2H 7BA
Ku Bar at Leicester Square is a three-floor LGBTQ+ mecca, featuring a champagne bar and a music policy bursting with chart-toppers and floor-fillers, ensuring you'll dance the night away in style. For those who relish the grandeur of London's gay clubs, Ku Bar is the ultimate destination, boasting three floors, a vibey DJ room in the basement, and a capacity exceeding 500. It's where the night truly comes alive, so let the rhythm guide you into the early morning hours. Alexa, play Born This Way.
---
The Royal Vauxhall Tavern
372 Kennington Ln, London SE11 5HY

Fancy a venue with a bit of history attached? Venture to the Royal Vauxhall Tavern, where every creaky floorboard and dimly lit corner tells tales of London's LGBTQ+ past and present. This iconic Grade II listed venue, dating back to 1863, has weathered the storm of greedy property developers, earning itself the hallowed status of an 'Asset of Community Value.' With a 20-year lease secured in 2018, it remains a beloved fixture in London's LGBTQ+ scene. While you may not find Duckie here anymore, the tavern still lures you through its Victorian doors with an array of vibrant events. From fetish nights to drag extravaganzas and the fabulous lesbian soirée 'Butch, Please!' to the monthly pop sensation 'Push the Button,' there's something for everyone. Princess Diana once graced these hallowed halls with Freddie Mercury, while Lily Savage kick-started her career behind the bar. It's a place where history and cutting-edge club nights like Duckie and Bar Wotever collide, creating a haven for cabaret, drag royalty, and unforgettable nights. So, don your most fabulous attire (or as little as you like, as the dress code hilariously suggests), and make your way to this landmark of London's gay nightlife, where the party doesn't stop until the early hours of the morning.
---
Dalston Superstore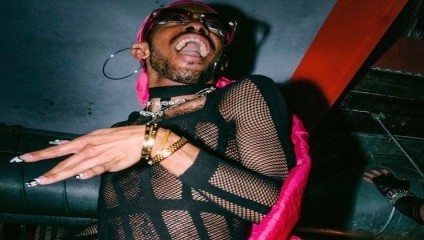 117 Kingsland High St, London E8 2PB
Dalston Superstore: where brunch meets beats and everyone's invited! By day, this East End gem serves up delectable brunches and juicy burgers, but when the night falls, it transforms into London's ultimate pansexual party palace. The upstairs bar sets the stage for a lively prelude, but it's the basement that truly ignites the club scene. Here, you'll find Uncontrollable Urge every Wednesday, a showcase of eccentric electro beats, and the monthly 'SorryNotSorry Sundays' serving up unapologetic pop extravaganzas. Trendy and welcoming, Dalston Superstore attracts a diverse LGBTQ+ crowd alongside party enthusiasts of all stripes. Drag queens and off-duty dads from nearby Stoke Newington groove side by side. Sip on seven draught beers and ciders, complemented by 18 bottle varieties, classic cocktails, house concoctions, shooters, and jugs of Pimms and Sangria. Keep an eye out for student drink offers and vibrant queer art exhibitions, and embrace the chilled-out brunches by day and raucous fun by night at Dalston Superstore.
---
Electrowerkz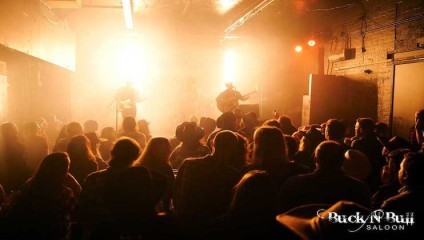 7 Torrens St, London EC1V 1NQ
Electrowerkz, London's seasoned alternative venue, has been an underground sanctuary for clubbers since its inception in 1987. Spread across three gritty warehouse floors with an airy inner courtyard, it's a haven for restless souls who love to roam from room to room. In the post-pandemic era, Electrowerkz has embraced its queer side with open arms, hosting more LGBTQ+ nights than ever. Roast, a 'men-only' bear rave that ignites every second Saturday, is just one example of the vibrant queer events you'll find here. House of Trash welcomes revelers from across the LGBTQ+ spectrum, and Just Werkz offers a Friday night 'dirty disco' experience that attracts an equally diverse crowd. This iconic venue, known for its eclectic mix of music genres from techno to death metal, is a cornerstone of London's LGBTQ+ nightlife.
---
Heaven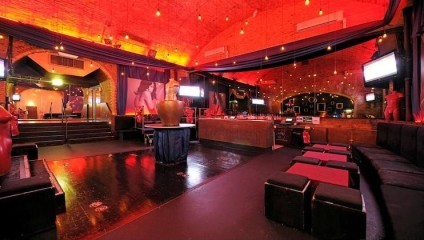 Under The Arches, Villiers Street, London WC2N 6NG
Step into the legendary Heaven, where history and hedonism collide in a dancefloor extravaganza that has been captivating the LGBTQ+ community for over four decades. London's pioneering gay superclub, Heaven, opened its doors in 1979 and has remained an iconic fixture ever since. While it may no longer be cutting-edge, it continues to offer the UK's most famous gay night out. Thursdays are dedicated to the risqué G-A-Y Porn Idol amateur strip contest, Fridays transport you to the '80s and '90s with G-A-Y Camp Attack, and Saturdays belong to the main G-A-Y club night, often graced by the presence of 'RuPaul's Drag Race' stars. Heaven has played host to the glitterati of queer celebrities and is beloved by tourists and the younger crowd alike. With a capacity of over 1,500, it has seen the likes of Madonna, A-ha, and Lady Gaga grace its stage. You better believe it's always full to the brim, and the iconic G-A-Y nights are still a must-visit for those seeking a night of unforgettable fun.
---
Two Brewers
114 Clapham High Street, London, SW4 7UJ
Two Brewers may not be the hippest LGBTQ+ venue in London, but it's undeniably one of the most beloved. This iconic spot opens its doors seven days a week, offering a vibrant cabaret experience on weekdays and transforming into a high-octane club haven on Friday and Saturday nights. Get ready to groove to pop bangers that would make Max Martin proud, all while being treated to sensational drag shows that will leave you in stitches. Be prepared to join the queue, but rest assured, the fun is more than worth the wait. Whether it's a bustling drag extravaganza or a night of singing along to your favorite tunes, Two Brewers delivers non-stop entertainment every single day.
---
Zodiac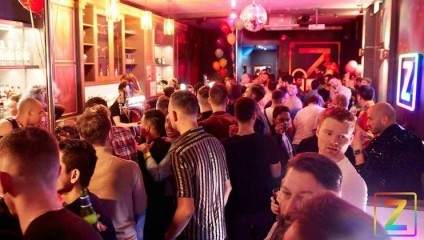 119 Hampstead Rd, London NW1 3EE
ZODIAC Bar, London's newest LGBTQ+ hotspot, is strategically located between the bustling neighborhoods of Soho and Camden, offering a vibrant and welcoming space for the entire rainbow family and their allies. Nestled conveniently near Euston and Warren Street stations, ZODIAC Bar brings a refreshing mix of entertainment to the city. With a spacious capacity of 250, this two-floor venue features lively karaoke nights, dazzling drag shows, and pulsating club events with groovy gogo dancers. The ground floor offers a relaxed setting to sip on drinks, while a charming beer garden awaits your enjoyment. Venture downstairs to the basement, where the energy rises, and the dance floor beckons.
The bar is known for its friendly and helpful staff, ready to make your evening memorable, and its commitment to giving back to the community through charity initiatives and support for local organizations. ZODIAC Bar is more than just a nightlife destination; it's a lively, family-oriented environment with a heartwarming attitude and a mission to spread joy and make a difference.
---
Fire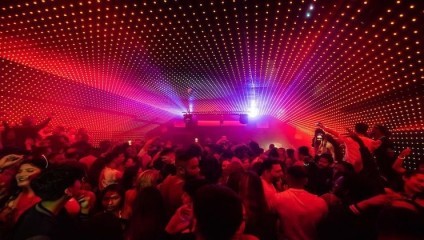 Vauxhall, S Lambeth Rd, London SW8 1RT
Fire in Vauxhall is where London's LGBTQ+ party scene blazes to life. This premier gay nightclub is a hotbed of hedonism, known for hosting some of the city's most electrifying house, techno, and bass events that keep the energy high and the dance floor packed all night long. Nestled beneath iconic railway arches, Fire boasts a spectacular industrial setting, complete with LED lighting and top-notch sound systems that will rattle your bones. With multiple rooms, an outdoor terrace, and bars, it can accommodate up to 2000 revelers, drawing a diverse and inclusive crowd. Weekend after weekend, Fire ignites the night with the hottest DJs and freshest mixes, ensuring an unforgettable dance club experience that never lets you down.