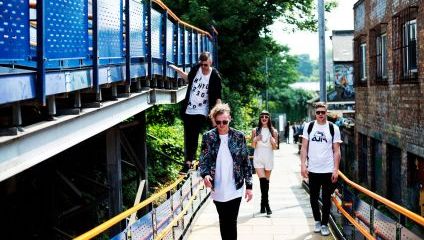 Combining indie-pop, powerful vocals and electro, West London's FOURS are going places. We caught up with Edith to talk about their inspirations, West London's music scene and band antics on tour.
Hailing from West London, FOURS defy any clear genre, combining an infectious indie yet electro sound, 80s guitars and powerful, Stevie Nicks meets Florence and The Machine-esque vocals courtesy of the band's frontwoman, Edith Violet. They supported Shura on her tour this year, their music was featured on The Only Way is Essex and they're set to release their new single Fade to Love at the end of this month. In a break from a busy period in the studio, we caught up with Edith to talk about singing inspirations, their proudest moments and band antics on tour.
London Calling: You seem to be quite elusive on the internet - please tell us a little bit about yourselves and how you got together?
Edith Violet: It happened quite randomly! Dan our guitarist was part of a team recording a video session that I was involved in, he wanted to try out some music together and I told him I wanted to make a full band. We auditioned Luke our drummer but we didn't get a drum kit ready in time so he couldn't play me anything for his audition, but I thought he was super cute & fun so I chose him anyway. Jez our bassist was living with Luke and I was too lazy to keep auditioning so we went with him. They're all babes, so I got lucky. We live together now & I see them more than anyone.
LC: How would you describe your sound to somebody who had never heard you before?
EV: I always just say we're a pop band, which scares people sometimes as that can mean various things. If people want a bit more I explain that we're loosely based on 80s pop vibes and I tend to belt a lot because I'm a show off. I always find it a hard question because when you're so close to the songs they just become your baby and you don't put them in a particular genre/style, especially as the singer, I never think "I'm going to write a pop song" I just write lyrics that I think sound cool and there's never much of a formula to it.
LC: Could you tell us three albums that have shaped and inspired you as a band?
EV: Rumours by Fleetwood Mac, Thriller by Michael Jackson and Oh My My by OneRepublic!
LC: What is it like touring with your best friends? Does anything funny ever happen on the road?
EV: We tend to have more fun than we probably should. The boys are hilarious and very witty. I can't really keep up but they humour me because I'm the baby of our weird little family.
LC: What has been the proudest moment of your career so far?
EV: For me it's pulling a great crowd, and up until this year I'd never really experienced that. The last 4 or 5 shows we've done the crowds have just been getting bigger and I feel just a little bit more emotional and confident each time. Another thing is seeing people sing back lyrics that were written in my bedroom - that's crazy!
LC: One of the most instantly recognisable things about FOURS is your vocals. Who are your singing inspirations?
EV: Soul singers are my inspiration. Power and loads of trills. I'd say Aretha Franklin and Nina Simone are my singing heroes.
LC: You're from Shepherd's Bush in West London. Everyone always talks about East London in terms of having an active music scene, but do you think there is a strong music scene West too?
EV: It's true that East is definitely the buzziest when it comes to music, I think that is because that is where all the "arty young people" are based, but there are some little gems hidden in the mild mild West so there may be a shift one day.
LC: What do the next few months look like for FOURS?
EV: We are releasing our third single Fade to Love at the end of November which we are so excited about! After that, playing some fun shows and writing constantly.
Fade to Love by FOURS is released at the end of November. Catch them at The Waiting Room in Stoke Newington this Wednesday, more information here.