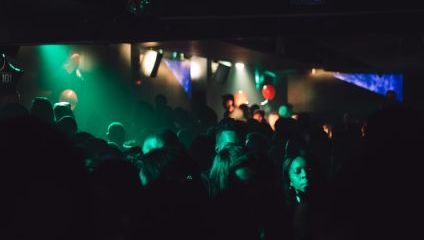 Forget Ministry of Sound and the champagne clubs of central London, join us on a guide to the best venues for underground dance.
London is internationally renowned for its nightlife but it can sometimes be hard to know where to go. For every memorable night of euphoria there are three more with overpriced drinks, muddy speakers and aggressive punters. The city can also be an inhospitable environment for nightclubs, with local councils recently forcing the likes of Plastic People, Madame Jojo's and Dance Tunnel to close. Even Fabric has been threatened. Yet a few venues brave the storms and continue turning out some of Europe's best club nights. So forget the champagne clubs of central London - join us on a guide to the best venues for underground dance music in London.
Just round the corner from Ministry at Elephant & Castle is the current king of London's underground club circuit, Corsica Studios. Opened in 2006, the medium-sized club consists of two black rooms, minimal decoration and a formidable Funktion 1 soundsystem. Corsica puts emphasis and funding into superb lineups rather than extravagant designs, and their reward is the loyal following that the club has gathered over the last ten years. A hotbed of creativity in the electronic music scene, there are far too many superb nights at Corsica for us to hit up every one. But we can try.
Nestled amongst Bethnal Green's strangely beautiful gas holders is Oval Space. This relatively new addition to the London clubbing scene offers a huge barn-like room which regularly fills to bursting at their eclectic club nights and parties. It can sometimes get a little sweaty inside, but luckily the club has a lovely terrace which overlooks London Fields where you can chill out with a beer before re-entering the fray. They also own the intimate Pickle Factory across the road which focuses on dance nights, regularly hosting the best of the house and techno scenes. Over the summer they'll welcome residences from Boiler Room and Principals alongside an outdoor summer film series and a pop-up restaurant.
The newest addition on our list is Phonox, set up in Brixton by the crew behind Shoreditch's successful hotspot XOYO. One key feature marks Phonox out from the rest of the pack. This is its dedication to the traditions of DJing, where a selector is given a whole night to construct their set, rather than hosting a rapid-fire highlights reel from five different DJs across a night. It allows the artists to explore and express themselves more expansively than your average festival or nightclub set, and makes for some of the best nights around. The rotating cast of all-night sessions is on Friday, while in another nod to tradition they have a resident DJ, Jasper James, who plays all night every Saturday. Get down there and see what all the fuss is about.
This one might seem strange for the uninitiated. At the end of Peckham's Rye Lane is a slightly grubby-looking entry to a pool club, where a long corridor leads to one of the capital's unexpected dance havens. Twice a month Rhythm Section hold their legendary parties here, inviting fresh DJs from the jazzier side of the house spectrum. The dancefloor is slightly prom-esque, its disco balls sandwiched between a bar and the fluorescent pool hall, but few venues have better vibes and friendlier staff than this South London staple.
Dalston's best nightclub is closing. Dance Tunnel, tucked away on the main drag of Kingsland High Street, has consistently brought top DJs to East London since 2012. Tucked under Voodoo Raymond's pizza (where you'd often end up for a slice after a long night), Dance Tunnel is a small, no nonsense space that prioritises nothing but the top music every weekend. It even took on the likes of legendary club night FWD>> after its previous home, Plastic People, was closed. Sadly licensing issues are forcing the club to close in August, so go now while you still have the chance to witness a modern icon of London nightlife.