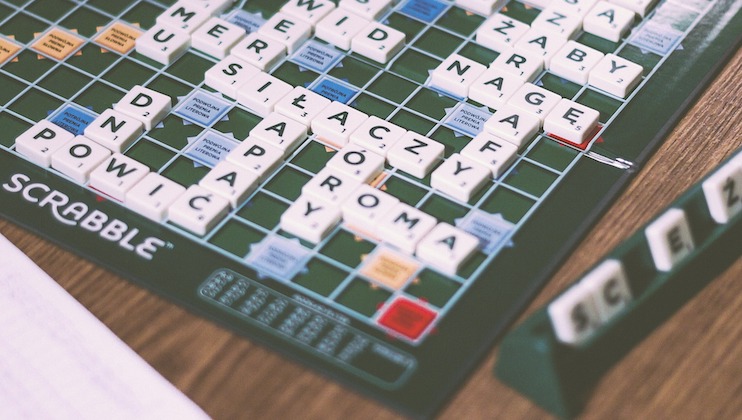 Roll the dice and don't play with your food, we've got board games for you to get stuck into instead…
You may have been avoiding board games since the days of gruellingly long Monopoly tournaments with the extended family (seriously, we still can't talk about Christmas '08), but what if we said you can now play a wide range of retro games with your best friends and a pint in your hand? Manchester is full of cafes and pubs with stacks of games on offer, and you'll be amazed how enjoyable Monopoly can be when it doesn't have the potential to cause a family feud!
Cosy Club
Corn Exchange, 37 Hanging Ditch, Manchester, M4 3TR
Manchester's Cosy Club restaurant is a great spot for a group of friends who can't decide what they want - you can get breakfast, dinner, hot meals, little snacks, baked goods and a whole host of cocktails. This Instagram worthy hangout is perfect for a board game tournament with friends.
You can even enjoy a game of Manchester Monopoly or a simple game of Snakes and Ladders. The food and drinks on offer make this the perfect location for a cute first date, providing you're happy for your beau to see your competitive side straight away!
---
GoodTime Games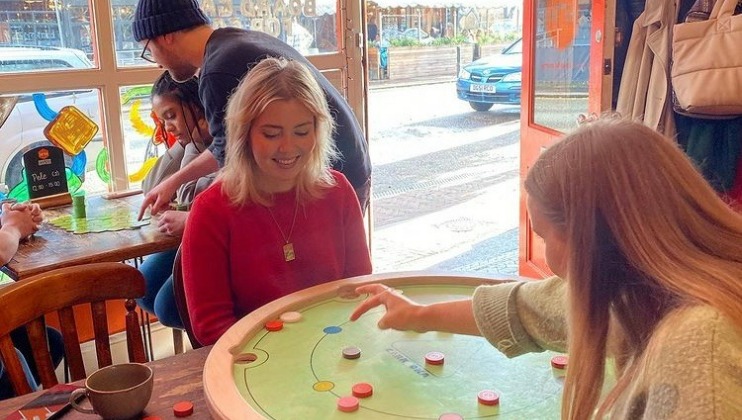 212 Burton Way, West Didsbury, Manchester, M20 2LW
Let the good times roll! - I wish I came up with that myself but rolling dice and munching on vegan/vegetarian goodies is the GoodTime Games trademark. Their library of extensive board games is almost at 200 so there is something for everyone AND it's affordable.
If you're not too acquainted with the rules or fancy learning how to play a new game - staff are available to lend a helping hand! Playing games costs £2.50 per person, per hour. It's 'capped' at £3.50 per members and £7.50 for everyone else.
Another perk, you can bring your own bottle (so long as you're of legal drinking age). If you're feeling peckish whilst playing, the menu is packed with vegan, veggie and gluten free goodness.
---
SOUP
31-33 Spear Street, Manchester, M1 1DF
Disclaimer: Board games not included. HOWEVER, Soup is a great place to bring a few friends, your own game and have a sit down on one of their long benches to play something fun. If you're competitiveness is making you a little peckish then be sure to grab a bite from their menu. Whether it's a beer battered halloumi sandwich, a Mexican beef brisket or a simple soup- there's plenty to choose from with vegan, gluten free and vegetarian options too.
They've got Happy Hour from 12-7pm and the piece de resistance is their club downstairs with regular events that you can check out here. So essentially, you can play from dawn till dusk (or whenever you've gotten tired of losing) then pop downstairs to dance off the concentration…
---
HOME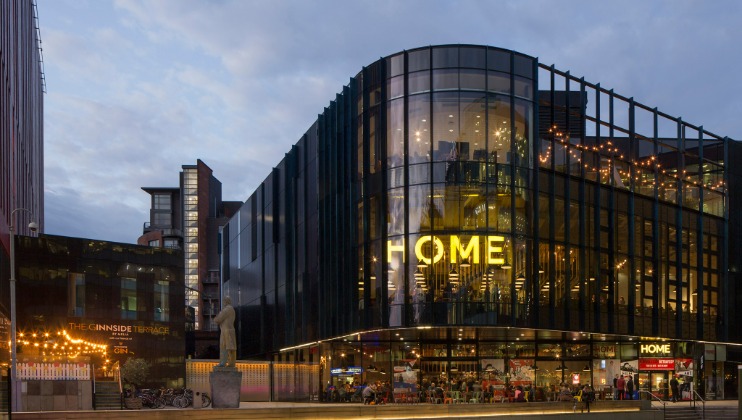 2 Tony Wilson Place, Manchester, M15 4FN
Known officially as the centre for international contemporary art, theatre and film, HOME also boasts a two cinemas and an open social space. So, just like Soup, grabs some friends, dust off your board games and enjoy some nostalgia. There's three spaces to grab food and a drink (or two) with a vast menu to choose from and if you get tired from losing at UNO, you can always head to a movie afterwards.
---