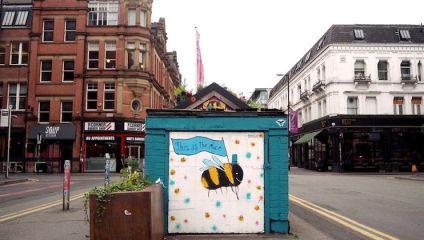 New to the city? Get a guided walking tour of the Northern capital
Manchester is a city with a vibrant history. The iconic red bricks have seen the Industrial Revolution come and go, been a powerhouse of cotton production in the 'Cottonopolis' of Lancashire, experienced the heavy bombing of the blitz and later became a hotbed of youth activity in the rave and Britpop scenes of the 90s. If you're new to the city then what better way to discover it than with a guided tour by a city expert.
Image credit: bob0094 via Flickr
---
Discover Manchester
Discover Manchester's daily guided tours are the official walking tours organised by Visit Manchester. Meeting everyday (come rain or shine) at Manchester Central Library, this tour is the go-to for those looking for a comprehensive history of this magnificent city. It only costs £10, and you're assured a tour from a Blue or Green Badge Guide (by the Institute of Tourist Guiding). On the way you'll discover the neo-gothic Manchester Town Hall, Lincoln Memorial, John Rylands Library, The Royal Exchange, Manchester Cathedral and, of course, the National Football Museum. Featuring buildings dating as far back as 1421 you will most definitely see a host of architecture from through the ages and learn about the history that goes with it.
Discover Manchester meets outside Manchester Central Library every day, tour starts at 11am and tickets cost £10. Click here to buy tickets.
Image credit: HOMEmcr via Facebook
A vital part of being Mancunian is a fierce and unrelenting passion for the city's music history. Producing bands like Oasis, Joy Division, New Order, The Smiths, the Stone Roses, the Fall, James, the Buzzcocks (we could go on…) put the place on the map as the cool place to be in the late 80s and early 90s. From the iconic Sex Pistols gig at Free Trade Hall to the closing of the Hacienda nightclub, this tour takes you on a journey of musical past in Manchester's city centre. The tour meets at Tony Wilson Place (if you want to swot up on your MCR music history then watch 24 Hour Party People before heading out - Steve Coogan plays the iconic Tony Wilson) at the arts centre Home.
Manchester Music Walking Tour meets outside HOME every Saturday at 11am, and tickets cost £10. Click here to buy tickets.
Image credit: Manchester City Council via Flickr
---
Invisible Manchester
See the city in a completely unique way, curtesy of someone who knows these streets better than most. Invisible Cities is a social enterprise that trains people that are or have been homeless to become walking tour guides. Currently operating in Edinburgh, Manchester, Glasgow and York, this wonderful walking tour offers the perfect chance to see more than just the tourist attractions of these remarkable cities. Two tour guides operate in Manchester, Danny and Laura, and both offer a tour of the city that's peppered with anecdotes and stories from their time on the streets. Laura specialises in teaching people the difficulties in being transgender whilst homeless, whilst Danny performs his original poignant poetry pieces at certain relevant stops on the tour. Both welcome questions and want to help educate on the realities of homelessness in Manchester, a city where thousands still sleep rough every night.
The tour begins at Manchester Central Library (Laura) or the Manchester Cenotaph (Danny) and must be booked for a minimum of 6 people, at £10 per person. Great for families, click here to book.
Image credit: Julianne Noon via Flickr
---
Coronation Street Studio Tour
Another gold star in Manchester history and culture, Coronation Street. The iconic show is now in its 58th year, and really marked the beginning of TV soap operas in general. Created by Manchester's own Tony Warren in 1960, it's amazing that the show rakes in as many as 8 million viewers almost 60 years later in 2019. Walk the cobbles of Manchester's fictional town of Weatherfield, which has seen families dramatically come and go throughout the years. The fully guided 80-minute tour takes you through Coronation Street, Rosemund Street and Victoria Street, learning set secrets and stories of past filming along the way. The tour takes place on the working studios, so you can only visit on the weekends and the tour can be subject to last minute cancellation in the case of last-minute filming requirements.
The Coronation Street Tour takes place every weekend from 9am - 6pm at MediaCity UK in Salford. Tickets cost £35 and discounts are available for Manchester residents. Click here to book.
Image credit: Skyliner via Facebook
---
The Modern History of the Northern Quarter
This final tour comes is brought to you by Hayley Finn, a journalist and adopted Manchester local who runs Skyliner, an online magazine that tells Manchester's unspoken stories and aims to protect its heritage. She's an award-winning blogger and a passionate advocate for the arts and culture of her city. Her tours are informal, informative and inviting, and her praises are sung as an excellent city tour guide. Join Hayley on the Modern History of the Northern Quarter tour, which introduces you to the history and evolution of MCR's city centre hipster spot. Along the way she'll show you the most important pieces of street art that adorn the red brick walls and map the city's artistic history. The tour lasts two hours, even in the blistering cold and pouring rain (this is Manchester after all), but Hayley's passion and knowledge will ensure you're entirely engaged throughout. Once you've done head here to check out some of our favourite places to eat in the Northern Quarter!
The tour takes place at different times each week, with morning and evening tours available. The regular meeting point is at Shudehill, but this may vary, and tickets cost £9. Check out her other tours, including The Invisible City, Women of the Arts and Follow the Budleia. More information and tickets available here.