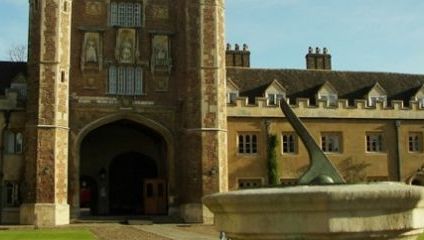 Thousands of visitors descend on Cambridge every year to see the University, and if you are going to join them you better know where to look. The age-old establishment is a marvellous mess of beautiful buildings and picturesque gardens, and finding your way around isn't all that easy. We've picked out a few sites for you to discover while you stroll around the city's cobbled streets.
A Visitor's Guide To Cambridge University
---
The Old Colleges
Cambridge is a collegiate university - which means its administration is split up into lots of smaller institutions (a bit like states in the US). Students eat, sleep and study in their respective colleges, and these structures form as much a part of their identity as the university itself. Many colleges are stunningly beautiful, with buildings dating back as far as six hundred years.
Of the old colleges, there are a few you must visit. Kings College is the poster-child for Cambridge University: it's breathtaking chapel features in every other postcard of the city. The building was first commissioned by Henry VI in 1441, and became the standard-bearer for grand Gothic architecture. There is no other building like it in the world, and has to be the first spot on your list to tick off. Just down the road is Trinity College. Prince Charles famously attended Trinity - and the city's tour guides will gleefully tell you about his less than perfect results. Other notable alumni of the college include Lord Byron, Isaac Newton and Eddie Redmayne. The college's grounds include a network of amazing gardens and quadrangles, and the impressive Great Gate, containing a statue of Trinity's founder Henry VIII.
Other must-visits include St. Johns, a 16th century college that connects both sides of the River Cam with the Bridge of Sighs, a replica of its namesake in Venice. There is also Clare College, another riverside spot with gorgeously composed gardens; and Jesus College, a Tudor era estate constructed on the grounds of a Benedictine nunnery.
Photo Credit: Mark Skipper
---
Hidden Gems
Cambridge isn't just about the old and traditional. There are plenty of newer colleges that are well worth discovering. Robinson College, perched to the west of the city centre, was founded in 1981 and is now one of Cambridge's largest colleges. The red brick façade isn't to everyone's liking, but behind the college is its luscious gardens that offer a little bit of wilderness for you to explore. In a similar vein, Girton College has become a hipster spot for Cambridge tourists. The institution isn't the most popular with applicants due to its location, a good 20-minute cycle out from town. This rural positioning, however, offers Girton's grounds lots of space for playing fields, orchards and plotted walks - a quaint idle if you can make the trek. Finally, Churchill College offers a very modern kind of paradise. The college's sixties block architecture folds out onto rolling playing fields, and lots of little squares emerge between the different teaching rooms and accommodation blocks - perfect for a picnic in the sun.
Photo Credit: John Lord
---
Non-Collegiate Buildings
Cambridge University isn't all about colleges. There are plenty of faculty buildings, museums and libraries that are worth your visit. One of the central teaching sites for the humanities is the Sidgwick site. This modern complex houses the English, Music, Classics and History faculties in a series of elaborate glass structures. The central quad is surrounded by a raised library, and hosts displays of modern art and sculpture.
Nearby is the Cambridge University Library. This gargantuan brick structure is a copyright library, meaning it receives one copy of every book published in the UK. As you can imagine, it's big. Visitors are rarely granted access to the library itself. You can, however, visit their regular exhibitions held in the building's entrance area. Also worth exploring is the Cambridge Botanical Gardens, an exquisite collection of plants and horticulture. The grounds feature numerous themed zones, and the ever-popular glasshouses simulate environments from tropical rainforests to Oceanic islands. Look out for the Botanical's events in the summer: there are regular concerts and educational evenings hosted in the gardens.
Photo Credit: Yakinoda
There we are - all you need to know for exploring Cambridge University. Don't be afraid to venture from our guide: every corner of Cambridge houses something weird and wonderful!