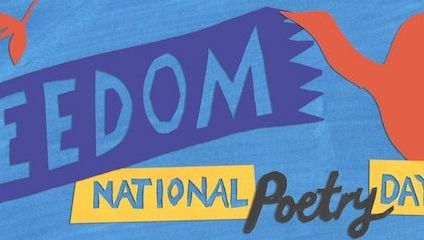 At just 22 years old, Amani Saeed is a force to be reckoned with. Born in London, raised in New Jersey, and a member of multiple spoken word collectives, Saeed has just been named the winner of this year's Art UK and National Poetry Day's 'Art Speaks' competition. Culture Calling speaks to the artist on National Poetry Day to discuss her momentous win, the power of the spoken word, and finding Jesus in a club.
An Interview with Spoken Word Artist Amani Saeed
Image credit: Amani Saeed
Hi Amani, thanks for speaking with Culture Calling today, and congratulations on your win! To begin with, how did you get into spoken word/poetry?
I've been writing poetry my whole life, but I got into spoken word late in the game. You see a lot of young kids doing spoken word, and obviously you can get into it at any age, but I feel as if I got into it late. In University I was taking a creative writing course and they really encouraged us to go out and watch open-mic nights. There was a great night in my university town in Exeter calling 'Taking the Mic', and when I saw what everyone was doing and went to my first real poetry slam it just kind of happened - I started writing like that. Well actually my friend gave me a really big glass of wine, and I had a poetry book on me, so she pushed me up on stage, and that's how it started!
What prompted you to enter this years Art Speaks competition?
I studied English and Art History at uni, so when the competition came up on my Facebook feed and I saw that it was for writing a poem inspired by a painting, I jumped at the chance.
As part of the nationwide competition entrants were required to create an original poem inspired by a painting found on artuk.org. Which work did you choose, and what drew you to that particular piece?
I don't know if you've ever been on the Art UK website but they've got tens of thousands of paintings. So I was just scrolling through and the one that caught my eye was called The Disrobing (Despoiling) of Christ (after El Greco). As the painting has come after El Greco's, it's a bit more modern. He [artist Matthew Arnold Bracy Smith] takes you further into the painting, it's cropped a bit more closely and the colours are a lot more vibrant. Of course there is a whole host of stuff that is very different, but it's inspired by that original painting.
I think I picked it because I was very confused by it! (laughs) Basically, since I studied art history, I learnt a lot about traditional depictions of Jesus and you can pretty much tell what scene He is normally being depicted in because there are some stock standard ones - being put on a cross, being taken down and a lot of scenes about His mother Mary. When I was looking at this painting I definitely recognized the figure of Jesus, but I was also confused by the neon colours and brightness of it all, so I thought He was at a disco (laughs). After looking at the painting a bit more I decided I had to write about it because it was just such a crazy juxtaposition between what the subject actually is - which is the moment before they rip His clothes off - and what I thought it was.
Image credit: The Disrobing (Despoiling) of Christ (after El Greco), Matthew Arnold Bracy Smith, 1922 (c) by permission of the copyright holder. Photo supplied courtesy of Scarborough Museums.
Besides the painting, what was your inspiration behind your winning poem Jesus Christ Goes Clubbing?
When I was at Exeter I got sorted into a hall with a bunch of Christian friends, so I called my friend right away to tell her about the painting. I was like "Oh my god it looks like Jesus is at a disco - what do you think about all this?" She loved the idea because she was like that's the last place you'd expect to find Jesus - at a club! I really liked that idea so when I was writing I tried to mix biblical stories and things from His life, like turning water into wine, and mix it with a typical night out.
Were there any other particular themes or ideas you wanted to convey in your poem?
I'm not a Christian, but I happen to know a lot about Jesus because he is a prophet in my religion as well, and also because he came up in a lot of the stuff that I was studying - you have to read a bit of the Bible when you're studying English Genesis. The thing that I wanted to convey was basically what my friend said, that you find Jesus in the most unexpected places. For me, this is a really beautiful idea because while I may not necessarily believe that Jesus is the son of God, I find it really comforting to think that God could be in any place, at any time, even in the places that you think He wouldn't be.
More broadly, are there any specific issues important to you that you have chosen to focus on in your poetry and spoken word?
Yes, I have a book coming out next year called Split and its split down the middle between two themes. Part of what I write about is what it means to constantly be the other - what it's like to be perceived as a foreigner, a westerner, and as a Muslim who isn't Muslim enough. I was born in London, but was raised in the States, and my family comes from a lot of different places. The other half of the book is about abuse. I was in an abusive relationship and I write about the aftermath of all of that - the trauma, feeling and learning how to love differently. They are the main themes of my work.
What other British poets and spoken word artists should we be following?
Malaika Kegode is a phenomenal Bristol based poet and, of course, there are the members of my collective. I'm part of a poet's foundation, female collective called The Yoniverse with Shagufta Kiqbal, Sophia Thakur, Shareefa Energy, and Afshan D'Souza-Lodhi.
What's next install for you?
I've got the book [Split] coming out next year and that's the main project going on. I've just finished my year with the Roundhouse Poetry Collective and we've now sort of formed our own collective called None of the Above. We're actually doing a show called Application Status: Pending at the Roundhouse on October 14th. It's a really cool show about applying for asylum and going through the form. We answer all of the questions through poetry and there is also a lot of really cool tech involved so I would definitely recommend coming along to that!
Also, with The Yoniverse, we are in the process of creating a show which is really exciting, centred around the South-Asian female voice. We are also starting to look at creating an open mic night as we've just got funding from the Arts Council to do that, which is going to be cool.
So watch this space!
Amani Saeed's performs her award-winning poem 'Jesus Christ Goes Clubbing.'
For more information on Amani Saeed's performance with None of the Above at the Roundhouse Saturday 14 October, and to book tickets, please visit the Roundhouse website.