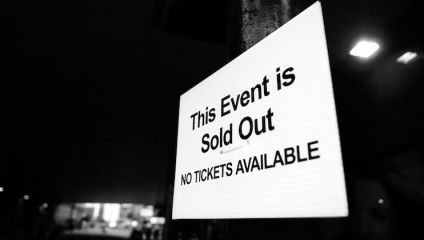 Not got a ticket? Not a problem…
Have you ever got really into a musician, gone online to see if they're touring near you soon and been faced with a big fat SOLD OUT? Or, even worse, being redirected to a ticket touting site and facing a 200% mark up on ticket price? Here at Culture Calling we (obviously) want you to get into the biggest and best events, so we've prepared a guide to getting into the gig without paying a ridiculously high price!
---
Use Twickets
Fan-to-fan resales are the best way to get yourself into the gig, as long as you make sure you don't get stung by a scammer. Many bands and venues support the use of Twickets, a resale site which is devoted to selling tickets for face value (or less) to music, theatre and comedy gigs across the country. Selling tickets via the website doesn't cost you a penny but using the site to purchase tickets does cost a small amount. However, it's well worth the small fee to ensure you're getting a safe sale at the ticket's original face value. You can head to the site and browse tickets on sale, or you can set up a notification for tickets you're desperately seeking. If anything goes wrong, then both parties are fully protected and will receive a full refund.
---
Check the Facebook event
If Twickets is dry, then head to Facebook to find tickets for an event. Most concerts, theatre performances or comedy shows have a dedicated Facebook event for each date and venue, and you can find this by simply searching the name of the act and selecting events on their Facebook page. Here you'll have the opportunity to post on the event page, and you'll often find people advertising tickets to sell here. This, however, is where a lot of people get scammed. Here are our top tips for keeping your purchase safe:
Only ever send money via PayPal. PayPal boast excellent buyer and seller protection, ensuring that you'll receive a full refund if the item you've bought doesn't turn up. This is only valid when you send money for 'Goods and Services' on PayPal, as opposed to a 'Family and Friends' transaction. This transaction will cost the seller a small amount but is important to insure both parties. If someone online is trying to get you to send money via 'Friends and Family' then it's probably a scam. Don't have a PayPal account? Make one or find a friend who already has one! They're free to have and easy to use.
Meet in person. Providing you're safe and sound, then meeting in person and paying cash is a good way to ensure a fair purchase. This is a good option when someone is attending the event but has a spare ticket, say if their friend is sick or unable to attend. Meeting outside the venue, just before the doors open, is an ideal meeting spot as it shouldn't inconvenience either party. Ensure that you're only meeting in a safe, open space, and try to avoid going alone if possible.
Ask to see the tickets before agreeing to a purchase. If the seller is offering physical, paper tickets then ask them to send you a video of them holding the tickets or a picture with their online username or full name written on a piece of paper next to the tickets.
Ask for physical tickets to be sent via recorded delivery. Whilst it may cost a few quid extra, it's an extremely useful tool when expecting something in the post and ensures you can't be duped by a seller saying they sent something when they didn't.
---
Join a waiting list
More and more ticket selling platforms are trying to crack down on unfair touting. Websites such as Skiddle, Eventbrite and Dice offer an event waiting list, which allows you to be first in line for extra tickets released by promoters or unwanted fan tickets. Dice is an all-around great place for ticket purchasing, as they don't charge any booking fees (reducing the price of your ticket by as much as £10). Unwanted or gifted tickets can be sent to friends who also have the iPhone or Android app, and each sold out event has an easy to use Waiting List option! To find out more about Dice click here.
---
Head to the venue
Ticket touting is a huge issue, and online sales leave re-sellers charging extortionate prices for tickets. However, a lot of old-school ticket buyers will still flog unwanted tickets outside the venue, and big events are always frequented by touts. A tout will try and charge you a stupid amount of money for a ticket, however a decent life hack is to wait until the act are just about to go on stage and then hunt to see if any touts are willing to go dirt cheap. After all, they've already bought the ticket, so they'd much rather sell it for a tenner than let it go to waste. Find out what time the act takes to the stage via their social media and be sure to haggle your way down to a decent fee. This plan is for the more spontaneous of events lovers, and those not afraid of spending the evening in the pub next door if the plan fails.
---
Enter some competitions
Not the most fool-proof way of getting into an event, but well worth a try. Online competitions are generally free to enter and only require you to have an email address or social media account! Speaking of which, have you checked our competitions page recently?