In honour of today's World Theatre Day, we're thinking about the beautiful, celebrated history of the UK's theatres. Whilst there's an extensive range of world-famous theatres in London, we want to shine a light on the equally impressive theatre venues that Yorkshire has to offer.
---
York Theatre Royal
In a city steeped in history, York Theatre Royal is no exception and has been running for over 270 years. Built on the site of an old Roman well, with remains of a 12th-century Georgian hospital and Victorian architecture, the building in itself is a beautiful addition to this Yorkshire city. Its design has evolved over the decades, with major developments occurring in the 1960s and 2016, and has resulted in the expert modernisation of a traditional theatre. As York's go-to Christmas outing, the Theatre Royal's pantomime has been written and directed by Berwick Kaler, who also starred in each one as the Dame, for 30 consecutive years. That makes him the UK's longest standing pantomime star, and although last year was his last year as York's Dame, he is staying on as scriptwriter for this year's festive performance. No one can accuse the theatre of being stuck in their ways, however, and eager to encourage young talent, the Theatre Royal has one of the largest youth theatre groups in the country, with over 300 members, and is one of the countries leading producing theatres.
---
Wait for: Sleeping Beauty
Although it is way too early to start thinking about Christmas, this pantomime is a must-see, and Berwick Kaler's tried and tested pantos are worth seeing before he hangs up his wig for good.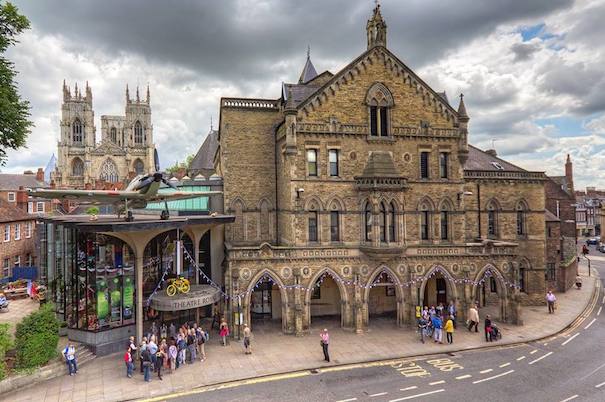 Image credit: York Theatre Royal via Facebook
---
Leeds Grand Theatre
Developed initially as a complex of shops, assembly rooms and a theatre, the Leeds Grand Theatre was built in it's rich Victorian red brick in 1878. It is rumoured that the theatre was built after a comment by Prince Albert, who said that the people of Leeds needed a good theatre as "nothing was more calculated to promote culture and raise the tone of the people." During the first years of the theatre, the class-conscious British public was separated by wealth, as customers paying for the best seats were allowed to use the main entrance, whilst poorer folk were ushered in through a side door. Featuring strong gothic motifs and Romanesque design features, the building has evolved in use over the years. Its assembly rooms were modified to create a cinema in 1907, and those became rehearsal rooms after the cinema's closure in 1958. Finally, in 1978 it reopened as the home of Opera North and has staged theatre and pantomimes ever since. This theatre now hosts many touring productions, and since installing a state-of-the-art flying system it has been able to host touring West End shows, much to the joy of Leeds residents.
---
Wait for: Dirty Dancing
This classic love story is one for the big girl's night out, so check out the on-stage adaptation of Dirty Dancing this summer, and leave the theatre singing (I've Had) The Time of my Life and trying to do the lift after one too many Pinot Grigios.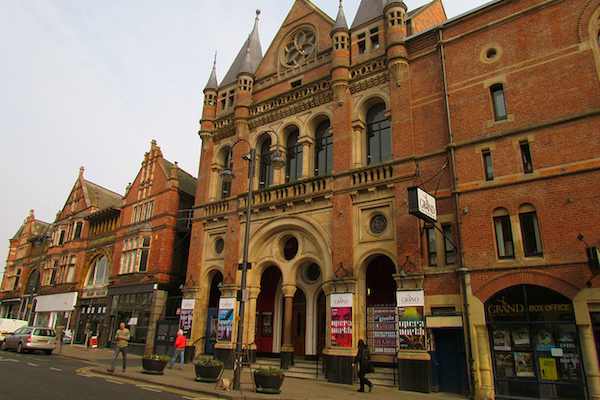 Image credit: Dan via Flickr
---
Bradford Alhambra
The Bradford city skyline comes to life on Morley Street, where alongside the theatre sits the dilapidated former Odeon cinema and the domed turret of the Alhambra Theatre. As the sun goes down on Bradford the theatre lights up gloriously, making it an unmissable sight in the historically industrial town centre. As expected, the Alhambra is a huge part of Bradford's rich history, having been opened in 1914 by the local impresario Francis Laidler. On 23 March 1914, the theatre opened its doors to the public and hosted a Variety Show for one week. To the surprise of the lower income theatre-goers, the seats in the pit stalls were upholstered just as comfortably as the seats in the orchestra stalls and Dress Circle, in contrast to the usual wooden benches they had to deal with in other theatres. Still, a theatre is only as good as its yearly pantomime, and the Alhambra theatre has used the same troupe of juvenile dancers, the Sunbeams, in its panto since 1930. Laidler auditioned the young dancers himself and insisted that they be of good health and have an exemplary school attendance record before they commit themselves to the show, paying them in both pocket money, clothes and food and an addition to their Post Office savings account as a wage. Famously, Laidler put a note in the dressing room saying "please DO NOT ask the management for complimentary tickets for your friends. If your friends will not pay to see you, why should the public?" Firm but fair, this attitude to running a theatre was obviously a success, with the theatre still thriving 105 years later.
---
Wait for: Ghost
This successful adaptation of a 90s blockbuster Ghost is a spectacular success and comes to the Alhambra on its UK tour at the end of April.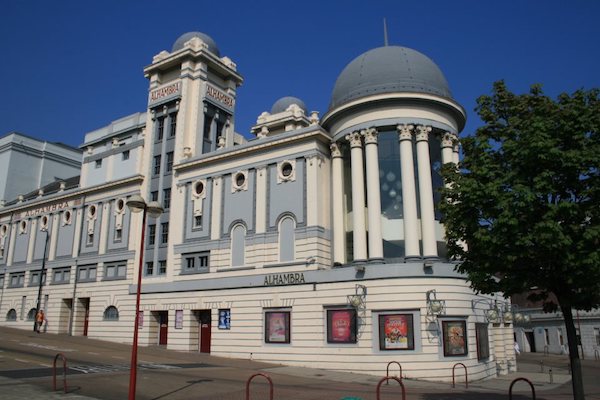 Image credit: Kieran Wilkinson via Flickr
---
Sheffield Crucible
Sheffield is a theatre hub, with its Lyceum, Crucible and Studio theatres. Whilst the Lyceum is steeped in history and houses variety, drama, and West End musicals, the Crucible is our stand-out venue for Sheffield's thriving theatre scene. A modern addition to Yorkshire's list of venues, the Crucible opened in 1971. Its contemporary creation has left it looking quite different to the venues in York, Bradford and Leeds, with its unique seating plan allowing the viewer a more intimate relationship with what's happening on stage. Audiences sit on three sides of the stage, but no viewer is any more than 20 meters from the performers. This more inclusive attitude to theatre-going is a refreshing change from the class-conscious theatres of the early 20th century. The theatre is a producing theatre, meaning it primarily puts on its own shows, normally produced by the Sheffield Theatres Group, however, it also hosts the yearly World Snooker Championship, having been its home since 1977. A £15 million two-year refurbishment between 2007 and 2009 thoroughly modernised the location, and the building's name now lights up gloriously every night.
---
Wait for: The Life of Pi
This well-loved novel was famously adapted into a special effects filled film in 2012, however, this year the Sheffield Theatres company has produced an on-stage version exclusively at the Crucible.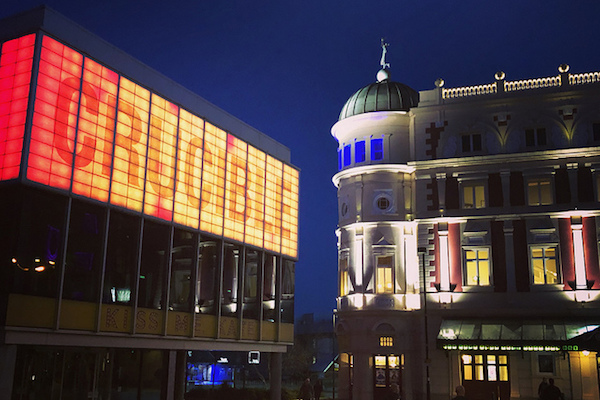 Image credit: Nick Dickson via Flickr
---
Harrogate Theatre
The Harrogate Theatre is the theatre which was affected most by the declining in popularity during the rise of cinema and radio audiences, however, it is a testament to Harrogate as it is still entertaining audiences today. The theatre opened in early 1900 with a charity gala in aid of British soldiers fighting the Boer War and was promptly followed by their first pantomime of Dick Whittington. It's beautiful Victorian design is attributed to Frank Tugwell, the architect who also designed the Futurist Theatre in Scarborough, and the Savoy Theatre in London, and features a beautiful proscenium arched auditorium. After a busy couple of decades, the theatre fought against lacking popularity in theatre productions and formed its own company The White Rose Players, which put on an impressive 45 shows a year. Sadly, however, audiences still dwindled, and the theatre closed in 1955. Bouncing back three years later, a non-profit charitable trust was developed to support the theatre and made it through to the mid-80s, and after a brief reorganisation it was back on its feet in 1987 and has been open ever since. Against all odds, this theatre has redeveloped itself time and time again and has survived for nearly 120 and years. As well as producing and putting on shows, it also runs an education and outreach department for its district, and Harrogate Theatre Scenic Services builds sets for companies all over the UK. This theatre is sure to keep fighting back for the considerable future.
---
Wait for: The Great Gatsby
An immersive evening of 1920s frivolity, the audience for this show are encouraged to come with their 20s dancing shoes on. As riotous as the parties that Jay Gatsby himself laid out for Daisy, expect a decadent night at the theatre.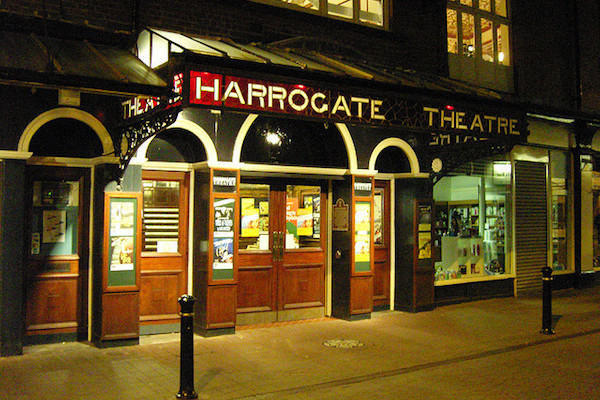 Image credit: Kris Chapman via Flickr