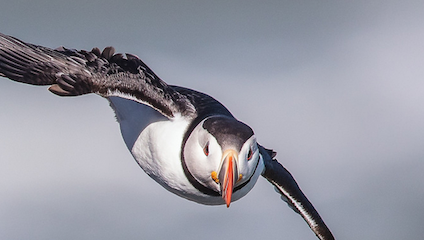 From flamingos to ospreys, puffins to swans, there's plenty of species of winged wildlife for hawk-eyed birdwatchers to see in UK!
---
Whinlatter Forest, Cumbria
100ft above sea level, Whinlatter is England's only true mountain forest. As well as their range of outdoor activities - including the Whinlatter WildPlay trail for kids - the forest is also the home to the Bassenthwaite Ospreys, fish-eating birds of prey that are a rare Amber List species due to their historical decline. You can watch the Ospreys live from their nest on a giant screen in the Visitor Centre's exhibition, or, between April and August you can catch a glimpse of one with your own eyes from the Dodd Wood open air viewpoint.
Image Credit: Lake District Osprey Watch via Flickr
Whinlatter Forest and Visitor Centre is located in Braithwaite, Keswick, Cumbria, CA12 5TW
---
Bempton Cliffs Reserve, Yorkshire
They're affectionately known as "sea parrots" in Northern Scotland, but you don't have to travel all the way to the Highlands to get a peek at a puffin. The RSPB's Bempton Cliffs Reserve on the Yorkshire coast is the gathering spot for around half a million sea birds every year between March and October. Puffins specifically can be spotted from mid-April to mid-July, during which time you can observe the adults returning from fishing trips with sand eels hanging from their bright, orange beaks. Also watch out for other start species including Gannets, Guillemots, tree sparrows and beautiful Barn Owls.
Image Credit: barrowfordian (Martin) via Flickr
Bempton Cliffs Reserve is located at Cliff Lane, Bridlington, Yorkshire, YO15 1JF
---
Rutland Water Nature Reserve, Rutland
Occupying 9 miles of shoreline and shallow water lagoons along the western end of Rutland Water, Rutland Water Nature Reserve was created in the 1970s and today features over 25,000 waterfowl. The reserve is another key player in saving the Ospreys, as it is home to the successful Rutland Osprey Project which, in 2001, celebrated the first Osprey chick to fledge in Central England for 150 years.
Image Credit: Alan Crofts via Flickr
Rutand Water Nature Reserve is located in Egleton, Oakham, Rutland, LE15 8BT
---
Slimbridge Wetland Centre, Gloucestershire
Get tickled pink at Slimbridge Wetland Centre, the only place in the world you can see all six species of flamingo, from brightly coloured Caribbeans to Chilean and Andeans. It's also home to the UK's largest flamingo flock which live in the centre's Flamingo Lagoon, and sports a sunken observatory allowing you to see through the legs of these flamin-good creatures. Don't miss out on meeting Slimbridge's other species of birds including Hawaiian geese, cranes and Eiders.
Image Credit: Sarah Bailey via Flickr
Slimbridge Wetland Centre is located at Bowditch, Slimbridge, Gloucestershrie, GL2 7BT
---
Abbotsbury Swannery, Dorset
The home of the world's only managed colony of nesting mute swans, Abbotsbury Swannery was originally the site of a Benedictine Monastery in the 1040s, who farmed the swans to produce food for their lavish banquets. Today, you can't eat the swans - especially as the breed is protected by Her Majesty herself - but you can help to hand feed the colony of 600 at midday at 4 pm daily, or get lost in the giant sensory swan maze. You may also recognise the swannery from the big screen, as it has been used as a filming location in Harry Potter!
Image Credit: mesmoland via Flickr
Abbotsbury Swannery is located at New Barn Road, Abbotsbury nr Weymouth, Dorset, DT3 4JG