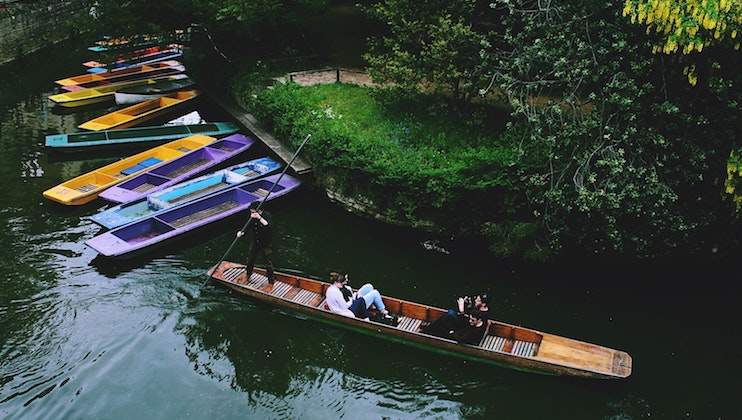 Whether you live in Oxford and need some long-term ideas for the school holidays or you're just here for a weekend, keeping the kids entertained can seem like a daunting prospect in a historical city and university town. We've got some ideas for all kinds of children, from aspiring thespians to outdoorsy types…
---
The Story Museum
Based in the centre of Oxford on Pembroke Street, The Story Museum runs a vibrant programme of events and exhibitions focused on storytelling and learning, from a Great Cake Bake to a Harry Potter Barbecue and a Teddy Bear Picnic. They also run storytelling summer courses for budding writers, a perfect way to keep older children occupied during the holidays. The museum day ticket allows access to two floors of immersive installations and exhibitions themed around children's stories, and it is a short walk from G&D's for an ice cream treat afterwards.
The Story Museum is open 10am-5pm daily. A day ticket is £7.50 for an adult, £5 for a child. Find out more about their exciting events.
---
Punting and Picnics
Does this family activity sound like a recipe for disaster? If you're envisaging a capsized punt, a ruined iPhone, and your party splashing around in the Isis, fear not—that scenario normally only happens to the students you might spot on the river, so just avoid crashing into them. Punting is an Oxford must-do, and the day should be plain sailing if you plan in advance, bringing tupperware to put your electronics in (just in case) and organising a picnic to share when you're out on the river. Head to Magdalen Boathouse, a five minute walk down the High Street, and borrow a punt for an hour or two. Float down the river, enjoying the stunning surrounding views, and moor your punt by a bank in the University Parks in order to eat a picnic in the boat together without drifting off. For those who are less skilled at balancing on a punt, rowing boats and pedalos are also available.
Punts can hold up to five people and cost £22/hour from Magdalen Bridge Boathouse.
---
Oxford Castle Unlocked
If it's raining, a good afternoon diversion for families to try is Oxford Castle. Admission is by guided tour with the guides dressed as costumed historical characters, designed to appeal to children, and they promise to reveal Oxford's fascinating, gruesome and rich past. The tour includes climbing up St George's Tower, which dates from Saxon times and has views of all of Oxford, and wandering round the spooky 900 year old crypt that lies beneath the building. Your guide will show you the remains of the 18th century Debtors' Tower Wing and the prison block. After the tour, you are free to explore the grounds and climb the former mound of the old 11th century castle.
Tickets to Oxford Castle Unlocked are £10.75 for an adult and child combined. Booking in advance recommended.
---
Pegasus Theatre
Pegasus is an Oxford theatre and community committed to working with young people, which runs a host of diverse performances and classes throughout the year, including puppet shows for under 5s, technical theatre training workshops for young teenagers, and a dance studio offering £5 classes for children with experienced professional performers. They also run workshops for parents and children to enjoy together, such as their 'Baby Boogie' disco series. Head to Magdalen Road in Cowley, a ten minute drive or a half hour walk, for a matinee performance or a morning class, a great way to keep children entertained.
Most theatre tickets cost £5. Find out more about what's on at the Pegasus Theatre.
---
Outdoor adventures
Oxford has a whole host of activities for children who like a challenge, including open rock climbing sessions for kids at Oxford Brookes University in Headington. You could also try High Ropes Oxford (£24.50 for a child and £29.50 for an adult), a half-hour drive from the city centre, or the Oxford Ice Rink (£23.50 for a family ticket). There are a number of outdoor pools a short drive from the city centre, including ones at Hinksey, Woodstock and Abbey Meadow. These are reasonably-priced, but you can't beat the free option of Port Meadow's lakes on a sunny day. Take the entrance from Walton Well Road and walk straight to reach the river and a large pond that is a popular destination for outdoor swimming. Be aware that there are no lifeguards at this nature spot, so it is not suitable for children who need supervision. It's also a fair distance from shops and facilities, so bring enough food and entertainment for the day.
Find out how to get to Port Meadow, free, open in daylight hours.