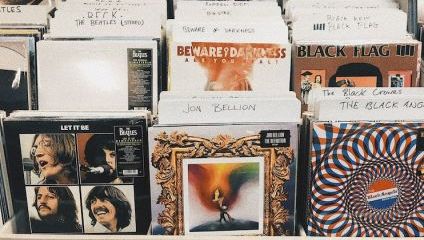 This isn't elevator music, you won't find jazz flute solos or anything remotely by Herb Alpert, but wall to wall of the best instrumental outputs released in the last year. Sometimes, it's what's left unsaid that rings the loudest.
These albums are on another level to elevator music, you won't find a jazz flute solo or Herb Alpert track in sight, but wall to wall of the best instrumental LPs released over the last year.
---
Madlib and Freddie Gibbs, Bandana Beats
Unofficial master of crate-digging, Madlib has a sort of mythology attached to him. Dubbed the 'wizard' of hip hop, he's the boy who's got the magic touch with a sampler, and paired with Indiana rapper Freddie Gibbs it's not hard to see what all the fuss is about. Boldly sincere, their LP Bandana quickly garnered critical acclaim for its fiercely political words set against a strikingly contemporary soundscape, and the instrumental version is just as potent. Each track is saturated in earworm samples mixed with that same brand of talent heard in J Dilla's genre-defining album Donuts or the velvety sounds of Paris-based DJ Onra's Chinoiseries series.
---
Sufjan Stevens, Aporia
This one isn't exactly for unwinding after a long day, but it might awaken your third eye whilst you're sitting in your dressing gown eating cereal from the box. Aporia is an album entering the digital abyss. Working down the 21 tracks we hear extraterrestrial electronics mingle with stormy drums, and the result is something restless, gutsy, and vertiginous. Think the epic booming synth we've come to know and love from Age of Adz meets the sci fi sublime ensconced in our consciousness courtesy of Blade Runner, a cited influence upon the album.
---
PJ Harvey, All About Eve
If you're in search of an auricular poultice to soothe your mind via simmering piano, gauzy synth and throaty bass - this might just be it. By and large this new-age score doesn't find itself lightyears away from the Oscar-bagging Bette Davis flick, brandishing that similar melancholiia of a diamond-draped Margot treading the perimeter of her party with a martini glass. The pace shifts from moody electronica to bluesy rock to searing strings in that chameleon-like way that is characteristic of Harvey, although it couldn't be further from that fabled 'bumpy ride' the film's protagonist warned us about.
---
Rodrigo y Gabriela, Mettavolution
Mettavolution deservedly earned this Mexican duo the Best Contemporary Instrumental Album at the 2020 Grammy awards, but more pressingly, it reminded us there is a world of Flamenco to discover beyond Gypsy King's rendition of Hotel California. Awards withstanding, if I told you this album takes a punt at covering the prog-rock goliath that is Pink Floyd's Echoes, you'd be forgiven for laughing any guitarist this side of David Gilmour out of town. However, the result is a fresh and irresistible 18-minutes of gossamer precise Flamenco fingerstyle and guitar slapping that refigures Floyd's work into something their own. Pair all that with six more original tracks, it's a winner.