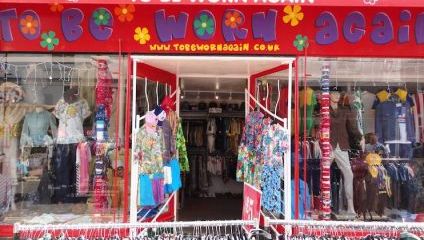 Grab a bag and get ready to nab some bargains
---
Les Mistons
This pop-up for kids has been taking over different locations in Brighton with their stylish vintage children's pieces for the last few years. French-owned and with a healthy dose of French style, whether you're searching for something for a baby or a tween Les Mistons will have the perfect knitted cardigan, Peter Pan-collar dress or even ski suit for your little one.
Keep up to date with the Les Mistons website to know the location of their next pop-up
---
Dirty Harry
This vintage shop might have a Clint Eastwood-inspired name, but it's much cleaner than it sounds. The shop is immaculately organised, with t-shirts, sportswear and sweatshirts organised by colour and immaculately hung. You can also find some good bargains in the shoe section - there's Converse in every colour of the rainbow, and with the clean display it's always easy to see what you're looking at. It also has a pretty cool mural on the front of the building. Do you feel lucky, punk?
6 Sydney Street, BN1 4EN
---
To Be Worn Again
With its hippy-dippy flower-child front and its floors on floors of clothing and accessories, To Be Worn Again is an unmissable stop on a vintage tour of Brighton. There are two locations for the store, each as big and boisterous as the other. They specialise in fun items like Hawaiian shirts and tie-dye tops. Don't miss the cash-only racks out the front either - you can get t shirts and shirts cheap as chips, with many items going for £5 or less.
24 Sydney Street, BN1 4EN and 12 Kensington Gardens, BN1 4AL
---
Flock stocks a mixture of vintage and handmade items, from clothing and jewellery to small homeware pieces. The teeny-tiny store has lots of great finds: original minimalist gold earrings, beautiful handmade dresses and vibrantly patterned ceramic bowls. Don't forget to check out the lovely conservatory area at the back of the shop, where you can find more items from guest designers.
46 Sydney Street, BN1 4EP
---
Beyond Retro
The Brighton branch of this vintage institution shines brighter than the sunburn you got when you fell asleep on the beach last June. You can get some real treasures in here - keep an eye out for great discounts on branded items like Nike and Adidas. And the clothes aren't the only reason to visit - get a memento of your visit in their delightful retro photo booth, one of the only analogue photo booths in the UK.
42 Vine Street, BN1 4AG