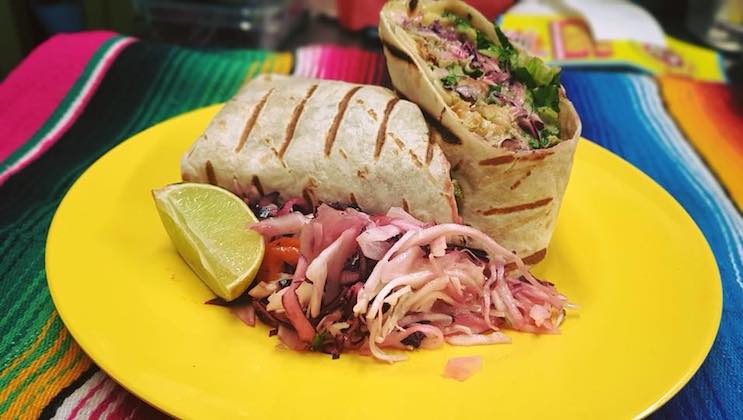 Perfect for a meal on-the-go or alongside a margarita and a mezcal, here's your go-to guide for Brighton burritos
---
Spotlight on: Carlito Burrito
12 York Pl, Brighton BN1 4GU
Proudly Brighton's first Mexican restaurant actually opened by a Mexican guy, Carlito's is the place to be for authentic burrito flavours. Carlito Burrito was introduced to the world in 2012 on a music festival food truck, where they combined fresh ingredients with eye catching art and theatrical behaviour to sell burritos to unassuming party people. They've brought this ethos to a permanent restaurant in Brighton, retaining the street food style of eating and adding exciting mezcal and a variety of cocktails into the mix. Everything they serve is made from scratch using the freshest possible ingredients, utilising Sussex produce and imported Mexican chillies and spices. Authenticity is at the very core of this restaurant's ethos, and every salsa and sauce is made in house, with recipes coming from Carlito himself.
All their burritos come with Mexican red rice, a fresh pico de gallo salsa (aka salsa fresca), house ranchera sauce and a chipotle sour cream, amongst other things. With three meat fillings, one fish and two veggie, there's something for everyone. Their Mean Veg Machine can also be made vegan. They also put halloumi in both veggie and meat burritos, which is a first for us and sounds absolutely to die for. And like any great Mexican place they offer a pulled Pork Pibil, cooked with citrus fruits and achiote. They also offer a wide range of tacos including Octopus and Chorizo (omg), and a fresh Ceviche of the Day and a range of speedy quesadillas. Feeling wild? Kick off your meal with an Oyster Shot, which is a native, fresh oyster with pico de gallo, and a tequila shot with a chilli dust. Be sure to accompany all this with a Hibiscus Margarita or a Hibiscus Cooler if you fancy something rum based (i.e. if tequila makes you throw up!)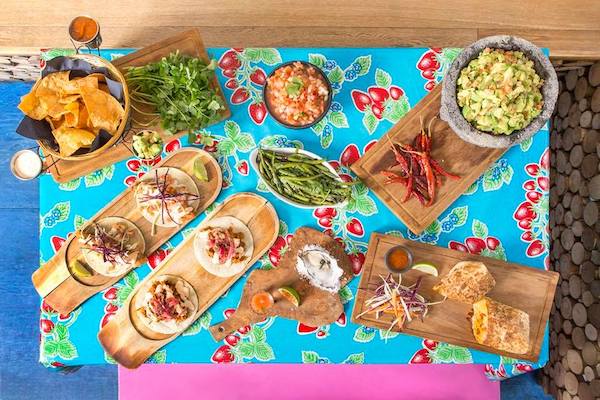 Image credit: Carlito-Burrito via Facebook
---
Best of the rest:
---
La Choza
36A Gloucester Rd, Brighton BN1 4AQ
105 Western Rd, Brighton BN1 2AA
With a motto like 'Barriga llena, corazón content', meaning full stomach, happy heart, you know you'll leave La Choza with your burrito craving satisfied. The restaurant is run by two Brighton locals who share a passion for all things Mexico and have made frequent tasting tours around the country in order to bring the spice and flavours they love back to Sussex. Try their Crispy Fresh Fish burrito which uses a fresh catch of the day with traditional Mexican salsas.
---
Dos Sombreros
24 Ship St, Brighton BN1 1AD
Here at Dos Sombreros you can expect a much more tex-mex style of Mexican cuisine, but that is certainly not a bad thing! Their burrito comes with refried beans, rice, cheese, salsa, guac and sour cream, and you can choose from chicken, chilli con carne, chicken chilli con carne, or black beans and mixed veg to pack inside your bumper burrito. Be sure to get a Tequila Sunrise or Pisco Sour with that, or whilst you're waiting at their third floor Mexican party bar!
---
Wahaca Brighton
160 - 161 North Street, Brighton BN1 1EZ
Despite being a chain, Wahaca still offers one of Brighton's best burritos and therefore shouldn't be ignored. Wahaca restaurants across the UK are immensely popular for their fresh food and unique flavour combos, and here there's no shame in ordering a burrito plus a couple of extra street food dishes 'for the table' (for you). The veggie burrito puts others to shame, with Fire-roasted Poblano Pepper paired with feta and a cashew nut mole. Definitely opt to get your burrito pimped up, which ensures it comes with cheese, guacamole and nachos and takes the dish to another level.