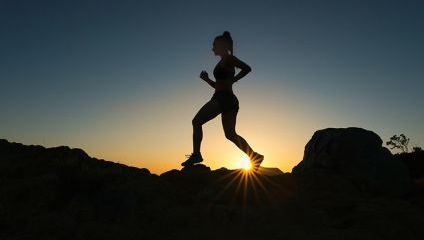 Clear your head and keep fit with a run around Brighton
Who says you need a pricey gym membership to get fit? Grab a pair of trainers, put together an inspirational Spotify playlist and enjoy seeing the seaside city in a new light whilst keeping fit and healthy.
---
From the Marina to the Pier
Distance: 1.5 miles
If you're just starting out, then we can think of no better route than along the seafront. Head to the Marina and follow the coast along to Brighton's famous pier, a completely flat route which is around 1.5 miles long. Take a run at sunrise or for an even more unforgettable view.
---
Around St Helen's Park
Distance: 0.5 miles
Prefer building your confidence off-road? Well, there's nothing like a jog around the park to get your heart racing. Head to the village of Hangleton (just past Hove) and take a trip around the pretty St Helen's Park, enjoying the view of St Helen's Church in the distance. A circular route of this park comes in at just over half a mile, so challenge yourself to do two (or three) laps before heading home!
---
Around Preston Park
Distance: 1.5 miles
Preston Park is the perfect spot for a run in bright and sunny weather. Often filled with picnicking families and those enjoying the sunshine (pre-covid). Each circular lap of the park comes in at just under 1.5 miles, with the rose garden, cricket club and clock tower all offering something interesting to check out on your way around. Be sure to finish your route at the Rotunda Café (open for takeaway) and treat yourself to an ice cream or soft drink before heading home - you deserve it.
---
Circle around the 'Deans'
Distance: 7.5 miles
Ready for a challenge? Start at the Marina but head east via the A259 instead of running towards the pier, following the seafront until you hit Rottingdean. Run up through this pretty village, darting through Ovingdean and stopping when you hit Woddingdean. From here you can follow a downhill route back to the Marina where you started, enjoying sweeping sea views as you drop back into Brighton. This challenging route is around 7.5 miles long and features quite a few hills but remember that running on an incline is only going to help you get fitter faster!
---
Up to Devil's Dyke
Distance: 9.5 miles
With the South Downs so close by, it'd be rude not to take a jog and enjoy the view. Head up to Devil's Dyke to soak up one of the nicest, far-reaching views in Sussex, as well as a pretty landscape across Brighton and Hove. Head to the top of Dyke Road Avenue and take a trip straight up Devil's Dyke Road and along Saddles Combe Road up to Poynings. You can then run down past Devil's Dyke (stopping to admire the view, of course) and descend back into Mile Oak and round through Hangleton, completing a nice circular route. Feel free to chop and change to make the route longer or shorter but prepare your calves and leg muscles for some truly challenging hills either way!