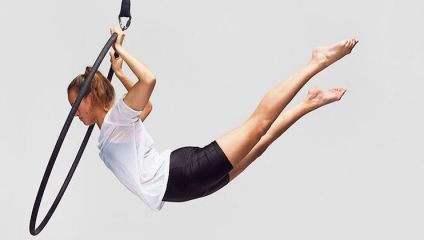 Say no to the dreaded treadmill and have some fun whilst getting fit this summer
Getting healthy and happy should go hand in hand, so feeling full of dread at the idea of hitting the gym isn't going to help your overall quality of life! If there's anywhere you're guaranteed to have fun whilst getting fit, it's the creative coastal hub of Brighton. Check out these challenging yet cheerful exercise options!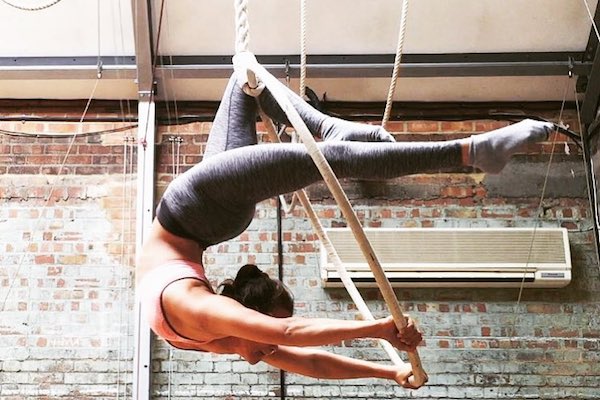 Image credit: High Top Circus via Facebook
Sussex University Sports Centre, Falmer, BN1 9RB
The All Saints Centre, Friars' Walk, Lewes, BN7 2LE
Learning how to whizz through the sky like an expert trapeze artist, learn how to contort in aerial silks or even do suspended aerial yoga at this popular Brighton circus school. They have classes on offer for beginners, improvers and advanced aerial artists, and you don't have to have had any prior exercise experience to begin, although gymnasts, dancers and those who've done Pilates may find it a bit easier. As fun as this class is, you're also going to be improving your strength, flexibility and fitness along the way, ideal for those looking to tone up. Aerial yoga also contributes to creating confidence, overcoming fear and 'challenging physical perception', as well as spinal decompression. These classes are available to anyone older than 7, and cost £12 for an hour and a half!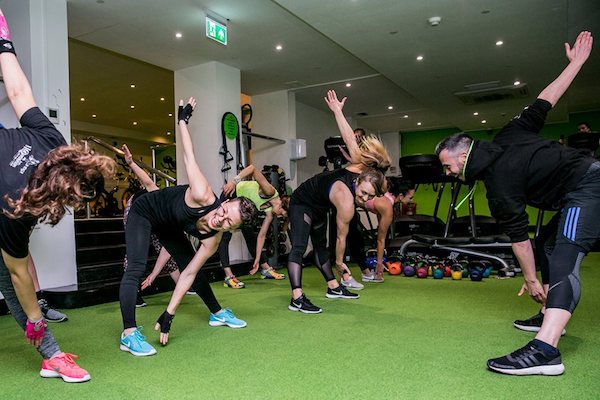 Image credit: Ecogym via Facebook
---
Eco Gym
39-40 St James' Street, Brighton, BN2 1RG
If a gym subscription with the occasional fitness class is more your cup of tea, then Brighton's Eco Gym is the unique environmentally friendly exercise environment for you. Their sustainable gym has SportsArt Eco Powered Cardio Equipment, which channels 74% of the energy produced back into the grid, as well as energy saving lights and low water consumption showers. They only use natural cleaning products and do not advocate single-use plastic on site - it's the gym with a conscience. They have three types of fitness class on offer: strength, move and challenge. 'Strength' is primarily lifting, whilst 'Move' gets you practicing flexibility, coordination and movement and 'Challenge' has you practicing HIIT, boxing, circuits and plyometrics. All their classes are included in the price of your subscription and the gym is open 6am-9pm!
---
Martial Arts and Self Defence Brighton
Sports Complex, Dorothy Stringer School, Loder Road, Brighton, BN1 6PZ
Martial arts might not be the first thing that springs to mind when you think about getting fit, but Martial Arts and Self Defence Brighton offer classes that will tone, condition and strengthen every bit of your body, as well as being much more fun than going for a jog. Not only will you come away with some excellent self-defence skills, you'll also be practicing movement patterns and speed drills to use both sides of the body equally, helping you to lose weight, improve fitness levels and gain both mental and physical strength. They train based on the principals of Choi Kwang Do, which promises to help you grow mentally and spiritually, as well as physically. The best bit about this fitness class is that they offer mixed age and gender sessions, meaning your entire family can go and learn at the same time! You also have the opportunity to earn different coloured belts and aim for the illusive black belt! If you fancy giving it a go, your first class is free, and you can get discount on the uniform on registration.
Image credit: Barre Studio Brighton via Facebook
---
Barre Studio Brighton
Studio 11, Open Market, Marhsall's Row, Brighton, BN1 4JU (+ various other locations)
If yoga and Pilates is your ideal way of exercising, how about trying your hand (or foot) at a Barre class? This method of exercising is a little bit of both yoga and Pilates but incorporating ballet experience. You don't have to have had any dancing experience in the past and beginners are totally welcome at Barre Studio. You'll be taught to use your own body weight in resistance, and work individual muscles in small, deliberate movements. The fun element comes from choreographed routines with fun music pumping around the studio. This workout helps to strengthen and tone your body, but also works to improve posture! You'll also benefit from increased bone density, which can aid in preventing injury or developing osteoporosis. The low-impact style of exercise also makes it a good option for pregnant women, and Barre Studio offers a devoted Barre Bumps session!
---
Pole Fitness
Marina Dance Studio, 11 Mermaid Walk, Marina Village, Brighton, BN2 5WA
The idea of pole dancing might initially fill you with dread, however just one lesson can leave you feeling sexier, stronger and incredibly confidence. It's also heaps of fun, especially when going along with a friend! You could also buy a pole and practice at home! Practicing on a pole makes you limber, improves your bones and joints and contributes to a health heart and blood flow. Strangely, it also helps you have an easier time during childbirth! The exercise helps you to develop a strong back and strong abdominal muscles, which will minimize back pain during pregnancy (apparently!). Feeling confident and sexy will also, no doubt, help your overall mental well-being.