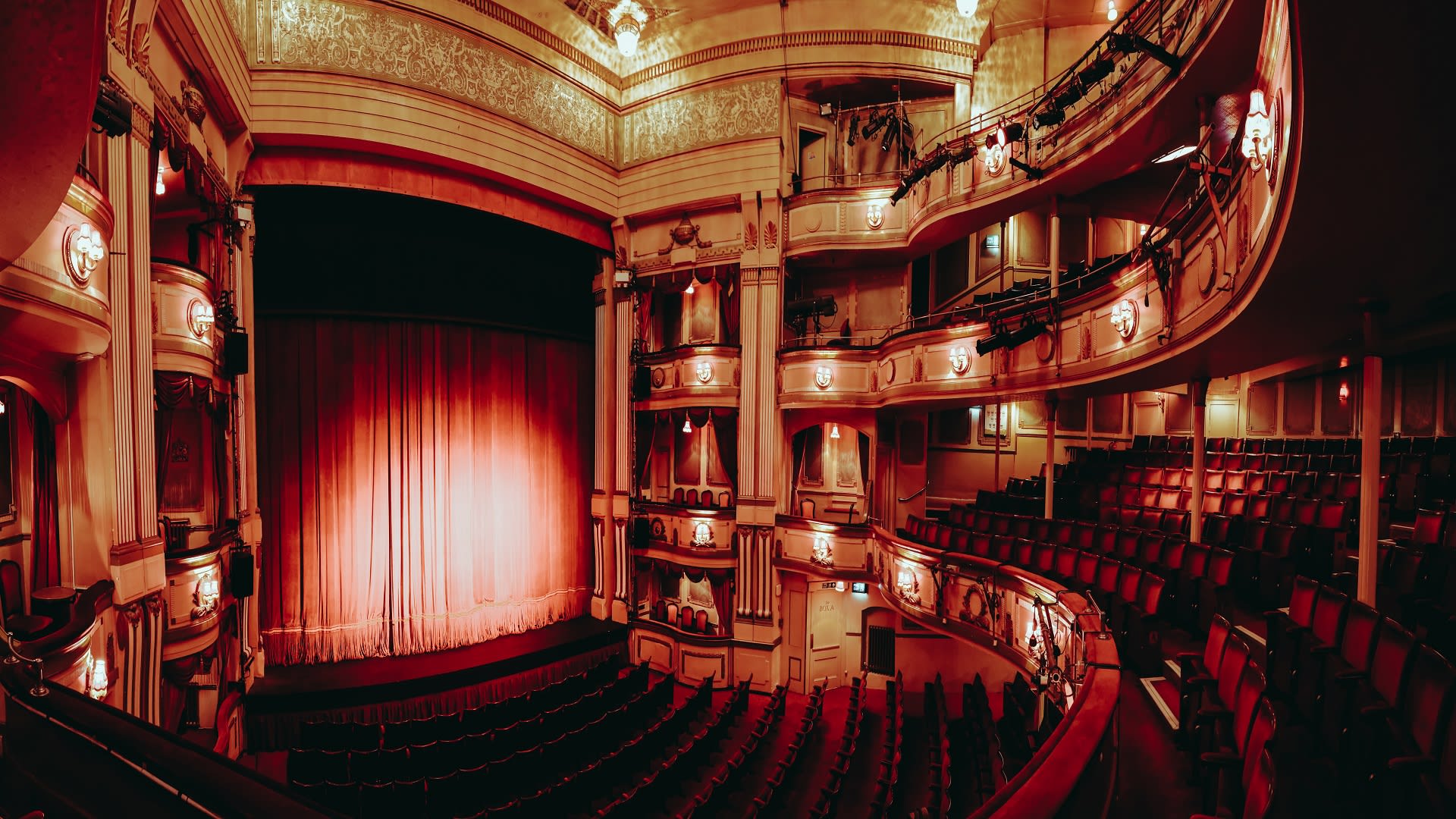 Theatre….the smell of the greasepaint, the roar of the crowd…what's not to love about the drama of a night out at the theatre.From West End touring productions to independent Art House Theatres showcasing the best of new and emerging theatre talent, Brighton has some of the best theatres around.Take your seats, dim the house lights and let the curtain lift on Brighton's Top 10 Best Theatre experiences.
The Theatre Royal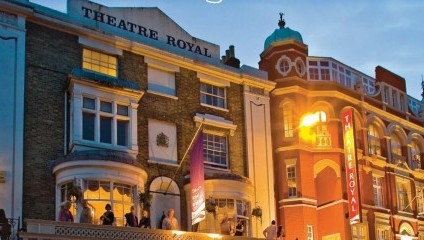 Theatre Royal Brighton, New Road, Brighton BN1 1SD
Located just a short walk from the train station, the Theatre Royal, located in a Grade Ii listed building is the grand dame of Brighton theatres with a rich and varied history. The theatre has been entertaining visitors for well over 200 years, including royalty.
Hosting some of the most popular and iconic musicals, plays, ballet and opera throughout the year, the theatre is also home to a number of courses and workshops. It is a thriving centre for the performing arts and has alliances with a number of arts organisations, investing in new productions as well as putting on some well known touring West End shows.
The theatre is completely accessible and can offer induction systems for visitors with impaired hearing.
The Box Office is open from 10am - 8pm on show days and until 6pm on non-show days. More information available here.
---
Brighton Dome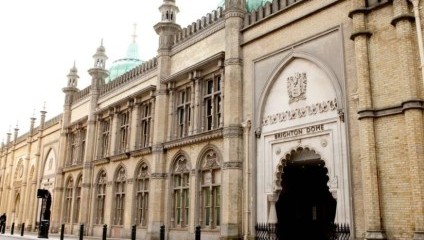 Brighton Dome, Church Street, Brighton BN1 1UE
Brighton Dome sits in magnificent splendour, in the very heart of the city, within the grand Royal Pavilion estate.
This prolific theatre and multi arts venue presents over 600 events each year and is a focal centre for emerging as well as established artists. It is also the main producer of the Brighton Festival which is the largest arts festival of its kind in England.
Combining the old and new within a stunning building, the Dome is continually evolving with new performance space and shows.
Booking information, including concessions and member discounts is available here.
---
Brighton Open Air Theatre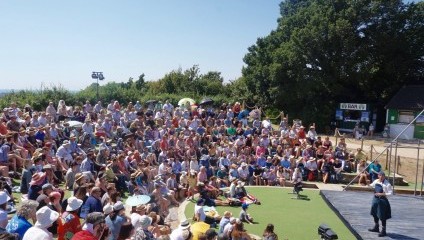 Brighton Open Air Theatre, Dyke Road, Brighton and Hove, BN3 6EH
Affectionately known as BOAT, the Brighton Open Air Theatre is located in Dyke Road Park and boasts 400 seats, hosting a variety of shows including theatre, opera and even circus!
This is a really unique theatre experience and an amazing outdoor performance space combined with accessible indoor facilities.
While the theatre is only open during the warmer seasons, the show must go on is its mantra: productions continue come rain or shine! Just watch out for seagulls making a play for your snacks!
Ticket and venue information are available here. Tickets are also available on the door, on the day of the performance in question.
---
The Brighton Centre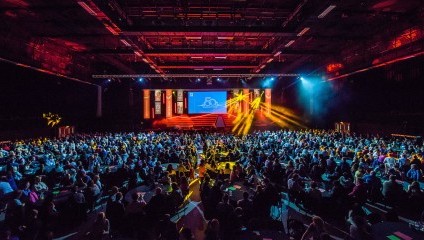 The Brighton Centre, Kings Road, Brighton BN1 2GR
The Brighton Centre is the largest entertainment venue of its kind in southern England and holds a vast range of events ensuring that there really is something for everyone.
Shows include music based productions, comedy and more traditional theatre - whatever the event you can be sure it will be spectacular!
With such a large venue, the atmosphere is truly electric and there is a wide choice of seating and ticketing.
Both the theatre and building itself are fully accessible. See the website for more details on this and ticket options.
---
The Lantern Theatre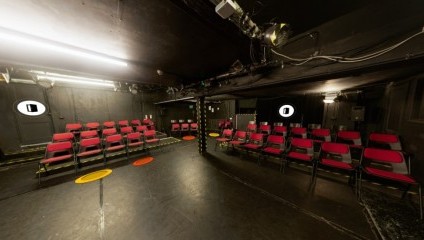 The Lantern Theatre, 77 St James's Street, Brighton BN2 1PA
This theatre is a truly multifaceted performance venue based in the heart of Brighton in colourful Kemptown, producing and hosting musical theatre as well as showcases, soirees and performance art.
A relatively intimate space with a seated capacity of around 50 (70 standing), The Lantern offers a genuinely immersive theatre experience and is a refreshing change from the more mainstream theatre scene.
From the traditional to the avant garde, this is a theatre that inspires a love of the dramatic arts.
Tickets are reasonably priced; check out their website for the latest calendar of events and online purchasing options.
---
New Venture Theatre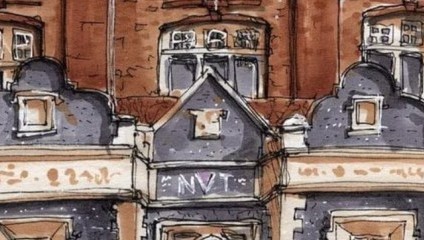 New Venture Theatre, 23 Bedford Place, Brighton and Hove BN1 2PT
The New Venture is a community performing arts theatre and a registered charity, offering an 80 seat studio for amateur plays and workshops.
Run entirely by members and volunteers, its productions are unique and exciting, showcasing some established as well as raw and emerging talent to the theatre scene.
This theatre hosts a variety of plays and shows, from the traditional to the contemporary within a beautiful setting and a friendly atmosphere - a theatre where the audience truly feel a part of the experience.
---
Brighton Little Theatre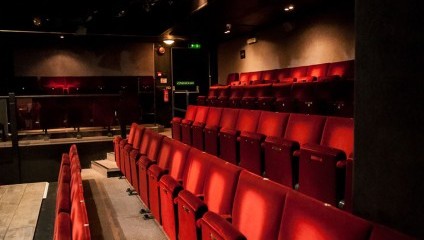 Brighton Little Theatre, 9 Clarence Gardens, Brighton BN1 2EG
A small but nonetheless busy theatre group, this not for profit company stage around ten productions per year - so tickets are in demand!
Theatre productions are of a consistently high standard with all its members volunteers and passionate about theatre. Previous productions have included some old favourites as well as topical, edgy performance.
Why not take in one of its vibrant shows set on an unusual proscenium arch stage in this historical location. Tickets are available online or by phone - details here.
---
Pavilion Theatre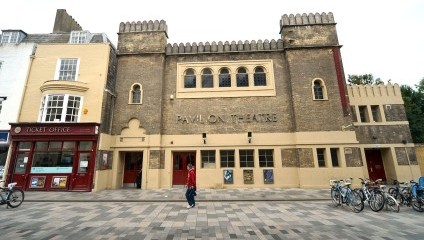 Pavilion Theatre, 29 New Road, Brighton BN1 1UG
The smallest of the Dome venues, the Pavilion Theatre is housed in an historic building that once housed horses belonging to the royal family! A small venue, it offers a real attention to detail both with its productions and the audience experience.
Seating is close to the stage itself, views are good and the theatre hosts a wide variety of shows to suit all tastes.
So whether you're seeking a dramatic performance or something more classical, this theatre will have a show to fit the bill!
---
The Old Market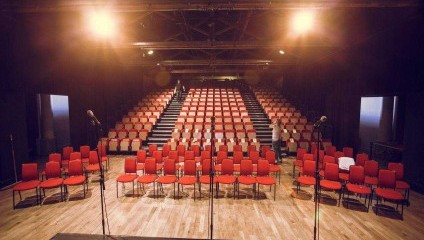 The Old Market, Upper Market Street, Brighton BN3 1AS
The Old Market theatre (or TOM as it is known locally) is a fairly large venue with its own rehearsal spaces and production facilities, located a stone's throw from the city centre, in Hove.
As an independent cultural hub, its varied programme of events has a festival feel and the theatre is often groundbreaking and thought provoking - as well as fun!
A true Brighton classic on the theatre scene and well worth a visit.
---
Rottingdean Drama Society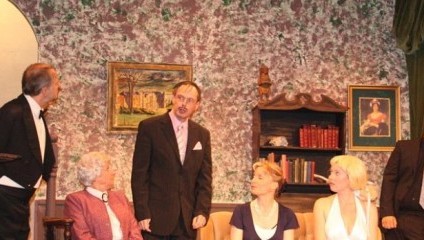 Rottingdean Drama Society, 20 Park Road, Brighton BN2 7HL
This award winning performance art theatre, based in the Rottingdean area of Brighton, is part of a wider am-dram community.
Founded in 1948, the theatre aims to showcase a balanced handful of plays each year from costume dramas to contemporary plays, as well as the all important pantomime at Christmas.
The theatre provides a warm, welcoming setting and very high standards of theatrical production.
Something a little less mainstream and absolutely worth a visit!