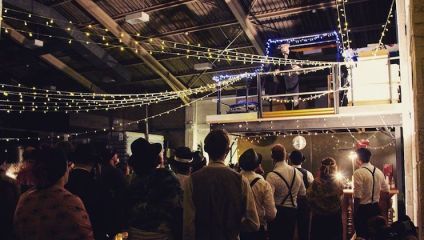 Bristol's got plenty to offer for theatre events...
Bristol's reputation as a hub for world-class theatre is widely known, and there are tonnes of great shows to catch each year. Here's our list of the best places to find them.
---
Bristol Old Vic
King Street, Bristol, BS1 4ED
With its stunning new foyer opened last year, following on from its wider refurbishment, the Bristol Old Vic stands as the powerhouse of the city and wider region. Producing large-scale revivals and adaptations as well as supporting the development of plenty of new work, the theatre is at the heart of much of the city's creative scene. So whether you're heading over for a main house show, studio production, or as part of a festival (Ferment and MayFest for a start), the Bristol Old Vic is a keystone in Bristol's theatre ecology.
---
Tobacco Factory Theatres
Raleigh Road, Southville, Bristol, BS3 1TF
Starting out as a low-budget space, the Tobacco Factory has grown into one of the city's best-loved organisations, showcasing a wide range of locally-produced and touring work. Home to 'Shakespeare at the Tobacco Factory' and a keen supporter of Bristol-based artists, the Theatres boast one of the best in-the-round spaces around (the Factory Theatre), as well as the studio Spielman Theatre. And with North Street's excellent selection of restaurants near at hand, it's an ideal spot to catch some exciting work.
---
Wardrobe Theatre
Old Market Assembly, 25 West Street, Old Market, BS2 0DF
As hard as it is to believe, the Wardrobe Theatre has been around for almost a decade, and has firmly established a reputation at the heart of Bristol's fringe theatre scene. Hosting an eclectic array of theatre and performance, the Theatre's St Philips base allows it to take risks with its programming, whilst also keeping ticket prices down. If you fancy something experimental and exciting, check out their programme.
---
The Alma Tavern
18-20 Alma Vale Road, Clifton, BS8 2HY
A feature since 1997, upstairs at the Alma Tavern hosts a 48-seater black box which books a variety of local and touring productions. They also run their own production company (Schoolhouse Productions, who stage classic texts), and host new writing residencies, so there are plenty of shows to catch. Now run by Zazu's Kitchen, the place has had a facelift, and features comedy as well as theatre. Plenty to get stuck in to!
---
Bristol Improv Theatre
50 St Paul's Road, Bristol, BS8 1LP
You guessed it, the BIT is all about the art of improv. Featuring regular shows as well as workshops and training sessions, this is the go to venue for all things off the cuff - and it's the very first improv theatre in the whole of the UK! So check out the venue for details if you've ever fancied trying your hand or enjoying a night where no one knows what might happen..!