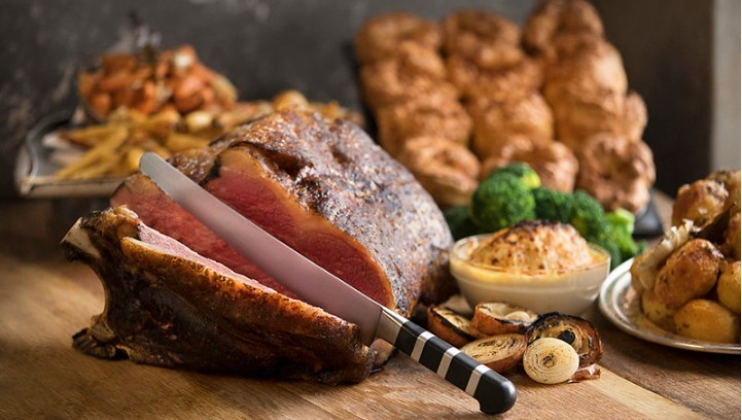 On a lazy Sunday there's nothing better than a hearty roast. Especially when someone else is cooking. Here are the best spots to grab one in Bristol…
On a lazy Sunday afternoon after a busy week there's little better than spending a couple of hours sitting over a slap up roast dinner. Especially when someone else is cooking. We've rounded up the top spots in Bristol for you to tuck into this weekly British tradition.
Hotel du Vin
The Sugar House, Narrow Lewins Mead, BS1 2NU
Starting off with our most up-market pick, why not head over to the Hotel du Vin, a long-standing feature of the Bristol dining scene. Here you can enjoy your Sunday special amongst their 18th century architecture mixed with chic, contemporary accents. They'll put together either an Aberdeenshire beef or Normandy chicken roast with all the trimmings, your essential Yorkshire pudding and a selection of vegetables.
For those that don't want to go the roast route, they also offer less traditional Sunday dishes, from a HDV classic burger to Cod provençial alongside their popular 'burnt chips' (don't worry, they're not charred scraps) that are part of the 'Burnt Chef Project' - a charity working with challenging the stigma on mental health. It'll set you back a good £27.50 for a four course spectacular, but for that special occasion, it's worth the expense.
You can check out their full menu here.
---
The Rose of Denmark
6 Dowry Place, BS8 4QL
Our list would not be complete without one of Hotwells' best-kept secrets, this little pub is nestled by the river near Cumberland Basin at the western edge of the city centre. It has a friendly, local feel and serves some of the most generous roasts you can hope to find.
Highly commended for two years running in Bristol's Good Food Awards, their Sunday mains will set you back a mere £10. So tuck into some topside of beef or chicken with Dijon and for that price, there's no excuse not to wash it down with a chocolate tart!
---
The George Inn
Manor Rd, Abbots Leigh, BS8 3RP
Stunningly 'gastro' and just under a mile out of the city in Abbots Leigh, the George Inn is easily reached by car a short drive from the Clifton Suspension Bridge. This cosy little 18th Century village pub was erected in 1719, although refurbished since, it's still managed to maintain its heritage alongside its friendly, relaxed pub atmosphere whilst providing its customers with a full bistro experience.
A roast will see you back about £15, but the surroundings, the garden (weather permitting) and the impressive selection of local drinks make it worthwhile. Because of the petite size of the pub we recommend you book a table in advance. You can do that here.
To check out their menu, click here.
---
The Knowle
Leighton Road, Knowle, Bristol, BS4 2LL
A former hotel that overlooks Knowle and Brislington, the Knowle is the go-to place for Sunday lunch. A does-what-it-says-on-the-tin venue, the roasts are affordable, well portioned and delicious. Served from midday until 4pm and packed with your all-too-familair roast options from chicken and stuffing to pigs in blankets.
Prices start from £14 upwards and there a pub garden to soak up the sunshine in over the warmer months.
---
The Kensington Arms
35-37 Stanley Road, Bristol, BS6 6NP
Nestled in the heart of Redland is The Kensington Arms, a quaint pub serving seasonal fair attracting many a drinker and diner. The pub combines a victorian inspired interior with mismatched, antique furniture alongside views into the open kitchen that serves modern British dishes a pub classics including their popular Sunday roast.
The team pride themselves on preparing their dishes all by hand and going to great lengths to source their produce locally and responsibly ensuring great quality and flavour. A set menu at the Kensington Arms costs £28 for three courses or £24 for two. Select from their range of succulent meats or if you're not necessarily feeling meat, opt for the mushroom, hazelnut and cheddar loaf. Their full menu can be found here.
---