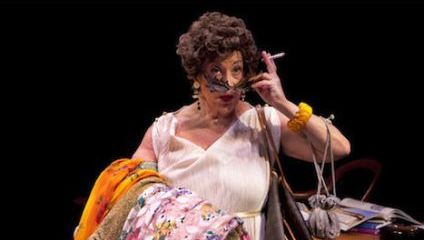 Playing Peggy Guggenheim

The American actress is currently starring as Peggy Guggenheim in Woman Before A Glass at the Jermyn Street Theatre, London

Lanie Robertson's enjoyable one-woman show about the great art collector kicked of the Scandal season at the Jermyn Street Theatre. Rebelling against her wealthy NY upbringing and becoming the énfant térrible of the modern art scene, Peggy Guggenheim lived a life almost too amazing to be believed. London Calling talked to Judy Rosenblatt about her portrayal of a woman who was clearly ahead of her time.

London Calling: Hi Judy, thanks so much for talking to London Calling. Would you tell us about the play Woman Before A Glass?

Judy Rosenblatt: The play takes place in Venice at Peggy Guggenheim's palazzo and in a gondola on the Grand Canal. It spans the years from 1963 - 1968 when Peggy is in her sixties. In each act Peggy is faced with a significant episode in her life; the play is about the price you pay for the choices you make.

LC: You played her before in Peggy Guggenheim Stripped Bare By her Bachelors - a nod to the famous painting by Marcel Duchamp. I wondered how the character developed since you first played her? Are you still making discoveries about her?

JR: Working on Lanie Robertson's play has involved a lot more research. The previous play was a Benefit Performance and was maybe four shows as opposed to several weeks of performance. During the three weeks of performances in 2011, I discovered other things about Peggy on a sensory level. But this time, I had a chance to really investigate the play and Peggy herself. The director Austin Pendleton and I committed to working on this together several months before he was actually available so I used that time to do extensive research and work on the text.
Judy Rosenblatt in Woman Before A Glass (c) Robert Workman
LC: Have you always been a fan of contemporary art?
JR: Not what is contemporary now so much, but Peggy's contemporaries? Definitely. I just love the Abstract expressionists - particularly Kandinsky, Pollack and Rothko.
LC: You've performed in the theatre in large productions with big ensembles; how is it performing in a single woman show?
JR: I was asked that last week by people at the Invited Dress Rehearsals in New York. It doesn't feel like a one-woman play to me - I'm in constant communication with the audience. I need specific things from them in the same way that I would if I were working with other actors. I like the format of a one person play a lot; it's a big challenge and that's attractive to me.
LC: You've worked with actor and director Austin Pendleton in other productions and for a few years on this production - what draws you to his directing style?
JR: It's always, always a joy to work with Austin. My first acting teacher Joseph Balfiore directed like Austin. Both men made me feel that they trusted me completely and that feels a lot like unconditional love. We all yearn for unconditional love because it feels safe and gives us permission to grow. Their directing style makes me feel as if I'm seen, really seen for who I am and so with two little words Austin can clarify and simplify my personal understanding of the character and her objectives.
LC: What first interested you in acting?
JR: Playing make-believe with my little sister Karen. We set the piano bench as a stage and then our lime green drapes became the curtain.
LC: You studied in London at the Central School of Speech and Drama. How did you find living in London?
JR: Theatre students begin their training much earlier in London than in NY. I was about seven years older than most of the other students and I remember feeling isolated. I only had Dostoyevsky's Crime and Punishment and a large poster of Rudolf Nureyev, who I felt was my true love, to look after me. Then, in the second half of the year, a student at Central called Sally Somerville moved in with me and I found a boyfriend, who was not Rudolf Nureyev. That time was very happy for me. I lost touch with her, but Sally has become a well-known potter and I'd love to get back in contact.
LC: What are some of your favourite things to do in London/what are you looking forward to?
JR: I'm involved with a group of women in New York who research once-prominent actresses who are disappearing into the obscurity of history. I'm currently researching the Yiddish Actress, Bertha Kalich, and I've connected with Clive Bettington who leads tours of the Jewish East End and the Yiddish Theatre. He's promised to introduce me to Sadie Skobb, a star of the Yiddish Stage in its hay-day. Other than that, I'm looking forward to walking through all those historic and scenic spots in London and taking some pictures of your beautiful and fascinating city. When I was in London last year with the League of Professional Theatre Women, I saw so much theatre. I'm intending to sneak in a matinee on my Sundays off - unless I need to snuggle into my pyjamas and sleep! And when the show is over, I think I might go over to Venice and finally see Peggy's palazzo. Last year, I met Richard Wilson and Mark Wheeler who know Judith Mackrell, one of Peggy's biographers, and I really hope to meet her while I'm in London. Honestly, this whole experience is such an adventure and I'm very grateful to Tom Littler and the Jermyn Street Theatre for making it happen.
Woman Before A Glass is at the Jermyn Street Theatre till 3 February