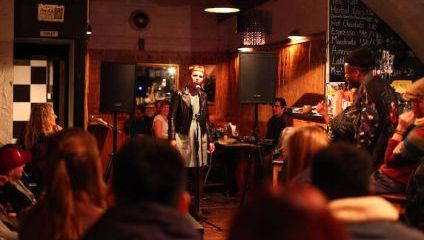 Whether you're performing on stage or watching your faves, we've got the lowdown on the best places for a poetry fix
London's poetry and spoken word scene is thriving and there seems to be a new night popping up every week. In honour of World Poetry Day, we've collected the very best of what London has to offer, from old favourites to new starters. Here are five reasons you shouldn't just leave poetry to the prose...
---
Jawdance
Run at Rich Mix in Shoreditch, Jawdance basks in all the advantages of a big stage, big crowd and big poets. Jawdance has some of the best headliners around and is probably where you'll go to see your favourite poets, but also brings 10 open mic-ers to the stage each night with a heart-stopping lottery system, meaning you could get the chance to share the stage with your heroes. If you want to get up on the stage for the first time, don't be scared: first-timers are warmly welcomed. Entry is free - what have you got to lose?
Image © Jawdance via Facebook
Jawdance is held on the third Wednesday of every month at Rich Mix, 35-47 Bethnal Green Rd, London E1 6LA.
---
Pen-Ting
Small but mighty, this up-and-coming hip-hop, politics and poetry night has only been around for a year, but always draws huge crowds. The room is always electrified, with one of the most appreciative and passionate poetry audiences in the capital and a particularly high quality of open mic-ers. And for anyone wanting to show off their freestyle skills, a Pen-Ting evening always ends with a cypher.
Image © Pen-Ting Poetry via Facebook
Pen-Ting runs on the third Thursday of every month at SET, 27a Dalston Lane, London E8 3DF
---
Hammer & Tongue is one of the behemoths of the slam world, hosting events all over the country, which culminate in their National Slam Finals at the Royal Albert Hall every January. The London branch events are held at The Book Club. The night is £8, making it one of the more expensive poetry nights, but it's worth it, as they promise the hottest talents of the poetry scene, both in their features and in their open-mic slots.
Image © Hammer & Tongue Hackney via Facebook
Hammer & Tongue Hackney takes place on the first Tuesday of every month at the Book Club, 100-106 Leonard St, London EC2A 4RH.
---
Spoken Word London
Spoken Word London is unique among London poetry and spoken word nights for several reasons. Firstly, after growing so much in popularity the queue started forming an hour and a half before doors opened, the event has gone fortnightly, being held on the first and third Wednesday of every month. Secondly, the event is made up solely of 20 five-minute open-mic slots, meaning you have a high chance of being able to perform. The atmosphere is really warm and friendly, making this a great place to share new work, as well as anything you think might not fit into traditional boundaries of poetry, spoken word or stand-up.
Image © Spoken Word London via Facebook
Spoken Word London takes place every first and third Wednesday of the month at VFD, 66 Stoke Newington Road, London N16 7XB.
---
Genesis Poetry Slam
Hosted upstairs at the Genesis cinema at the Paragon Bar, this is London's only regular 3-round poetry slam, and it's a real proper slam too: scores, eliminations and a winner who moves on to a final slam at the end of the year. If you're a poet who can bear having a numerical value assigned to your deepest thoughts and feelings, get yourself to the Genesis on the second Thursday of every month. This is also one of the most fun events to attend as a non-poet, as judges are chosen from the audience, so you could end up giving the scores!
Image © Genesis Poetry Slam via Facebook
The Genesis Poetry Slam takes place on the second Thursday of every month at the Genesis Cinema, 93-95 Mile End Rd, London E1 4UJ.