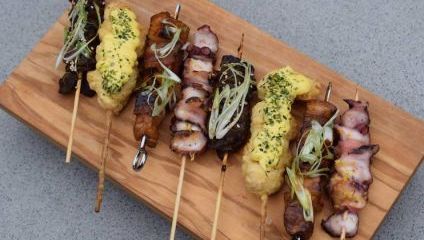 1.6 miles of delicious food
Kingsland Road. Home to the Rio Cinema, The Glory and many more delights, the road stretches between Dalston Nando's all the way down to the junction at St Leonard's Church where it becomes Shoreditch High Street - that's 1.6 miles (or about a half-hour stroll) of delicious food. But what's best, and for when?
---
Voodoo Ray's
Perfectly located for a visit after getting good and sweaty in Dalston Superstore next door, Ray's does pizza by the slice, the ideal post-boogie snack. Whether it's 11pm or 3am, Ray's is ready to greet you, warm and raucous and loud and with absolutely nobody judging you for dropping all that mozzarella down your top. Try their Queen Vegan with artichokes and signature green sauce alongside a can of Beavertown from the fridge to keep you going. Their locations in Peckham and Shoreditch don't go on quite as late, but are still good for a just-before-midnight snack.
Voodoo Ray's pizza by the slice © Voodoo Ray's via Facebook
95 Kingsland High St, Dalston, London E8 2PB
---
Untitled
Untitled is a great choice for a dinner out with friends. The first reason to go is the cocktails - creative and unusual flavour combinations will have you all stealing sips from each other's drinks so you can try them all. The food and the décor are both draws too - Japanese-inspired nibbles and huge, striking photographic portraits. Come to think, they'd provide good chat-fodder for a first date, too.
Yakitori skewers and a Bloody Mary at Untitled © Untitled bar via Facebook
538 Kingsland Rd, Dalston, London E8 4AH
---
Dusty Knuckle
Now, Dusty Knuckle might be technically just off Kingsland Road, but it's good enough that we're going to make an exception. Go down the alley just to the right of McDonald's towards the bee mural and you'll find a large, airy bakery-café with the best sandwiches this side of the river, if not the Atlantic (and outdoor seating - bonus!). With a (very veggie/vegan-friendly) weekly menu, Dusty Knuckle offers a selection of sandwiches and other baked goods, plus a salad option. Choices are often unusual (think a seared broccoli sammie) but always delicious. The perfect Friday lunch option.
Dusty Knuckle's famous bread © Dusty Knuckle Bakery via Facebook
Abbot St, Dalston, London E8 3DP
---
Şömine Turkish
Şömine used to be open all hours, until new licensing laws forced them to have a closing time. So they did what any reasonable restaurant would do, and decided to start closing at 5am and opening again two hours later at 7am. The restaurant retains a homely, family-friendly vibe late into the night, where you can sit around and chat while nibbling on - or devouring - a big pile of falafel with hummus.
Yaprak sarması (vine leaves) © Şömine Restaurant via Facebook
131 Kingsland High St, Dalston, London E8 2PB.
---
Sông Quê Café
Moving all the way down to the more central end of the road, we get to Song Que Café. There's a bevy of Vietnamese restaurants in Hoxton, but this is our favourite: casual, unassuming, but with really delicious, fresh dishes. All your usual suspects are here: there's authentic, filling Phở, crunchy spring rolls and noodle dishes with plenty of zingy lemongrass.
Cơm sườn bì (grilled pork, shredded pork, cucumber and pickles with rice) © Sông Quê Café via Facebook
134 Kingsland Rd, Hackney, London E2 8DY