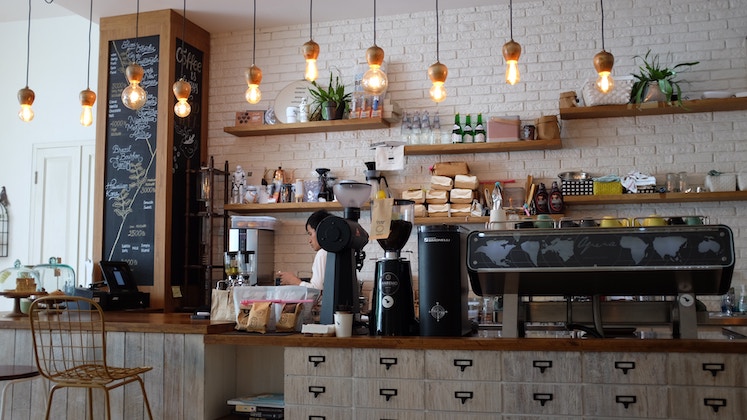 Rumour has it that the BFI's shabby-chic Benugo lounge is the top online-dating meet-up joint in town, but don't be put off by sweaty-palmed trysts.
People watching is one of the greatest pleasures a big city affords. It's especially good when practiced from a warm corner with a flat white and a home-made cupcake. It's even better in a location that guarantees an eclectic crowd of trendsters, students, tourists, quirky arty types, and regular joes. And it's best of all when, once you're down to dregs and crumbs, you can rise from your armchair and catch an outstanding play or exhibition to round off your day.
From national museums to indie cinemas, London's cultural institutions provide some of the best watering holes for socialising, slobbing and inspiration-seeking in the world. And with every Brit worth their salt boycotting Starbucks for its creative approach to tax, now is the time to support a classier breed of café. Here are ten of our favourite cosy hangouts in the capital, perfect for winter afternoons.
Located just inside the foyer, the Wellcome Collection's café may be furnished in an uninviting Duplo/IKEA hybrid style, but it is unfailingly buzzy and buoyant. Exhibitions are free, so after exploring the extraordinary current show on the iconography of death, you'll have plenty of spare change to indulge in caterer Peyton and Byrne's old school English treats - the gourmet black forest fairy cakes are a must. It's also adjacent to the one of the best-curated cultural bookshops in London, so pick up the likes of David Eagleman's Incognito to feed your brain as well as your belly.
Cinema cafés tend to be lurid monstrosities, where the height of sophistication involves ordering a stale instant coffee to go with your supersized Ben and Jerry's sundae. But Hackney Picturehouse's scrubbed-wooden shared tables and retro booths make it as popular for relaxing as for watching its selection of popular and art-house films. With the Everyman's brand of louche luxury bringing home-made apple-crumble muffins and chai lattes to the scrappy heart of east London, you'd be a fool not to head to their £6 Mondays. Just remember to bring your very best facial hair.
Yes, it's full of elderly art-lovers and twenty-somethings taking their mums out for lunch, but the National Gallery's high-ceilinged, big-windowed, wood-paneled room is a calm, elegant Henry James oasis in the heart of London's tourist trail. The hard wooden chairs and benches encourage good posture rather than lazy lingering, but a bracing cup of oolong and a sharp apricot pastry are just the ticket for putting the spring back in your step. Oh, and one of the world's best free collections of West European painting lies a few paces down the corridor. There is that.
Under artistic director Michael Attenborough, Islington's Almeida theatre has become a reliable hit-factory; The Dark Earth and the Light Sky, Nick Dear's new play about the life of poet Edward Thomas, is already garnering glowing reviews. At night, the theatre's very small café/bar resembles a game of sardines, but in the daytime it is a light-filled, peaceful haven in which to pick at delicious fresh food and stare wistfully out of the Upper Street-side window. The kind of place where prosecco feels mandatory past 3pm.
With its magnificent views and clean, neutral decor, the Blueprint Café, on the first floor of the Southbank's Design Museum, is deeply tranquil. Food is on the expensive side, but there's no reason not to string out an espresso and a panna cotta while peering down at riverside passers-by through the signature blue binoculars. Use the free Wifi to tweet a message with the #digitalcrystal hashtag, then head into Swarovski's Digital Crystal exhibition to watch it appear on the 1000 LEDs hidden in the crystals of Ron Arad's Lolita chandelier.
Rumour has it that the BFI's shabby-chic Benugo lounge is the top online-dating meet-up joint in town, but don't be put off by sweaty-palmed trysts. The dimly lit open-plan room, with its mismatched velvet armchairs and squishy leather sofas, works for noisy groups of mates and solo laptop bunnies alike, and once you're finished with the loose-leaf tea you can move seamlessly onto cocktails and sweet potato fries. The crowd tends towards self-conscious be-scarfed media types, but December's Doris Day season will help you greet the most pretentious posers with a beaming grin.
7. The Cut
If you're feeling seasonally sluggish, you can practically snort the energy from the air at The Cut, the Young Vic Theatre's restaurant and bar. Host a go-getting breakfast meeting over poached eggs and Virgin Marys, but bring your cashmere as the warehouse-style space can get cold. Very pretty people abound, attracted by the equally young, experimental and international theatre companies that showcase their work on the stage. Lunch on the divine banana split, then catch a matinee of Going Dark, their multi-sensory winter show, and you'll explode back onto the streets with the scales dropped from your jaded eyes.
8. Gallery Mess @ The Saatchi Gallery
Seated in splendour amidst vaulted ceilings, exposed brickwork and edgy exhibits, every visitor to the Gallery Mess Café looks like a work of art themselves. In a sea of overpriced and underpowered Chelsea joints, this achingly stylish space provides welcome respite from the madness of the King's Road, and Saatchi's famous ability to nail the artistic zeitgeist makes a stroll through the gallery's free exhibitions a must. Knock back a bespoke fresh fruit smoothie, explore the current display of new Russian work, and you'll leave feeling truly refreshed.
9. Royal Court Theatre Café Bar
The Royal Court's basement café/bar may be too dark to comfortably read, but you'd have to be blind to miss the theatre celebrities lurking in its moody corners. Find directors, playwrights, actors and even the odd sir or dame sitting at the wooden tables, squinting at their reviews in the Telegraph, sipping excellent fairtrade coffee and forking up slices of quiche. Some of the world's best new theatre writing gets premiered at the Royal Court, so pick up a playtext or two from the shop before you settle. Mobile signal can be patchy, providing an excuse to sit back, relax and - God forbid - talk.
10. The V&A
Famously positioned in Saatchi & Saatchi's late-80s ad campaign as "an ace caff, with quite a nice museum attached", the V&A has a long history of giving good café. Although the tables and chairs are standard plastic-utilitarian museum fare, the original nineteenth-century refreshment rooms they sit in - which were built to house the first museum restaurant in the world and intended to showcase the best of modern design, craftsmanship and manufacturing - are simply spectacular. It's the ideal setting to bring your Moleskine and make some sketches over a slice of Victoria sponge.