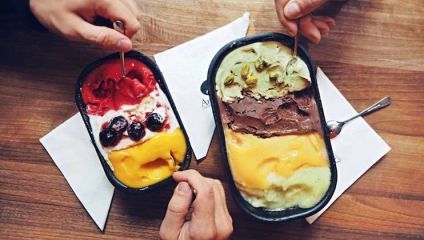 We may be tempting fate, but we've rounded up freshest frozen treats London has to offer in time for the Spring sunshine
With the weather warming up, there's no better time to indulge in the frozen delights the city has to offer. So grab your cones, biodegradable tubs, and recyclable spoons and we'll give you the inside scoop on the top ice cream and gelato spots in London.
---
Gelupo
Image Credit: Ewan Munro
Possibly the most talked-about gelato spot in London, Gelupo puts the "dolce" in la dolce vita. Victor Hugo and Jacob Kennedy set up shop in 2010, driving their passions for great flavour and texture with only the finest ingredients sourced fresh every day. A dedicated team preserves the tradition of Italian Gelato making, using special churning equipment that gently mixes the gelato as it freezes, and producing small, luxurious batches of high density loveliness with a big hit of flavour and a clean finish. You'd be hard-pressed to find a better artisan gelato this side of the Alps.
Gelupo can be found at 7 Archer St, Soho, W1D 7AU
---
Ruby Violet
If you're too skint for botox, head over to Ruby Violet for a "free facial workout" (eating and smiling). All of their ice creams are handmade in small batches with organic milk, free-range eggs, British or fair trade sugar, and seasonal fruits, freshly sourced from within a few miles in the summer. If straight-up ice cream isn't up your street, they also do a range of sundaes, ice cream cakes, bombes, logs, sandwiches, plus fresh fruit, filled with your choice of their vegan sorbets. Ruby Violet might just become a favourite for Friday and Saturday nights because, unlike pubs, they hold their Pudding Club from 6-9:30pm, allowing you to feast on mini baked alaskas and chocolate fondants alongside their range of alcohol, soft drinks and hot drinks on offer.
Ruby Violet has parlours in Tufnell Park, 118 Fortess Rd, NW5 2HL and King's Cross, 3 Wharf Road, N1C 4BZ
---
Chin Chin Labs
Get ready for the tastiest science class with the experimental concoctions and flavours at Chin Chin Labs, from avocado, to yuzu piña colada, burnt butter caramel, and cinnamon s'moreswitch. You can see the smoke billowing from outside the building, as the masses queue up for delicious treats, frozen to order with liquid nitrogen. If your tastebuds want to travel beyond hundreds and thousands, why not try some of their zany toppings, such as marmite toast or seaweed crisps? Or go that extra step further an opt for one of their signature "warmies" - a warm cookie, topped with your choice of ice cream, drizzled with lashings of melted dark chocolate and topped with a classic Chin Chin mini chocolate slab. Before queuing up though, come prepared - Chin Chin Labs take cash only.
Chin Chin Labs has parlours in Camden, 49-50 Camden Lock Place, NW1 8AF, Canada Water, Hawker House, Canada Street, SE16 2XU and Soho, 54 Greek Street
---
Amorino
Amorino was set up in 2002 for childhood friends, Cristiano Sereni and Paolo Benasi, to share their long-harboured passion for authentic Italian gelato. Christiano's started at the age of ten, after sneaking into the kitchen of his favourite gelato shop, and Paolo is all about paying homage to the traditional making process. With Boutiques all over the world, you'll only find organic and natural products at Amorino, used to make a delicious selection of sweet treats, from gelato-filled macarons, frappes, biscotti, crepes, and waffles.
Amorino has parlours throughout London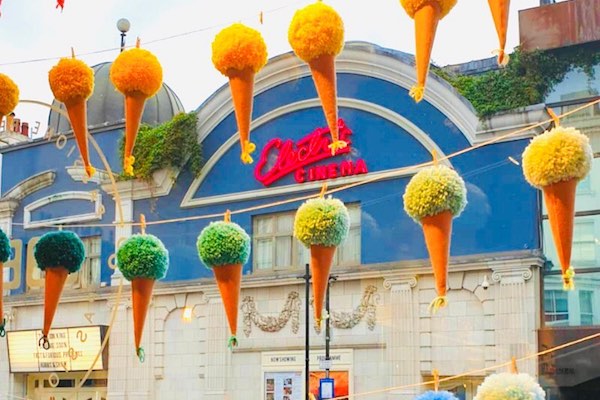 Image credit: Gelateria 3BIS London via Facebook
​​​​​​​
---
3bis
3BIS actively embodies the concept "artigianalita", or craftsmanship to us Londoners. With 15 years of expertise behind them, they swear by the holy trinity of great gelato: quality of products, rich taste, and passion. Their ingredients are sourced straight from Italy to the gastronomic hub that is Borough Market, bringing you small batches of gelato to ensure freshness, and sorbet made with 50% fruit. Plus, they're open from breakfast-time, serving up a fresh selection of pastries, crepes, cakes, and top quality espresso, so no one's left waiting for authentic Italian treats.
3bis can be found in Borough Market, 4 Park St, SE1 9AB