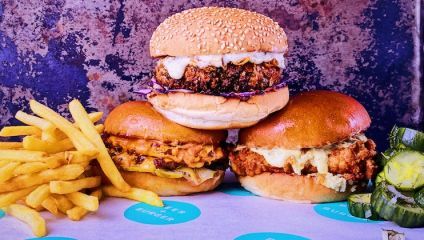 We go on a mission to find food for under a fiver in London
We go on a mission to find the absolute cheapest eats in London
Spotlight On:
---
Arancini Brothers
The Arancini Brothers' unassuming range of cafés hide real delights within: totally vegan burgers, wraps, salads and stews all based around their crunchy, creamy, chewy and completely charming risotto balls. Perfect for a lunchtime treat on a Friday, there are a million variations to try out, with "chicken" and "chorizo", but their humble plain salad does it best, with plenty of chunky ingredients and mouthwatering sauces. And if you really want to cut out the middleman, you can also simply order ten risotto balls to enjoy solo.
You can eat inside, where it's cheap, cheerful and comfy décor for all, or take your food away if you want to focus on your risotto balls in peace. And it won't cost you an arm and a leg (or a ball). You can get five risotto balls for £4.50 and a couple of their wraps slip in under the £5 mark. Better still, though, is signing up to their mailing list, which'll nab you a bevy of offers, from free coffees to 241 wraps and other discounts.
Multiple locations in Dalston, Old Street and Kentish Town.
---
Best of the Rest:
---
Bun House
What? Cheap as chips Chinese
Where? Soho
Why? This is really as good value as it gets; their steamed buns (including their weird and wonderful dessert buns) are all just £2.50, and the most expensive side you can find will come in at a not-too-nasty £4.80. Stuff your face!
---
Beer + Burger
What? Melt in your mouth burgers
Where? Notting Hill, Dalston, Willesdon, The 02
Why? While usually their burgers will set you back at least £7.50, if you head down to Beer + Burger for lunch on a weekday you can get one of their huge juicy burgers - whether that be chicken, double cheese, or vegan - for just a fiver. If you're feeling extravagant, pair it with one of the many, many independent beers they stock
---
Cojean
What? Export of healthy French favourites in London
Where? Mayfair, Chancery Lane or Ludgate Hill
Why? Most of the choices at Cojean come in at about the magic mark of £5, and they'll pretty much all give you at least a couple of your five-a-day
​​​​​
---
Jersualem Falafel
What? Filling falafel from a street food stall
Where? Berwick Street Market
Why? Get in the queue for one of these giant wraps, which combine 20 (twenty!) different types of veg, and at just £5 will keep you full 'til dinner without burning a hole in your pocket
---
Kin
What? Small, family-run restaurant specialising in Asian food

Where? Farringdon

Why? If you're sitting at work, dreaming of a curry for lunch, then this is the place for you. Weekday lunchtimes, Kin gets their bargain on, with their Thai green chicken curry and Thai red vegetable curry both reduced from £8 to
---
£5
​​​​​