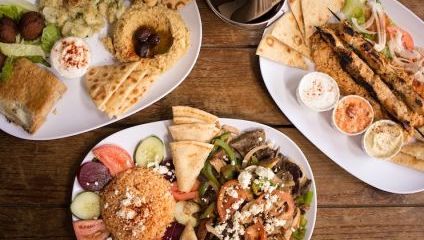 Yamas!
---
Spotlight On: Suzi Tros
In case you didn't know, the Greeks are the inventors of a lot of good stuff: democracy, the basics of the philosophies we follow today, tzatziki. And if you're a fan of that last one in particular, then boy do we have a treat for you. Suzi Tros (meaning Suzi, you eat in Greek) is a Greek restaurant in the heart of Notting Hill run by Adrien Carre and Christina Mouratoglou. The pair have already found success with their restaurant Mazi, just two doors down from Suzi Tros, which is inspired by Mouratoglou's hometown, Thessaloniki.
There's a focus on small plates, and a large charcoal grill in the centre of the restaurant will be responsible for most of the dishes, from whole grilled calamari to whole grilled and smoked aubergine. If you fancy something lighter, there's raw crayfish tartare, sea urchin and bonito carpaccio. If you don't, there's the tantalisingly-named 'Grandmama's Meatballs'. To wash it all down, Greek spirits like Tsipouro and Mastika are on-hand either upstairs in the restaurant, or downstairs, where there is an intimate bar area to relax in.
---
The Athenian
What? Popular street food pop-up
Where? White City, Shoreditch Boxpark, Tooting Market and more
Why? Everything good you'd expect from a modern Greek street food outfit - tasty wraps and fast. There's even a vegan gyros!
---
Olives and meze
What? Turkish and Greek restaurant - does what it says on the tin
Where? On Clapham High Street, near the Common
Why? The mouth-wateringly fresh, light dishes are enough to keep you coming back time after time, but it's the friendly service and reasonable prices that make this a must-do for any Claphamite
---
Andy's
What? Small, rustic and traditional Greek taverna
Where? Between Camden Town and Mornington Crescent
Why? The whitewashed walls and beamed ceilings combined with generous portions at easy prices make this a cute spot for a date or a dinner with friends and family (though not too many of them)
---
Apollo
What? Lively Greek joint with a little French touch
Where? Seven Sisters Road, a little down from Finsbury Park
Why? Come for the food, stay for the lively entertainment.