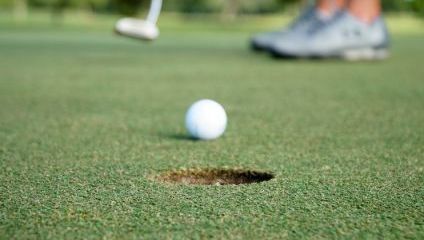 Crazy golf isn't just for family arguments in seaside towns
If you want to bring your putting skills to the razzle-dazzle of the big city, there are plenty of miniature meadows perfectly primed for you to unleash your inner protractor. Here's our guide to which courses you should try.
---
Junkyard Golf
If anywhere were to stock the miscellaneous knick-knacks that make up a good crazy golf course's motley approach to decoration, you would expect a junkyard to be it. This Shoreditch bunker isn't actually a refuse depot, but from its pick-and-mix assortment of cult and grunge items, it could well have been a last-stop storeroom for an unreleased Tarantino film. Completing the course is a challenge - if only due to the frequency of 'bunker' bars smattered throughout the holes and their semi-compulsory shot stops. A late night favourite if you are looking to hop from (golf) club to club.
Difficulty rating: 5/10
Crazy rating: 9/10
Expect: Shots, clowns and terrible puns
---
Swingers Crazy Golf
From the team that brought you Bounce ping pong and darts bar Flight Club comes Swingers, golf for players with a slightly looser approach to the rules. Obstacle number one is dodging the suits that surround this City central location (underneath the Gherkin in fact), but once you're inside you'll find yourself in a utopia of putting pleasure. Swingers does feel a little like the golf equivalent of Willy Wonka's factory with lurid green turf and floral decor. The holes aren't quite as imaginative as the chocolate maestro might make, but they still pack a testing shot or two. A social sojourn with lots of opportunities for a Budweiser pit stop.
Difficulty rating: 7/10
Crazy rating: 5/10
Expect: Hot dogs, fierce slopes and wood blocks
---
Plonk
Plonk is London's largest crazy golf outfit and the city's most colourful. Their three indoor courses in Dalston, Brixton and Battersea are UV wonderlands that look like a holiday resort for the Tron world. Meanwhile their outside courses in Hackney and Walthamstow sit somewhere between an ancient Aztec temple and a Skittles advert. All the locations are accompanied by a bar, and in Hackney's case a glorious beer garden. The perfect choice for a grown-up child with a short attention span.
Difficulty rating: 6/10 - score may vary depending on location
Crazy rating: 8/10
Expect: UV, more UV, and multi-coloured bird-houses
---
Putt in the Park
Putt in the Park - the golfing jaunt that does exactly what it says on the tin. Sadly, this matter-of-fact outfit has a similarly sober approach to decoration: crazy golf's usual hodgepodge paraphernalia has not been engaged in. For those seeking teasing greens and sandy bunkers, however, the three courses in Acton, Battersea and Walthamstow will provide a real test. It's the honest, earnest option for golfing dads (or mums) who want to show off the rewards of all those cold Sunday mornings.
Difficulty rating: 9/10
Crazy rating: 3/10
Expect: Smiling faces, knitted tank tops, genuine frustration
---
Jurassic Encounter Mini Golf
Ever thought: "Yeah, this crazy golf is fine. But wouldn't it be better if we were surrounded by dinosaurs?" No? Well time to set your closed mind free. Jurassic Encounters is strictly for the Put-a-saurus Rexes out there, and if you are looking to Tricera-topple this Jur-classic course you better be Stego-seriously good… There's some good variation in this 18-hole circuit, and the long fairways allow you to really open up your power game. It's a bit of a trip out to Jurassic's West Wimbledon site, but on a sunny day it's a great weekend trip for kids.
Difficulty rating: 7/10
Crazy rating: 8/10
Expect: Allosaurus, Apatosaurus and Diplodocus