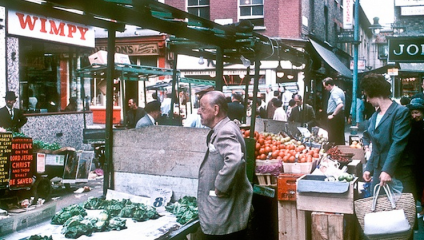 If you like your morning brew with a side of London history, Berwick Street will be right up your alley
In our new series Long Live Soho, we'll be guiding you around one of London's most historical and most vibrant districts. Loud and proud, Soho is London's beating heart.
If you like your morning brew with a side of London history, Berwick Street will be right up your alley. One of Soho's most colourful and varied thoroughfares, the street has been through many redevelopments since being built in the late 1600s. But there's still plenty to eat, drink and discover here. So grab a coffee or a tea, sit back and relax: there's no better place to spend a couple of hours watching the world go by.
Turning off Oxford Street and south onto Berwick Street, you quickly come across one of its most popular venues: the Soho branch of tea specialists Yumchaa. With over forty different loose-leaf teas on offer to drink hot or iced, as well as an impressive selection of cakes and pastries, it's little wonder this cheery, laidback little café is such a local favourite. And don't worry, you can bring any non-tea drinking friends as well: they also have a good coffee selection.
Making your way further south, stop off at one of the few record shops still left after the heyday of Britpop, when the street was affectionately known as 'the vinyl mile'. Or take a moment on the corner of D'Arblay Street to recreate the album cover of Oasis' Morning Glory, which immortalised a very different-looking Berwick Street in the mid-nineties.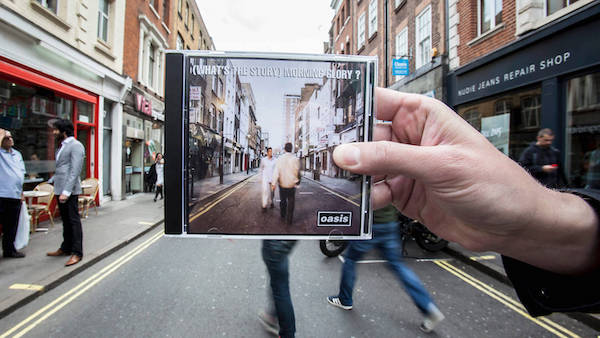 The cover of Morning Glory: Berwick Street. Image © Rob Greig
A bit further down you'll find My Place Soho, a friendly café serving breakfast, sandwiches and salads. Their claim to fame is their coffee, however, which is a key ingredient in the usual variety of hot drinks as well as in their espresso martinis. Perch on one of the benches outside if it's a sunny day, or stay indoors and check out the works made by local artists that usually adorn the walls.
Just a hop and a skip down the road is Med Café Soho, which honours its name by truly serving a range of dishes from around the Mediterranean - not just from Italy. From Spanish omelettes to falafel, you can expect to be served delicious, fresh food here, breakfast, lunch and dinner. Weekday lunchtimes can get very busy though, because that's when chef Gulsah serves freshly made gözleme from the front window.
If it's about time for another caffeine fix, pop into Flat White next door. Having preached the gospel of Antipodean coffee culture to the Soho masses since 2005, they can well and truly claim to have been serving flat whites since way before it was cool. And even if you've just come in for a coffee, you might find yourself staying for their famous banana bread…
Finally, you can't visit Berwick Street without also paying tribute to its famous street market, dating back to 1778 and thereby one of London's oldest. With people from all over Europe making their home in Soho, Berwick Street Market was first to provide many exotic goods to its neighbours, from introducing Londoners to the tomato in 1880 to olive oil in the 1950s. Today it's still home to many traditional fruit, veg and flower stalls alongside traders serving street food from all over the world.