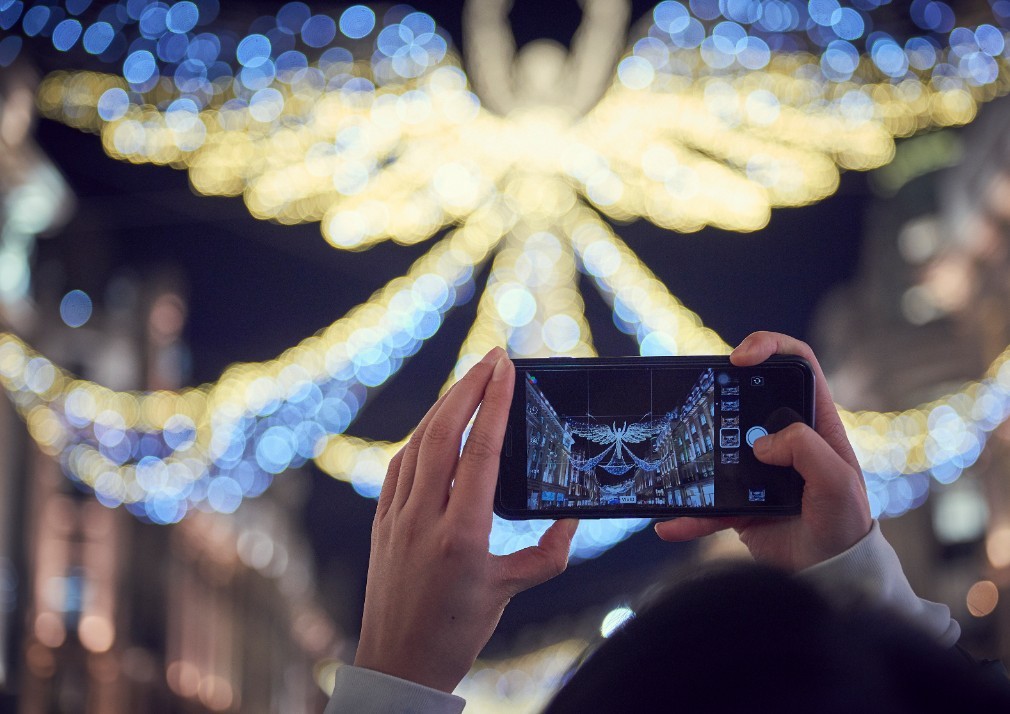 It's beginning to look a lot like Christmas in the capital, check out theses festive activities in London to really get you into the spirit...
There's something truly magical about a city that is transformed over Christmas, and London does it very well. There's so many festive activities to enjoy around the city that you'll be spoilt for choice, from annual classics such as the Christmas lights on Oxford Street and Regent Street to the bustling Winter Wonderland to your must-see pantomimes at the Paladium. But with so much to do where do you begin? Here's our guide to the top Chritmas activities to in London this winter.
Christmas At Kew Gardens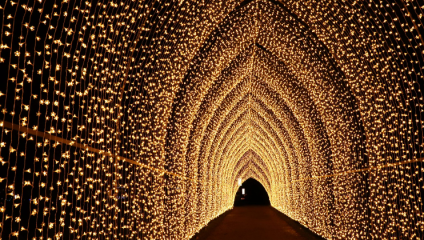 Richmond, United Kingdom
Enter a botanical world of festivities this year and visit Christmas at Kew Gardens. Watch this popular, touristic park be absolutely transformed from the summery full bloom to an after-dark festivity adorend with sparkling tunnels of light, reflections dancing on the lakeside and trees drenched in arrays of colours.
Running daily from 4.20pm to 10pm (with last entries at 8pm) from the 16th November to the 8th January, take a walk under the stars, grabbing some delicious food and drink from their independent food vendors along the way. From tasty hot food to spiced sweet treats and winter warmers you will be festooned amongst the beauty.
Standard tickets start from £21.50 off-peak and there are special discounts for Kew members.
---
Pantomime At The Palladium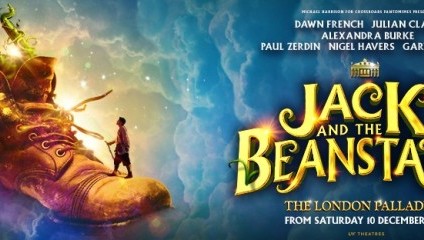 8 Argyll St, London, W1F 7TF
Pantomime has been a past-time richly visited and well loved by Brits for generations, and the London Palladium has been a pantomime pilgrimage since 1914! Hosting popular classics like Cinderella, Dick Whittington and Red Riding Hood to name a few, Christmas has always been a special time for Pantomime and this year won't disappoint!
With a star-studded comedy cast, join Dawn French, Julian Clary and Alexandra Burke (making her official debut) as they lead an entire crew for a brand-new production of Jack and the Beanstalk. This show will bring you all the magic and laughter you'd expect to see with lavishly decorated sets, wow-factor costumes and tongue-in-cheek jokes that will have you rolling on the floor.
The shows will be running from the 10th December up until the 15th January, so grab your tickets now... though sadly you can't pay with magic beans.
---
Hogwarts In The Snow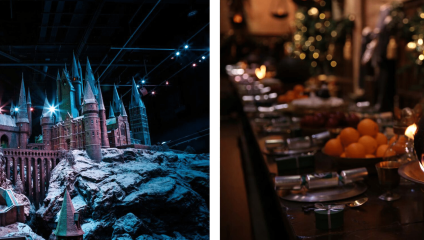 Studio Tour Dr, Leavesden, Watford WD25 7LR
Potterhead or not, Hogwarts in the snow is a perfect way to celebrate the festive season with a little extra dose of magic. At the best of times, the Harry Potter experience at the Warner Brothers Studios in Watford is truly mind blowing, but the surroundings become completely transformed during the Christmas period, and the wizarding world becomes a wintery snow scene.
This makeover provides visitors with an up-close and personal tour of the much loved movie settings. From props, costumes, models and entire sets that were used in the Harry Potter films, you can stroll through The Great Hall- transformed into a replica festive feast including flaming Christmas puddings and blue and silver spangle! Stroll through Diagon Ally covered in snow and an entire down-sized replica of Hogwarts castle contained in what only feels like a giant snow-globe.
With roaring fires and a gift-shop that sells the perfect stocking fillers for any Harry Potter fan, this experience is enough to make even Voldermorts heart melt.
It's a guarantee, 'Yule' love it!
Tickets must be booked in advance. Purchases can be made here.
---
Oxford Street And Regent Street Christmas Lights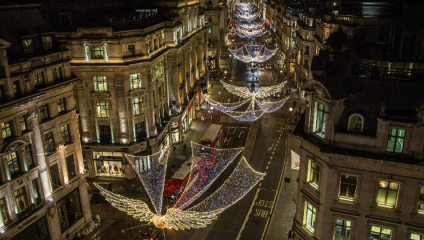 Oxford Street, Regent Street, London
It only seemed fair that we collectively write about the two most popular perpendicular streets in London and their magnificent Christmas lights. It's a must see and it's completely free!
Oxford Circus
Though we're still waiting for dates to be comfirmed, traditionally around mid-November, a lineup of popular celebrities and thousands of people gather for the switching on of the Oxford Circus Christmas lights. Running the full length of Oxford Street, the lights return with a classical display of twinkling white fairy lights and lavish red stairs. They're a sight to behold and a true treasure of London. To get the best view, why not hop on a bus, climb to the top deck and take it all in. This would be the only time we appreciate the Oxford Circus traffic!
Regent Street
Dive into the spirit of Christmas with the Regent Street return of it's glorious angel themed Christmas lights, named 'The Spirit of Christmas'. From the 9th November till 3rd January the 'spirits' will soar through the skies with a display of over 300,000 lights. For the best views and insta-worthy pictures, take the central reservation of the street- just remember to watch the traffic!
---
The Churchill Arms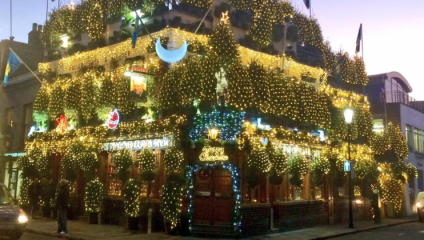 119 Kensington Church Street, Kensington, W8 7LN
Christmas shopping and festivities can not only be thirsty work, but can also work up a heft appetite, so why not stop by The Churchill Arms in Kensignton - arguably the most festive pub in London. This establishment really goes the extra mile when it comes to the winter season, with tens of Christmas trees adorning the exterior and bedecks outside.
Built in 1750, this extravagant pub really pulls out all the stops and doesn't spare a penny, with over 21,000 fairy lights and and expenditure of over £25,000 on the greenery each year! With a Winston Churchill theme interior and a tasty Thai restaurant, it's a great alternative for those that aren't in full favour of a Christmas roast.
If you're planning on simply stopping by for an insta worthy image just try to keep an eye out for the buses, otherwise make sure you book a table in advance, this place is just as popular as it is festive and we don't want to see any Scrooge-worthy frowns.
You can read more about the history of the pub here.
---