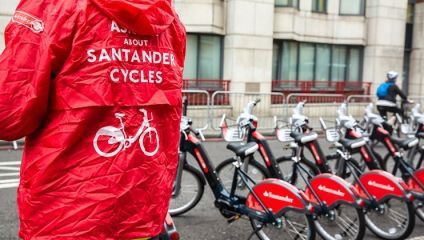 It's hard to remember a time before hire cycles lined our beautiful streets
It's hard to remember a time before Boris Bikes lined our beautiful streets. As spring has sprung and summer approaches, London Calling's Robert Bradley talks us through his Top 5 routes across the capital. Don't take his word for it though, get out there and experience them for yourself!
Like many Londoners we find that the Tube is our prime use of travel. Fantastically convenient, the London Underground network can shuttle you from here to there in no time at all. Central London is almost always an hour away from wherever you may be and despite the annual increase in fares and occasional line closure, it is perhaps one of the best underground networks in the world.
However, London is a beautiful city, and like most fellow commuters we rarely get to see its lush parks or towering architecture.
So, with spring well and truly sprung, perhaps now is the time to get on our bikes for a little scoot around our lovely capital, and what better way to do it, than on a Boris Bike!
There are hundreds of Santander bike stations dotted around London, if you don't believe me check here.
With so many roads, parks and back alleys to choose from, how to do you find a worthwhile route?
Well here are London Calling's Top 5 Boris Bike routes, for any of you weekend in the capital adventurous types!
Thames, the Palace and the Park Route average riding time 1hrs
Starting at Victoria embankment pick up your Boris Bike and then ride west along the river and soak in the views of the south bank and Westminster. Then branch off up alongside St James' Park to Buckingham Palace for a quick how do you do with the Sovereign, then up over Green Park just in time for high tea at the Ritz. Lovely!
Greenwich to Blackheath Route average riding time 2hrs
If you're planning on making a day of it, and it's a Sunday, why not pick up the bikes and head for a roast? One of the best roasts in the capital is that of the Railway Inn down in Blackheath. So pick up your bikes at South Quay in Canary Wharf, then cycle down though all the picturesque Docklands down onto the Isle of Dogs. Then keep going in a straight line and dismount for the foot tunnel that will take you under the Thames and on to the south side at Greenwich. After marvelling at the Cutty Sark for 5 to 10 minutes, cycle up through the park, past the planetarium and keep going straight, eventually you'll reach the massive heath…aka Blackheath. Cycle down towards the church then the station and you'll find the Railway Inn on the right next door to the station itself.
Dart around Hampstead average riding time 2hrs
If like me, you find all of the tremendous houses in the NW7 postcode inspirational, than a dart round the heath, and a few of her back roads, is always worth a trek. However Hampstead, although lovely to look at, holds host to some of the steepest hills in all of London, so make sure your calves are fully briefed before embarking on such an adventure. You can pick up the bikes up at Castleheaven Road in Camden Town then head north towards Hampstead. The best part of this route is when you hit the heath; I have outlined an area where I normally cycle that takes you right through the centre of this wonderful park, but you can of course go wherever you wish.
Tate To Tate average riding time 50mins
This is perhaps one of my favourite rides; it's a little bit of a trek, but well worth it, and what better way to spend your time than with fitness and culture.. All in one day!
You can start at either one of the Tate's as they each have cycle bays close to them. But for argumuents sake; let's say that you start at the Tate Modern. I don't want to get you in a pickle and confused with a multitude of directions for back roads with left turn here 2nd right here etc…basically just head for the Thames and be sure to be heading south along the south side of the river until you get to Vauxhall bridge, (this is the bridge closest to the MI6 building) cross over the bridge and turn left and then shortly after a few left turnings you'll see the Tate Britain clearly sign posted.
Hyde Park at Leisure average riding time 30mins
This route is for those that enjoy the leisurely bike ride, as opposed to a pain enducing endurance! Hyde Park in the spring and summertime is abuzz with activity. With various festivals and activities it certainly makes for a fun afternoons ride, and what's more, the park has many tea and cake shops to take your fancy as well as ice creams and usual park life enjoyments. Simply pick up your bikes at Hyde Park Corner and follow the cycle path that will take you on a leisurely tour of one of London's many gems.
It's always a good idea to plan your journey before hand and don't forget to find out how much it will cost for your ride before embarking.
You can find a list of the various and the most up to date charges here.