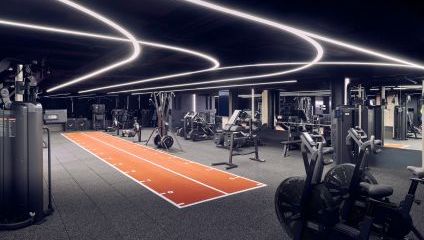 Kickstart your 2023 at one of the best gyms in London...
The fitness scene in London has exploded over the past few years, and picking a gym can be like searching for a restaurant here. You can scour through endless lists of well-reviewed, specific gyms or classes, you can stumble upon hidden gems, explore recommendations from fitness freak friends, sign up months in advance for the newest trends or jump into something that you're disappointed by but are stuck with a hefty fee or tied into a membership you're not a fan of. And that's where we step (or jump, skip and hop) in. We've reviewed the best rated and recommended gyms in London to bring you a list that provides a combination of the luxurious, the affordable, the faff free and the fully focused fitness centres and then condensed it into our top 5 list.
Say goodbye to scouring the internet and the city and discover the top 5 gyms in London.
---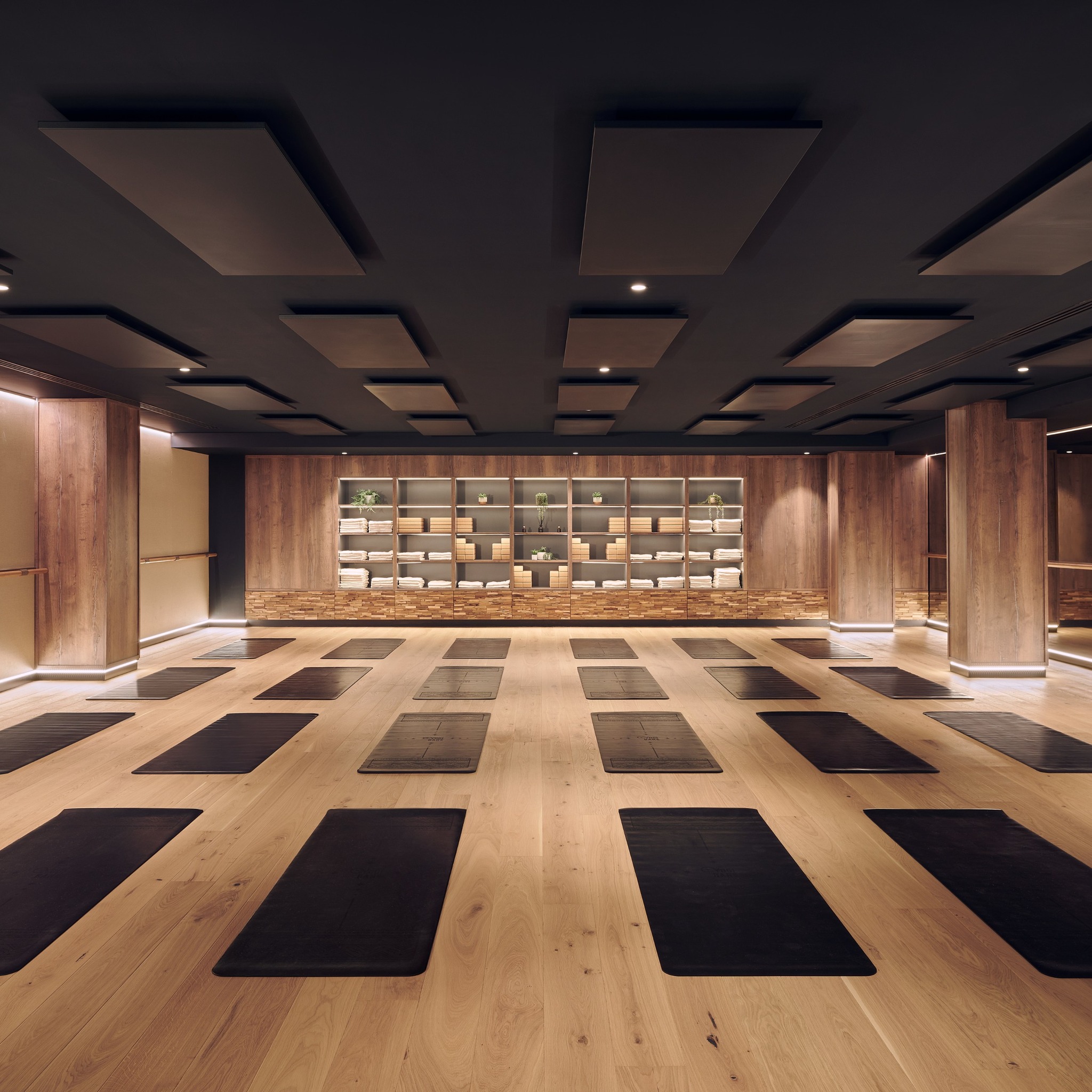 <> Third Space >

Multiple Locations

First on our list is Third Space, which is self-proclaimed as 'grown up luxury training' and has been reportedly frequented in the past by the likes of Prince Harry and David Beckham. It's also one of the most easily accessible with several sites across London leaving you with no excuse to attend or miss a class. They have beautifully designed clubs in Canary Wharf, City, Islington, Marylebone, Mayfair, Moorgate, Soho, Tower Bridge and Wimbledon all featuring state-of-the-art fitness spaces and luxurious designs making your workout not just a daily activity but an entire experience.

We all know that workouts are essential to maintaining both physical and mental health however sometimes it can be a bit of a drag to get yourself there- if the gyms aren't making you run to Third Space, the recovery areas will, from swimming pools to steam and salt sauna rooms, UV treated fresh air and essential oil treated fresh towels. Alongside this, each location has special perks. Soho has a Hypoxic chamber for example where you can maximise altitude training without having to hit the alps.

Remember, working out isn't about blasting your body until you pass out, education on form and technique is also crucial to get the most out of your training, and Third Space offers this in many different forms. Whether you're looking to work one-on-one with a PT, or take a 'lift class', to maximise your nutrition or get medical treatments to help recovery to the fullest, Third Space really does have it all! There's a plethora of over 700 classes to select from with expert trainers to guide you through movement, combat, swimming, dancing, cycling, strength, conditioning and athletics to name a few. They're all aimed at helping you reach your full potential and have the most fun whilst doing it.

Memberships aren't the cheapest, but when you're spending a 'third of your time' (hence the name Third Space) here, it's worth every penny. You can choose a group membership giving you access to several clubs or have a single membership to a club of your choice. Prices start from £200, although the Islington venue offers a little space membership for just £40 for 0-3 years, however terms, conditions and restrictions on facility uses apply. The good news: there's no joining fee in January, what a great time to kickstart those New Year resolutions!
---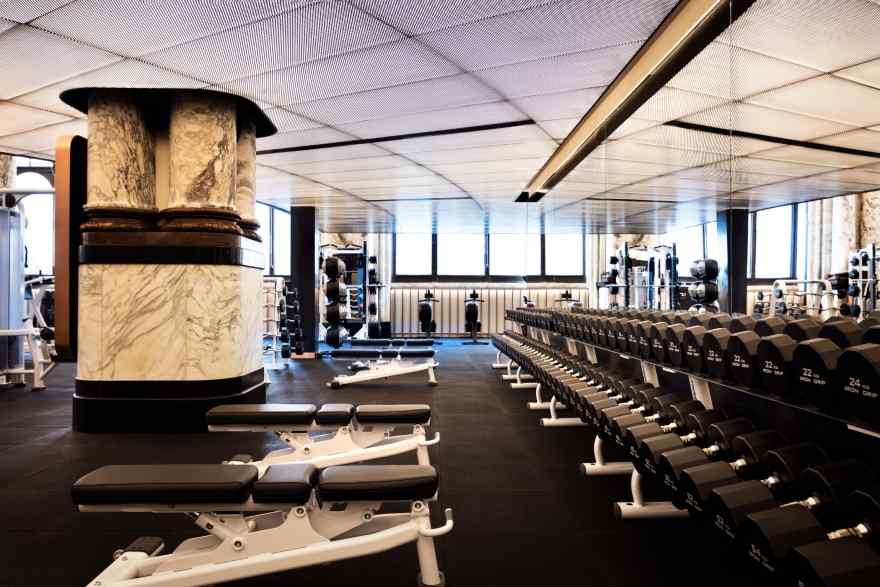 Equinox
Multiple Locations
Globally located US gym chain, Equinox is another swanky contender on our list. With locations in St. James, Bishopsgate and Kensington this gym isn't just about its state of the art equipment, a large roster of classes or it's celebrity attendees, but its meticulous service and attention to detail when it comes to its members' health, enjoyment and fitness. From its cooled eucalyptus towels to the cryotherapy chamber, compression therapy area and precision running zone; rest assured that your training will be maximised to its fullest potential.
The club in Kensington provides a stunning open-plan gym with every piece of high-tech equipment you could possibly imagine (if only they could do the workout for us), a kids club, pilates and boxing studio. The E by Equinox St. James venue takes it up a notch with their marble pillars, essential oil infused towels and complimentary laundry valet serviced with fresh coffee and fluffy robes. It's a precision run lab and massage only spa area that gives the venue a true membership club feel. Their newest club in Bishopsgate has made space their priority, making it their largest site in London. There's over 32,000 square feet of fitness facility spread across five floors combining luxury gym apparatus hot yoga studios and changing rooms that are drenched in luxurious decor and complimentary grooming products.
With over 40 classes to select from per week, there's bound to be something to suit your style of training. Grab a smoothie at one of their cafés after along with a new sports set at their store.
Each venue has a slight distinction to its design, one having a boxing studio, another having a Barre studio for example. It's important to have all of this in mind when considering your membership and everyone's welcome for a free tour so you can take it all in up close and in person.
Membership fees begin at £350 per month making it one of our more expensive choices, but with the perks and facilities, we're ready to invest!
---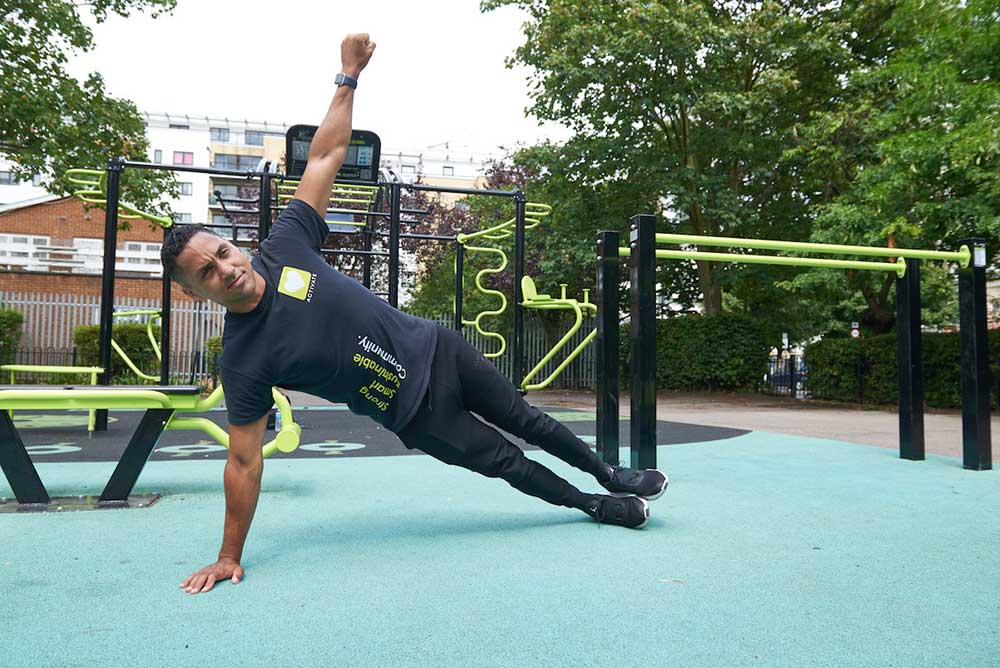 The Great Outdoor Gym Company
Numerous Locations
From costing an arm an a leg to just using your arms and your legs, no fee at all, The Great Outdoor Gym Company is an outdoor gym facility that you may have noticed popping up around the capital. They have an impressive 2000 successful gym installations already, and there's no sign of them stopping yet. Our pockets can be feeling a little lighter than normal after the festivities, and the GOGC is a great alternative to a lengthy gym membership. They're totally free, easy to find and are great for the environment too. The gyms work on using your own body weight as resistance and you'd be suprised with how much you can accomplish at their facilities. All you need is a workout routine, and some determination (especially when it comes to our unpredictable weather). More information on how to use the equipment can be found here!
They have inclusivity and sustainability at the heart of everything they do as a gym, meaning their equipment is also accessible to people with disabilities. Not to mention they are leading innovators in their field including systems such as the TGO PowerSmart range that transforms human energy into electricity that can be used for charging devices and can even be stored for later use. They have planted trees for the gyms that have erected and also built some equipment out of recycles aerosol cans.
There's really not much else to it, it's free to access, 24/7 and very much accessible. Talk about doing some good for yourself and your community at the same time.
---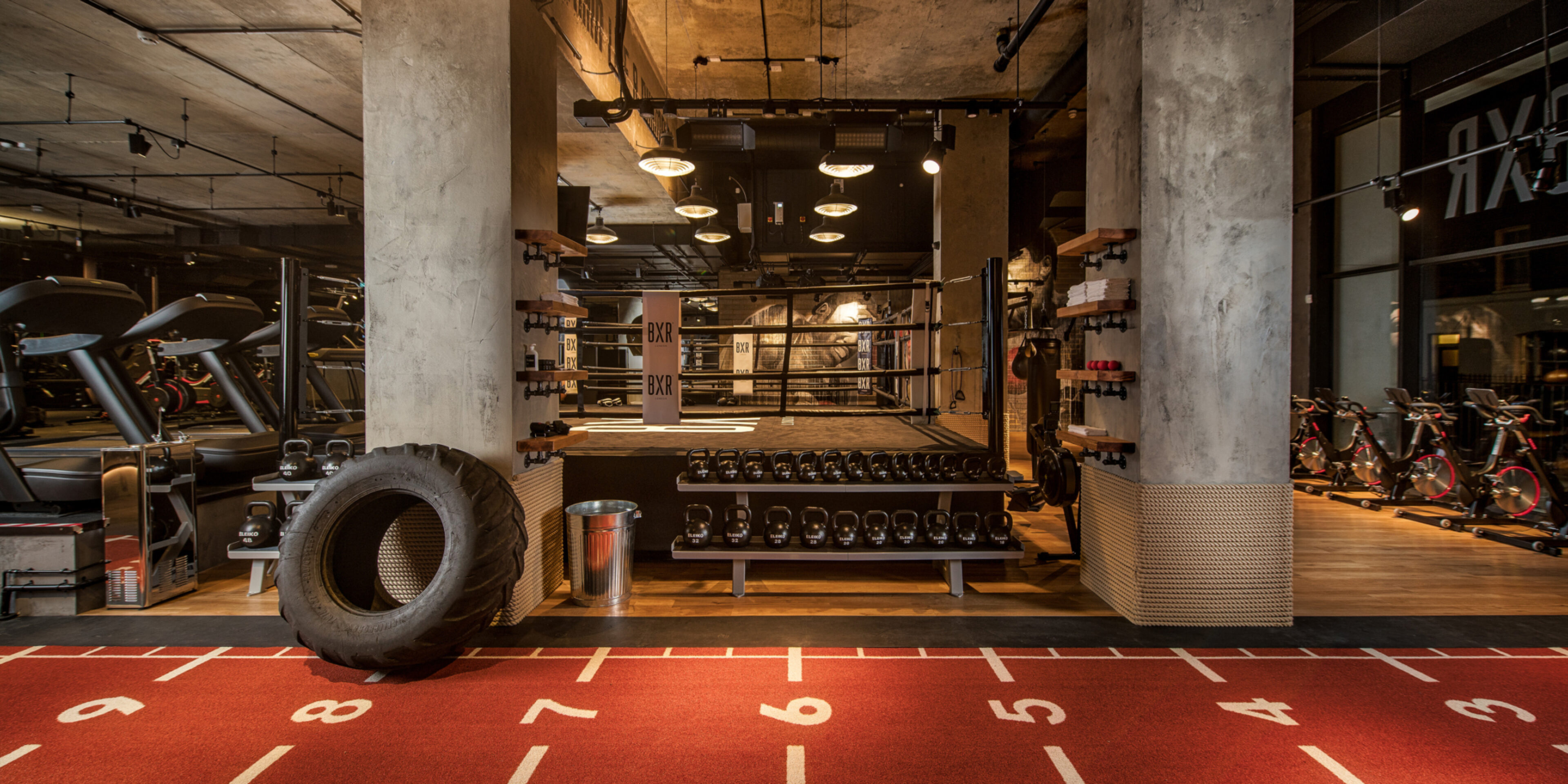 BXR
Multiple Locations
A gymn that is known for packing a punch, BXR was launched by heavyweight champion Anthony Joshua and offers a number of ways to kick, punch and fight your way into fitness no matter the level of experience. With locations in Marylebone, City and Canary Wharf these luxe gyms combine futuristic, state-of-the-art equipment with stylish interiors to provide a cool workout space for both members and non-members (who can enter for specific classes and training on a drop-in basis).
Whilst there is a central focus on boxing (with one facility boasting an Olympic sized boxing ring in the centre), there is an understanding of all aspects of fitness at BXR which is incorporated into its classes, equipment and rehabilitation programme. Experience and outcome are the two core pillars at BXR, and everything from the made-to-measure gloves and custom-made braided leather ropes, to the versaclimber classes to their relaxing changing rooms with complimentary grooming products. The attention to detail and the betterment of its members is evident.
Membership enquiries can be made here and fees start from £180 per month.Classes with SWEAR by BXR start at £15 per individual drop in.
Train like a champion and recover like one as well. Sounds like a smashing idea.
---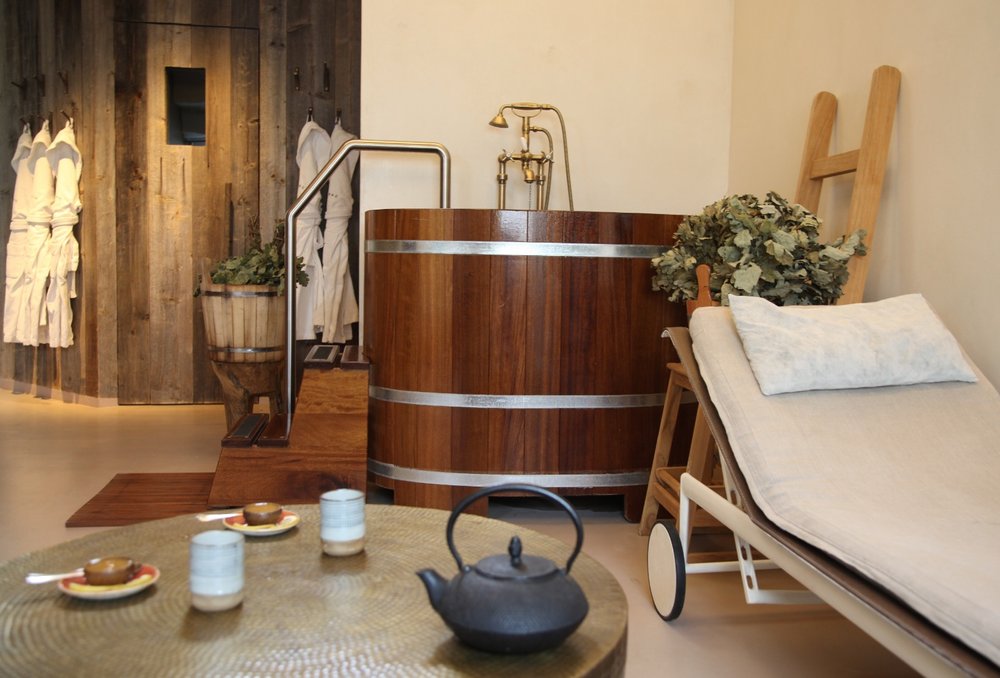 South Kensington Club
42 Harrington Rd, South Kensington, London SW7 3ND
The epitome of heritage and comfort, the South Kensington Club puts wellness as its priority. Set in a gorgeous Georgian Townhouse, it has an elegant vibe drawn from founder, Luca Del Bono's Italian Heritage. There's more of a homely vibe here than with our other selections, with wooden floors and flickering fireplaces alongside bookshelves the South Kensington Club aims to be its members' home away from home.
There are studios showcasing several classes including yoga, barre, boxing dance and pilates alongside a gym, plus in-house physiotherapy, beauty and medical treatments. When you're done sweating out the stresses of the city in the sky-lit gym, head on over to the Russian Bayna where you'll receive traditional treatment consisting of getting whacked by branches (way more therapeutic than it sounds) or float your worries away in the Watsu pool. If that doesn't tickle your fancy, indulge in the mosaic-lined Turkish Hammams.
Once you're done with your workout, relax your mind in the club lounge, with spacious sitting rooms and french doors opening onto a south facing terrace making it a work friendly space during the day and a wonderful environment for socialising in the evenings. Get to know other members through their regular events, from lectures, panel talks, screenings and workshops.
Memberships start from £3900 per annum and can be enquired about here.