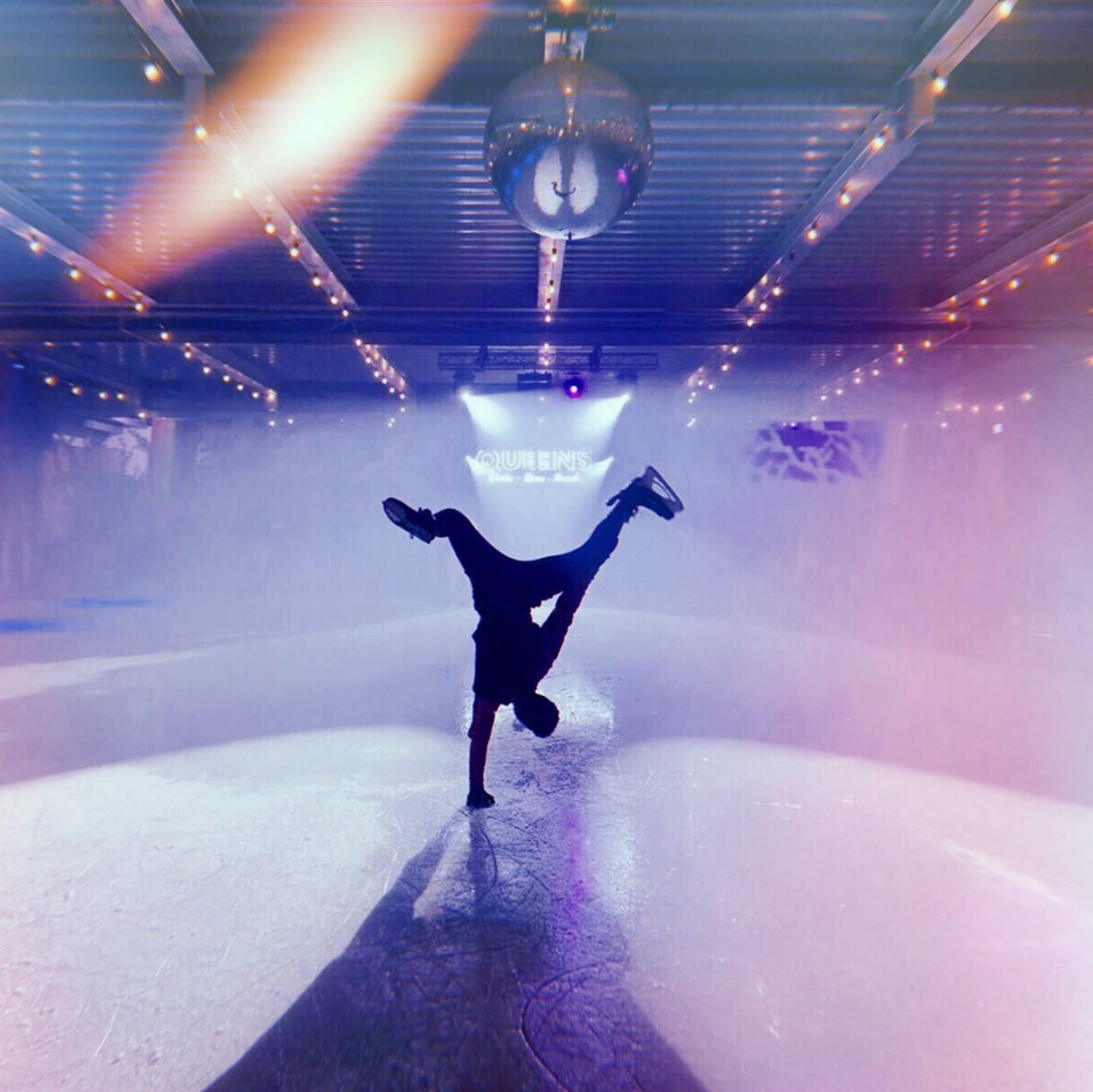 Ice skating should never be pigeon holed to just winter, it's a perfect all year round activity and we've put together a list for you to find the perfect London skate spots to enjoy whatever the weather, whenever.
Ice Skating is an activity commonly associated with winter, but it's most certainly not an activity that's just appropriate for the festive time of year. Luckily, the capital has a generous offering of ice rinks to suit all tastes, whether you want a traditional experience by one of London's many landmarks or something more purpose built, to get stuck in or simply spectate, time to don your bobble hat and hit the ice!
Ice Skating at Ally Pally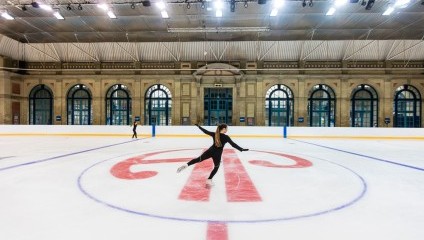 Alexandra Palace, Alexandra Palace Way, London, N22 7AY
If you're familiar with Alexandra Palace you're probably already aware of the many things available for you to do there. Well you can add one more acitivity to the list, ice skating! Their permanent ice rinks not only offers general sessions, but also the opportunity to sign up for ice skating courses (so you can be a pro by Christmas!).
Ally Pally also adds a fun twist to the sport of skating - ice discos! If you're looking to amp up the fun on you're skating experience we definitely advise attending one of their events. To keep up to date with the next disco, click here.
If you don't fancy hitting the ice, kick back in the Ice Cafe next to the rink whilst you spectate the professionals and the not so graceful individuals.
Standard prices start from £8.50 and the rink is open Monday - Sunday. For more information, click here.
---
Streatham Ice and Leisure Centre
Home to ice skating in London for over 80 years, Streatham Ice and Leisure Centre boasts a full size 60 x 30m ice pad and seating for over 900 spectators (that's olympic sized FYI). There's programmes available for all abilities and ages with ice skating lessons, courses, ice hockey and much more. It's the perfect place to enjoy a different type of movement for the body and to work on your skate skills. There are even penguin skates available for those that are less confident on the ice.
---
Queen's Ice Skating Rink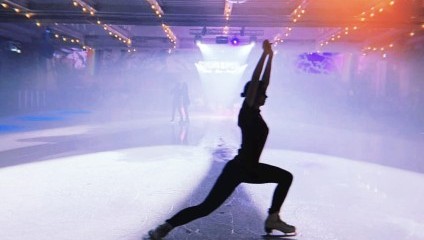 17 Queensway, London W2 4QP
Keep cool and skate on! Queen's ice skating rink in Queensway is our most central of year-round ice skating rinks (and is also home to a bowling alley) and it's indoors which means it's a perfect plan whatever the weather. There are ice skating and/ or curling lessons available for those that want to improve in their skillset (or learn something new) and for those that would rather sit back, relax and grab a bite- there's a delicious Meatliquor bar and restaurant.
Pre-bookings are essential and start from £11 upwards. To make your booking, click here.
---
Sobell Leisure Centre
Tollington Rd, London N7 7NY
Like Streatham, the Sobell Leisure Centre in Islington is run by Better. Their ice rink is complete with vibrant music and visual effects making it not also public and family-friendly but vibrant and playful. From £47 a month, individuals can learn to skate. Non-skating adults can attend the rink free of charge.
There are many other facilities at the leisure centre too so after your skate, whether you want to keep the high energy going at the trampoline park or wind down at the sauna and steam room whilst the kids explore the soft play area, there's something for everyone.
---
Somerset House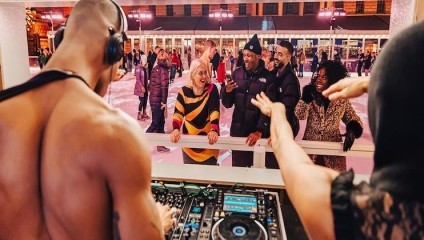 Strand, London WC2R 1LA
Somerset House Ice Rink spans an impressive 900 square meters and boasts a towering 40ft Christmas tree as its centerpiece, making it a magnet for Instagram aficionados. This year, Switzerland Tourism has infused a Swiss winter theme, with specially curated sessions inspired by Swiss regions like Bern, Lucerne, and Valais.
When the sun sets, the magic continues with the return of Skate Lates, featuring electrifying DJ sets from some of the city's most renowned club nights and selectors. After gliding on the ice, indulge in Alpine winter favorites at Chalet Suisse, including a tantalizing raclette cheese bar. For a touch of sophistication, head to the Skate Lounge by Whispering Angel, offering delightful cocktails. Somerset House Ice Rink isn't just about skating; it's a full-fledged winter wonderland experience that welcomes all, including wheelchair users, in dedicated sessions. Open from November 15th to January 14th, it's the perfect way to kick off the festive season with skating, music, food, and drinks, ensuring a memorable London Christmas.
---
Hampton Court Palace Ice Rink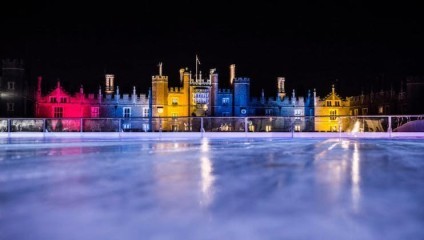 Hampton Ct Way, Molesey, East Molesey KT8 9AU
For a royally charming ice-skating experience, Hampton Court Palace Ice Rink is the perfect choice. Nestled against the stunning Tudor facade of the palace, this outdoor rink comes to life with enchanting colors after dark. With an expansive 1,040 square meters of ice right by the Thames, it's family-friendly and offers handy penguin and dolphin skate aids for little ones (if pre-booked). When you're not skating, warm up with loaded hot chocolates, mulled wine, and mince pies at the cozy café. Tickets are £17.50 for adults, £13 for children, and the rink is open from 10 a.m. to 8:45 p.m. But it's not just about skating; it's a quintessential winter experience. Don't forget to savor the delightful winter treats at the café and bar. So, lace up your skates and let the palace's timeless charm make your winter truly exceptional, and if you make a day of it, explore Henry VIII's famous home in its festive glory. Open from November 17, 2023, to January 7, 2024, it's a royal affair not to be missed!
---
<> Winter Wonderland Ice Rink >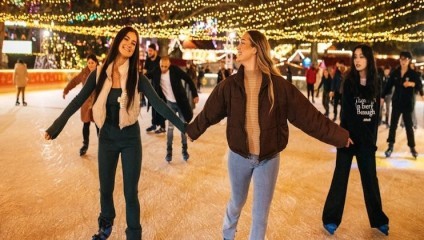 Hyde Park
Glide into the festive season at the UK's largest outdoor ice rink, right in the heart of Winter Wonderland in Hyde Park. Whether you're a seasoned skater or channeling your inner Bambi, the rink is open from 10:00 am to 10:00 pm daily, welcoming all ages for a delightful spin on the ice. You can even escape to the Magical Lodge, where you'll enjoy cozy warmth while watching the skaters glide by. Whether you're sipping on a hot drink or savoring some Deluxe pigs in blankets, it's the perfect spot to soak in the festive spirit. So, lace up those skates, twirl around the twinkling rink, and make it a Winter Wonderland to remember! Entry is free during off-peak hours and £5 to £7.50 during peak times, and the fun takes place from November 17th to January 1st.

---
Canary Wharf Ice Rink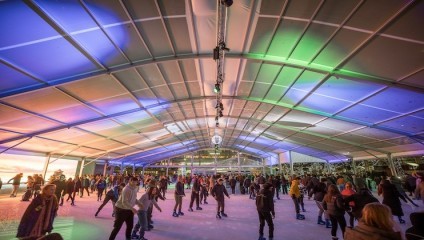 Canada Square, London E14 5AB
What sets this rink apart? It's a marathon of fun, open until the end of February, long after other winter ice rinks have melted away. With a canopy overhead, the weather won't dampen your spirits. After your skating session, visit the rink-side bar for a well-deserved drink or take your competitive spirit to the ice and engage in a thrilling game of curling. For those seeking more, explore the vibrant restaurants and bars nearby. Don't miss out on this frosty fiesta! Entry prices start at £13.50, with various sessions available daily from 21st October to 24th February. Plus, the rink's covered canopy ensures the fun continues rain or shine. Whether you're a skating sensation or just there for the après-skate vibes, Ice Rink Canary Wharf promises an icy adventure you won't soon forget.
---
Queens House Ice Rink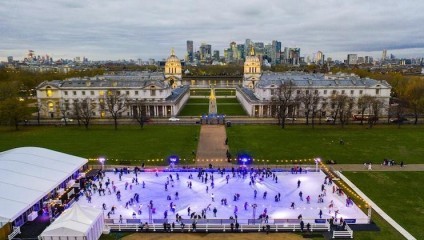 Romney Rd, London SE10 9NF
Embrace a regal experience with a visit to the Queen's House Ice Rink in Greenwich, nestled within a UNESCO World Heritage Site. Here, you can skate like royalty against the stunning backdrop of seventeenth-century Palladian architecture, built for a fairytale queen. The rink itself has panoramic views of iconic architecture and the twinkling lights of Canary Wharf. Once you've gracefully glided on the ice, savor the moment with hot drinks and seasonal snacks at the adjacent Benugo Cafe. It's an enchanting winter experience not to be missed, open from November 23rd to January 7th. Admission starts at £16 for adults and £10 for children, and the rink operates from 10 a.m. to 9 p.m.
---
<> Battersea Power Station >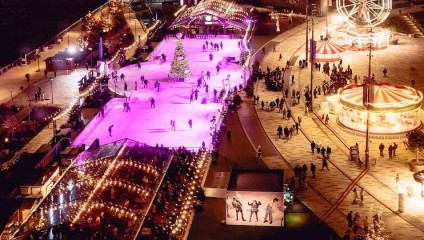 Circus Rd W, Nine Elms, London SW11 8DD
Glide at Battersea Power Station takes the crown as the city's first and only riverside ice rink. Picture this: a magnificent open-air rink composed of three interconnected ice fields, with a towering Christmas tree as its centrpiece. As you gracefully glide along the ice, soak in unbeatable views of the Thames while the rink sparkles with festive lights. But Glide offers more than just skating; vintage-style fairground rides, live entertainment, and quirky photo booths will keep you entertained. After the skating session, venture inside the Battersea Power Station, where a treasure trove of shops and dining options await. For the adventurous spirits, make your way up to Lift 109 for breathtaking 360-degree views. Open from November 10th to January 7th, this promises to be a cool winter wonderland. Entry prices start at £12 for adults and £9 for children, with varying opening hours to suit your schedule.