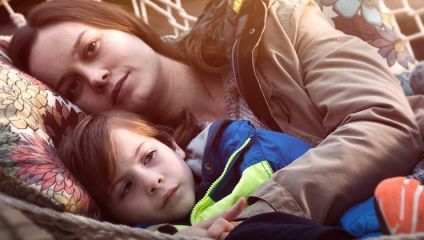 London Calling talks to the director and very young star of new American drama Room.
Director Lenny Abrahamson and rising star Jacob Tremblay speak to London Calling about Room, the compelling drama that can't stop winning awards and making audiences weep.
It's the morning after director Lenny Abrahamson and young actor Jacob Tremblay were onstage collecting the latest award for Room - this one was Best International Film at the British Independent Film Awards - and they're still buzzing. Tremblay is only nine years old, but has already met many of his heroes at these ceremonies. "It's really exciting meeting people like Johnny Depp, Will Smith and Kate Winslet," the young actor beams. "Sometimes they're fans of me, too."
That's no surprise. Room has proven unwaveringly popular with audiences and critics for its emotional intelligence and searing performances. The drama features Brie Larson as Joy, a 26-year-old who was kidnapped when 17 and has since been imprisoned inside a compact, windowless shed. What keeps Joy motivated is her 5-year-old son Jack, played by Tremblay, who grows up with no awareness of an outside world, except their captor - a man extra frightening for his ordinariness - will occasionally bring snacks or a toy. To Jack, this is normal.
The challenge of directing Room is that the source material, a bestselling novel by Emma Donoghue, is told in first person from Jack's perspective, but the film reflects what Abrahamson calls "a double image". Instead of one character cancelling the other out, the struggle of both is doubly felt by the viewer.
"Those are delicate adjustments," Abrahamson explains. "You make those all the way through the screenwriting process, all the way through the shooting, and all the way through the cutting, to get that emphasis exactly right. When you see them both together, it feels balanced. There's no one thing that you do. It's just a tremendous number of decisions all the way through."
This core relationship between Joy and Jack is what turns a harrowing story into something unexpectedly uplifting. Trapped inside a nightmare, the pair manage to pass the time with games and routines. In isolated chunks, it's almost a normal childhood.
"It's finding that right rhythm in the opening," Abrahamson reckons, "particularly so you spend time with Jack and his mother. You don't feel rushed or that you're being told things. But at the same time, there's a pulse that keeps you attentive. In the second half, we let Brie drift away for a while because part of the story is this idea that their relationship is under pressure and might break."
Abrahamson is referring to the split structure of Room. At the midpoint, a daring escape allows Joy, along with Jack, to reunite with her parents (William H. Macy and Joan Allen), but freedom comes with its own unexpected burden. "There's less obvious plot jeopardy," the director adds, "because they're not in the same kind of objective danger as the first half. But then the pacing becomes what creates the tension."
For Joy, "the pacing" is a mounting list of struggles: paparazzi on the front lawn; lingering trauma; self-doubt as a mother; her father refuses to look his grandson in the eye; nagging fears that Jack is irrevocably damaged from the experience. All this is delicately conveyed by Larson, often just through body language. Before Room, the actress excelled in Short Term 12, but was otherwise known for supporting roles, usually as "the sister" (Trainwreck, Don Jon) or "the girlfriend" (Scott Pilgrim, The Spectacular Now, 21 Jump Street).
"When I met her," Abrahamson recalls, "she was so full of ideas about this project. Short Term 12 was fantastic and she carried it. I think it's always a gut feeling that drives it for me in casting decisions. With the case of Brie, the film that would happen around her was the film that I most wanted to make."
A similar instinct inspired the selection of Tremblay, who's seen Room four times and says it brings back memories of the fun on set. The SAG Awards nominated him for Best Supporting Actor (ahead of Sylvester Stallone, Tom Hardy and Michael Keaton), and he's starring in the next Colin Trevorrow blockbuster. Not that fame has affected Tremblay; he's polite, down to earth, and generous enough to reveal his acting secrets. "How I cry on cue is I think of sad stuff to get the tears going in my eyes, but then I hold it in. I go to set and when I'm supposed to bawl, I just let it out."
Jon Ronson said when working on the screenplay for Frank, he learned from Abrahamson that every scene should propel a scene forward, otherwise it's just repetition. This philosophy is evident in how Room spins the wheels without you realising. Abrahamson agrees. "It's such a hard-to-discuss area, but yes, this idea of forward motion. It doesn't mean big plot stuff; it just means the audience continues to be led and pulled through by a sense of something unfolding. It can be tiny and very subtle."
Room is up for three Golden Globes, including Best Drama, and touted for a similar reception from the Oscars. Although it's the director's only film over 95 minutes, it still maintains the style he developed in the likes of Frank and What Richard Did, with psychological intricacies explored through a slow burn of emotions. Is it the case that less is more?
"Yeah, it's true that I cut back really hard," Abrahamson answers. "I cut a lot in the edit, things that aren't absolutely necessary." And then comes an understatement. "It's just that Room is such a substantial story."
Room is released in cinemas on 15 January 2015 by StudioCanal