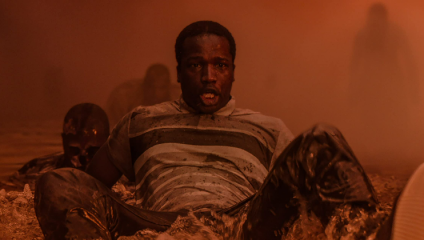 What's better than a scary movie to get you in the mood for Halloween
We have selected 30 movies to stream on Netflix, Amazon Prime and Disney + so you don't have to scroll for hours this Halloween. From old classics to family favourites to modern masterpieces, check out our selection of what to watch this spooky season.
His House - Netflix
A refugee couple makes a harrowing escape from war-torn South Sudan, but then they struggle to adjust to their new life in an English town that has an evil lurking beneath the surface.
1h 33m | Horror/Thriller | 15
Directed by: Remi Weekes
Starring: Wunmi Mosaku, Sope Dirisu, Matt Smith, Malaika Abigaba, Emily Taaffe, Gamba Cole, Javier Botet
---
#Alive - Netflix
While a grisly virus ravages a Korean city, Joon-woo tries to stay safe by locking himself inside his apartment. Just as he loses hope, he discovers another survivor.
1h 39m | Thriller/Drama | 15
Directed by: Il Cho
Starring: Yoo Ah-in, Park Shin-hye, Lee Hyun-wook, Jeon Bae-soo, Jin So-yeon, Lee Kyu-Ho, Oh Hye-won, Joo Bo-Bi
---
Midsommar - Netflix
Dani's psychological trauma affects her relationship with Christian, her lover. However, when they visit their friend's ancestral commune in an effort to mend things, it changes their lives forever.
2h 51m | Horror/Thriller | 18
Directed by: Ari Aster
Starring: Florence Pugh, Will Pouter, Jack Reynor, Björn Andrésen, Isabelle Grill, William Jackson Harper, Vilhelm Blomgren, Ellora Torchia, Archie Madekwe, Anna Åström
---
Hush - Netflix
A deaf writer who retreated into the woods to live a solitary life must fight for her life in silence when a masked killer appears in her window.
1h 27m | Horror/Thriller | 15
Directed by: Mike Flanagan
Starring: Kate Siegel, John Gallagher Jr., Samantha Sloyan, Michael Trucco, Emma Graves, Jason Blum, Couper Samuelson
---
Red Dragon - Netflix
An FBI Agent is called out of early retirement to catch a serial killer. He asks for the help of his arch-nemesis, Dr Hannibal Lecter.
2h 4m | Thriller/Crime | 15
Directed by: Brett Ratner
Starring: Antony Hopkins, Edward Norton, Ralph Fiennes, Emily Watson, Harvey Keitel, Philip Seymour Hoffman, Mary-Louise Parker, Frankie Faison, Ken Leung
---
The Platform - Netflix
In the future, prisoners housed in vertical cells watch as inmates in the upper cells are fed while those below starve.
1h 34m | Thriller/Horror | 18
Directed by: Galder Gaztelu-Urrutia
Starring: Alexandra Masangkay, Iván Massagué, Zorion Eguileor, Antonia San Juan, Emilio Buale, Zihara Llana, Miren Gaztañaga, Txubio Fernández
---
1408 - Netflix
A man who specializes in debunking paranormal occurrences checks into the fabled room 1408 in the Dolphin Hotel. As he settles in, he confronts genuine terror.
1h 52m | Horror/Comedy | 15
Directed by: Mikael Håfström
Starring: John Cusack, Samuel L. Jackson, Mary McCormack , Jasmine Jessica Anthony, Tony Shalhoub, Alexandra Silber, Andrew-Lee Potts
---
I'm Thinking Of Ending Things - Netflix
A young woman soon finds herself with misgivings after travelling with her new boyfriend to his parents' secluded farm.
2h 14m | Thriller/Horror | 15
Directed by: Charlie Kaufman
Starring: Jessie Buckley, Jessie Plemons, Colby Minifie, David Thewlis, Toni Collette, Gus Birney, Unity Phelan, Jason Ralph, Guy Boyd, Hadley Robinson, Oliver Platt
---
Fear Street Part One: 1994 - Netflix
After a series of brutal slayings, a teen and her friends take on an evil force that's plagued their notorious town for centuries.
1h 47m | Horror/Mystery | 18
Directed by: Leigh Janiak
Starring: Maya Hawke, Sadie Sink, Kiana Madeira, Julia Rehwald, Olivia Scott Welch, Emily Rudd, Benjamin Flores Jr., Fred Hechinger, Ashley Zukerman, Gillian Jacobs
---
1922 - Netflix
A farmer conspires to murder his wife for monetary gain, and convinces his teen son to participate. Wilfred and his son Henry soon become delusional as they continue on their lives.
1h 41m | Horror/Drama | 15
Directed by: Zak Hilditch
Starring: Thomas Jane, Molly Parker, Dylan Schmid, Kaitlyn Bernard, Neal McDonough, Brian d'Arcy James
---
Dawn of the Dead - Amazon Prime
Dawn of the Dead: Extended 'Cannes' Cut - As hordes of zombies swarm over the U.S., the terrified populace tries everything in their power to escape the attack of the undead, but neither cities nor the countryside prove safe. In Pennsylvania, radio-station employee Stephen (David Emge) and his girlfriend, Francine (Gaylen Ross), escape in the station helicopter, accompanied by two renegade SWAT members, Roger and Pete. The group retreats to the haven of an enclosed shopping center to make what could be humanity's last stand.
2h 7m | Horror/Zombie | 18
Directed by: George A. Romero
Starring: David Emge, Tom Savini, Ken Foree, Gaylen Ross, Scott Reiniger, Randy Kovitz
---
X - Amazon Prime
A filmmaking crew and the cast make an adult movie at a reclusive place but elderly hosts find them and try to kill them.
1h 45m | Horror/Thriller | 18
Directed by: Ti West
Starring: Mia Goth, Jenna Ortega, Brittany Snow, Kid Cudi, Stephen Ure, Martin Henderson, Owen Campbell, James Gaylyn
---
Little Shop of Horrors - Amazon Prime
In the hopes of turning around the fortunes of his failing floral business, a nerdy florist purchases a blood thirsty plant, from a Chinese street vendor.
1h 28m | Musical/Horror | PG
Directed by: Frank Oz
Starring: Rick Moranis, Ellen Greene, Steve Martin, Tisha Campbell, Christopher Guest, Jim Belushi, Miriam Margolyes, Michelle Weeks, John Candy
---
The Rental - Amazon Prime
Two couples on an oceanside getaway grow suspicious that the host of their seemingly perfect rental house may be spying on them. Before long, what should have been a celebratory weekend trip turns into something far more sinister.
1h 28m | Horror/Thriller | 15
Directed by: Dave Franco
Starring: Alison Brie, Jeremy Allen White, Sheila Vand, Dan Stevens, Anthony Molinari, Toby Huss
---
The Wailing - Amazon Prime
Suspicion leads to hysteria when rural villagers link a series of brutal murders to the arrival of a mysterious stranger (Kunimura Jun).
2h 36m | Horror/Thriller | 15
Directed by: Na Hong-jin
Starring: Chun Woo-Hee, Kwak Do-won, Hwang Jung-min, Kim Hwan-hee, Jo Han-chul, Jang So-yeon, Bae Yong-geun, Heo Jin, Kim Do-yoon
---
What We Do In The Shadows - Amazon Prime
Viago, Vladislav, Deacon, and Petyr are vampires who share a flat. Deacon's servant Jackie leaves her ex-boyfriend Nick inside. Petyr turns him into a vampire and he soon joins them as a flatmate.
1h 26m | Comedy/Horror | 15
Directed by: Taika Waititi, Jemaine Clement
Starring: Taika Waititi, Jermaine Clement, Jonny Brugh, Rhys Darby, Stuart Rutherford, Cori Gonzalez Macuer, Ben Fransham
---
Candyman - Amazon Prime
Anthony McCoy, a visual artist, gets obsessed with the legend of the Candyman. He soon stumbles into insanity, unravelling some unknown truths.
1h 31m | Horror/Thriller | 15
Directed by: Nia DaCosta
Starring: Yahya Abdul-Mateen II, Teyonah Parris, Tony Todd, Vanessa Estelle Williams, Virginia Madsen, Colman Domingo, Nathan Stewart-Jarrett
---
Red Lights - Amazon Prime
Two paranormal researchers, Dr. Margaret Matheson and her assistant, Tom Buckley set out to investigate Simon Silver, a world-renowned psychic.
1h 53m | Thriller/Mystery | 15
Directed by: Rodrigo Cortés
Starring: Cillian Murphy, Robert De Niro, Sigourney Weaver, Elizabeth Olsen, Toby Jones, Leonardo Sbaraglia, Joely Richardson, Ignacio Carreño, Burn Gorman, Craig Roberts
---
The Witches - Amazon Prime
While on a vacation with his grandmother, a young boy encounters a group of witches who are plotting to turn all the world's children into mice.
1h 31m | Fantasy/Family | 12A
Directed by: Nicolas Roeg
Starring: Anjelica Huston, Jasen Fisher, Rowan Atkinson, Mai Zetterling, Charlie Potter, Jane Horrocks, Anne Lambton, Brenda Blethyn, Jenny Runacre, Bill Paterson
---
A Cure For Wellness - Amazon Prime/Disney +
Lockhart, an executive, is sent to a wellness spa in the Swiss Alps to retrieve his company's CEO. At the centre, he encounters strange activities that make him investigate the illness of the people.
2h 26m | Horror/Mystery | 18
Directed by: Gore Verbinski
Starring: Dane DeHaan, Mia Goth, Jason Isaacs, Celia Imrie, Harry Groener, Susanne Wuest, Eric Todd, Ivo Nandi
---
Fresh - Disney +
Noa meets the alluring Steve at a grocery store and -- given her frustration with dating apps -- takes a chance and gives him her number. After their first date, Noa is smitten and accepts Steve's invitation to a romantic weekend getaway. Only to find that her new paramour has been hiding some unusual appetites.
1h 57m | Horror/Thriller | 18
Directed by: Mimi Cave
Starring: Sebastian Stan, Daisy Edgar-Jones, Charlotte Le Bon, Brett Dier, Andrea Bang, Dayo Okeniyi, Jonica T. Gibbs
---
Alien - Disney +
The crew of a spacecraft, Nostromo, intercept a distress signal from a planet and set out to investigate it. However, to their horror, they are attacked by an alien which later invades their ship.
1h 57m | Sci-fi/Horror | 18
Directed by: Ridley Scott
Starring: Sigourney Weaver, Tom Skerritt, Veronica Cartwright, John Hurt, Harry Dean Stanton, Ian Holm, Yaphet Kotto
---
Werewolf By Night - Disney +
On a dark and sombre night, a secret cabal of monster hunters emerge from the shadows and gather at the Bloodstone Temple following the death of their leader; the attendees are thrust into a mysterious and deadly competition for a powerful relic.
54m | Horror/Fantasy/Sci-fi | 15
Directed by: Michael Giacchino
Starring: Gael García Bernal, Laura Donnelly, Eugenie Bondurant, Harriet Sansom Harris, Kirk Thatcher, Leonardo Nam, Daniel J. Watts
---
The Fly - Disney +
Seth, a brilliant scientist, is elated when he successfully manages to teleport himself in his own invention, a transportation machine. But, unbeknownst to him, he was not alone during the process.
1h 36m | Horror/Sci-fi | 18
Directed by: David Cronenberg
Starring: Jeff Goldblum, David Cronenberg, Geena Davis, Vincent Price, John Getz, Eric Stoltz, Joy Boushel, George Ghuvalo
---
Frankenweenie - Disney +
Victor invites trouble when he revives his dead pet dog Sparky after it is hit by a car. Now, Sparky looks like a monster and terrifies Victor's neighbours.
1h 27m | Horror/Fantasy | PG
Directed by: Tim Burton
Starring: Winona Ryder, Martin Short, Catherine O'Hara, Martin Landau, Charlie Tahan, Atticus Shaffer, Shelley Duvall, Robert Capron
---
28 Days Later - Disney +
After a mysterious virus wreaks havoc in the United Kingdom, a team of survivors tries to cope with the aftermath of the disaster and find security.
1h 53m | Horror/Sci-fi | 18
Directed by: Danny Boyle
Starring: Cillian Murphy, Naomie Harris, Christopher Eccleston, Noah Huntley, Sanjay Rambaruth, Luke Mably, Kim McGarrity
---
The Omen - Disney +
Robert, a married man, agrees to switch his wife's stillborn baby with an orphaned infant. But as the child grows, a sinister series of events start taking place.
1h 51m | Horror/Mystery | 18
Directed by: Richard Donner
Starring: Gregory Peck, Lee Remick, Harvey Spencer Stephens, David Warner, Billie Whitelaw
---
Ready or Not - Disney +
After the wedding ceremony of a young woman, her new in-laws force her to participate in a seemingly innocent game. Things soon turn bloody and sinister, revealing the sick rituals of the family.
1h 35m | Horror/Thriller | 18
Directed by: Matt Bettinelli-Olpin, Tyler Gillett
Starring: Samara Weaving, Adam Brody, Andie MacDowell, Mark O'Brien, Henry Czerny, Melanie Scrofano, Kristian Bruun, Elyse Levesque
---
Fright Night – Disney +
Following several deaths in his neighbourhood, Charley starts suspecting that his neighbour Jerry is a vampire. The only person willing to help him is Peter, a man who claims to be a vampire killer.
2h | Horror/Comedy | 15
Directed by: Craig Gillespie
Starring: Colin Farrell, Anton Yelchin, Christopher Mintz-Plasse, David Tennant, Imogen Poots, Chris Sarandon, Toni Collette, Emily Montague, Sandra Vergara, Dave Franco
---
Hocus Pocus - Disney +
Three witches resurrect after 300 years to exact revenge and begin a reign of terror after Max, a young boy who moves to Salem with his family, lights a cursed Candle of Black Flame.
1h 36m | Fantasy/Horror | PG
Directed by: Kenny Ortega
Starring: Sarah Jessica Parker, Bette Midler, Omri Katz, Thora Birch, Kathy Najimy, Vinessa Shaw, Sean Murray, Doug Jones
---