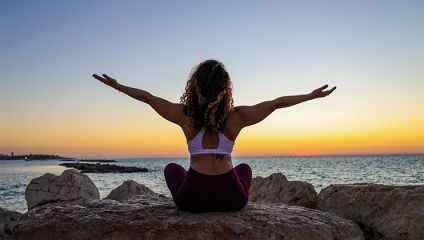 The best places to get away from it all and get back in touch with your thoughts.
Recent years has seen a growth in mindfulness. All across the UK there's a whole range of retreats, perfect for escaping to when life gets a bit much, and you need to reconnect with your thoughts and put yourself back in the present moment. During the pandemic, self-care and mindfulness has been crucial for mental health. Now that lockdown is easing, here are some of our top places to find your calm this summer!
Sharpham House
Sharpham House in Devon not only offers varying lengths that you can stay (from one day to six nights to eight weeks) but also in a variety of locations. The retreats in the house are catered, meaning you get to spend more time enjoying the Georgian Grade I listed building that you'll be staying in. In contrast, their barn retreat, set in the hillside overlooking the river Dart. There's also the chance to stay in one of the woodland campsites, and experience how much care Sharpham take over their environment, growing their own food and only using biodegradable products.
Guidence on covid restrictions see here.
Image Credit: Sharpham House via Facebook
The Now Project Mindfulness Retreats
At this retreat in the heart of Suffolk you can either camp or stay in a cabin for a weekend, where you can learn from scratch, or 3 days if you're slightly more advanced and just want to take your practice to a new level. Now Project take a modern, plain talking approach to the concept of mindfulness, wanting it to most of all be accessible, relaxed and fun. The organisation holds regular courses in London as well as these retreats out to the country. During the pandemic, they have been doing courses and workshops on zoom. They focus on the mindfulness experience and direct practice, claiming that the only way to learn these things is to begin doing them. We're inclined to agree.
Image Credit: The Now Project via Facebook
Gaia House
Using Buddhist style meditation, no talking and no electronic devices, Gaia House in South Devon are keen to impress the power of silence on their guests. No verbal or written communication is allowed unless it is with your teacher, and even then it is minimal. Group retreats range from 2 to 10 night stays at this house in South Devon. Before you head off to get immersed in mindfulness, there are recorded talks on their website you can listen to, by way of an introduction to what you're about to experience. They will be reopening from May 2021, however you can see current online course, on their website.
Image Credit: Gaia House via Facebook
Tresco Mindfulness Retreat
This beautiful island off the Cornish Coast is hosting it's first mindfulness retreat this year, led by Caspar Walsh. The days on this gorgeous retreat consist of daily guided meditations, personal enquiry, and exploring your surroundings. Over the 5 days you will spend time together, alone and discovering the island. As part of the retreat there is also the chance to spend an entire day on a nearby uninhabited island, to reconnect with your thoughts but also with nature. There's flexibility on the kind of accommodation and travel you have, and there's a sliding scale of cost, depending on what you can afford. This year the retreat takes place on 20th - 25th October, so get booking.
Guidence on Covid-19 restrictions here.
Image Credit: Tresco
Vipassana
'Vipassana' means to see things as they really are and is one of India's most ancient meditation techniques. The company has many branches around the world but the UK one -Dhamma Dipa - is based in Herefordshire. It's rural, basic but comfy and has more of a focus on meditation than on mindfulness. There's no reading, writing, or phones allowed at all on the retreat, and each day of the 10-day retreat consists of 10 hours of meditation in complete silence. It's intense stuff, and not for the faint hearted or newbies to the world of mindfulness. Because the course takes its inspiration from Buddhist teaching there are codes of discipline that must be followed, in order to achieve the healthy mind through mental training that this course offers. They are hoping to relaunch their course in mid-May. Please see their website for more information.
Image Credit: Dhamma Dipa via Facebook