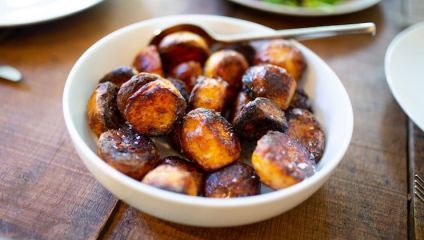 Locals to Royal Tunbridge Wells will have you believe that they have the best pubs in the country – although which town doesn't say that? One thing's for sure, the selection of Sunday Roasts on offer in the town's inns and taverns are full-on gourmet. We've toured the many oak-smoked dining rooms and glossy-chic restaurants of this Kent retreat in search of the best weekend menus for you to sample – here are our Top 5 Sunday Roasts in Tunbridge Wells.
---
The Black Pig
One of Tunbridge Wells' central pubs, The Black Pig is a hybrid of gentrified gastro bar and old-fashioned country roadhouse. The décor is neat, but with a rustic finish - think perfectly proportioned firewood logs stacked in the corner - and the vibe is polite-casual. The menu has a similarly amalgamated feel with roasts including the Pan Roasted Lemon & Garlic Chicken Supreme with Butternut Squash Fondant, and the equally delicious Slow Roasted Pork Belly and Roasted Beets. As the summer months roll round, The Black Pig's beer garden is a lovely spot to soak up the sun with your meal… and maybe a glass of wine too.
The Black Pig's Sunday Menu can be found online.
---
The Warren Restaurant
Time for something special. The Warren Restaurant is certainly the classiest roast on offer in Tunbridge Wells. This city centre balcony doesn't look like much from the street, but ascend the stairs and you disappear into Paris' Belle Époque. The giant wooden frame windows are stunning, and pick the right day and you can lunch bathed in sunlight. The food is equally special. All meat is sourced from their own estate, and no expense if spared on their goose-fat roast potatoes, sage and onion stuffing and seasonal veg. At £22.95 for two courses and £26.95 for three, it's not the cheapest meal out there, but if you are looking for a one-off treat, this is the best place for it.
Warren Restaurant interior. Photo Credit: About Content.
The Warren Restaurants menu is available online.
---
Toad Rock Retreat
Escape from the city centre to the west of Tunbridge Wells and you'll find the adjoining village of Rusthall and its ever-popular pub Toad Rock Retreat. The vibrant interior is awash with claret and mauves, and there's a few quirky decorations to keep you on your toes. The roast menu gives you the selection of beef, lamb and pork, and these roasts have the added benefit of some red cabbage and a truly deluxe blue cheese sauce. Toad Rock Retreat is a great escape in winter and their roaring fires provide the perfect warming hearths around which to savour your meal. The lively staff will keep you entertained as well.
Everything you need to know about the Toad Rock Retreat can be found on their website.
---
The Ragged Trousers
The Ragged Trousers, a favourite haunt that is far from dilapidated. This tidy inn is a mix of continental parts as its traditional English pub vibe is fused with a French brasserie, joined to a Georgian white-veranda front that on a sunny day could be mistaken for the awning of an Italian piazza. On Sunday their Euro-touring approach comes into full force with a succulent pork shoulder accompanied by a pancetta cassoulet. There's also roast lamb or beef with all the trimmings if you want something closer to home. One of The Ragged Trousers' special additions is their 'Pre-Roast' hors d'oeuvre that includes baked camembert salad or breaded brie & cranberry sauce. C'est fantastique!
To see The Ragged Trousers Sunday menu, look online.
---
The Mount Edgecumbe
Let's go full-on fancy. The Mount Edgecumbe is a beautifully restored Georgian manor house in the heart of Tunbridge Wells. Its rolling grounds lead to a series of 8th century caves and a lunch here can very easily turn into a family day out. The restaurant's Sunday roasts fall under the menu's aptly named 'Feast' section, and there's chicken, sirloin beef and leg of lamb on offer, all combined with mash, veg, a Yorkshire pudding and particularly sumptuous gravy. If you fancy something a little more fancy, the 'Feast' subheading also features more adventurous affairs such as Duck Breast, Sweet Potato Mash, Pak Choi, Blood Orange & Marmalade Jus…
To find out more information and the Sunday Lunch Menu,
---
see The Mount Edgecumbe's website.