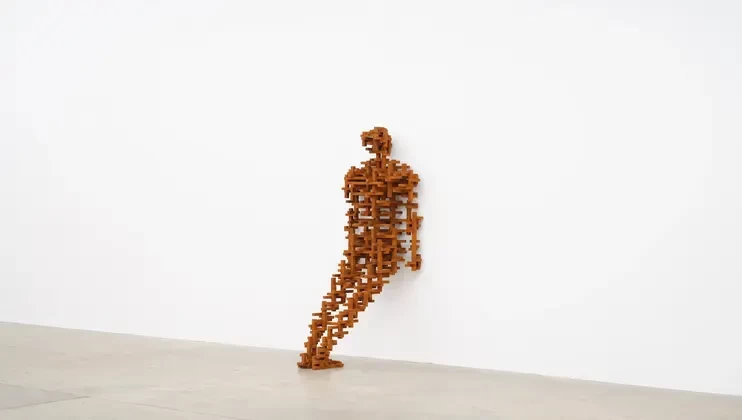 White Cube presents major exhibition of new work by Antony Gormley
Opening in November in London, Antony Gormley's new exhibition 'Body Politic' investigates our species' relationship to its industrially made habitat. For Gormley, this comes at an urgent moment in time when our need for refuge is in dynamic tension with our need to roam: our fundamental migratory nature.
Across five new bodies of work, the artist sets out to test and question this flux between sanctuary and control, freedom and discipline. He does this by calling upon languages intrinsic to sculpture – silence, stillness, materiality – allowing the viewer to become more aware of their own freedoms of movement and mind. As Gormley has recently stated: 'Each part of this show is an attempt to assess and reflect on our present condition: us now.'
Forming the show's spine, eight concrete sculptures chart a linear course from the courtyard through the gallery's corridor. Conceived by Gormley as 'intimate bunkers for one', each iteration of Retreat (2022–23) is cast to the scale of the artist's body in 55 mm thick reinforced concrete.
Presenting a 'ground', and grounded like Retreat, Gormley's Resting Place (2023) unfolds across the expanse of South Gallery II, conjuring a dense urban landscape. This field of fired clay blocks materialises 243 body-forms as a labyrinthine terrain.
In the North Gallery a series of six 'Weave Works' map the volume of the human body. Cast from orthogonal, latticed cast iron bars and exposed to the elements, these rusty sculptures allow space and light to pass through them, creating an illusion of shifting density and bridging sculptural and architectural space.
Within South Gallery I, three thick ribbons of rolled black steel extend from the floor, ceiling and walls, converging in the centre of the room to create a body zone of tangled orthogonal lines.
The final work, Stand (2023), positioned in the 9x9x9 gallery, is made from a Jenga-like stack of Corten steel beams and rises to nearly 5 metres tall. This sculpture acknowledges the entropy of its own construction and the inherent vulnerability of all man-made creations, celebrating sculpture's capacity to be a focus for hope as well as fear.
To mark the occasion of the show, the forthcoming exhibition catalogue Body Politic is due to be published in December 2023, with a text by Teresa K.
Antony Gormley Body Politic: 22 November 2023 – 28 January 2024
Further Information: Antony Gormley | White Cube