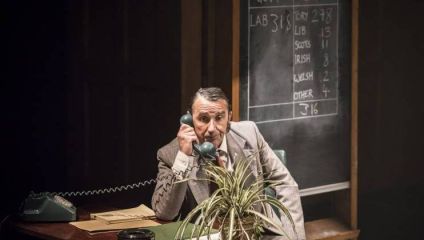 We spoke to renowned actor Phil Daniels about politics, mods, musical aspirations and his favourite places in London.

This House opens tomorrow at The Garrick Theatre and explores the political uncertainty and fight for power within the House of Commons in the 1970s, giving a timely, moving and often amusing insight into the workings of British politics. Phil Daniels, known for his roles as Kevin in Eastenders, on stage as Thenardier in Les Miserables and as Johnny Cooper in the iconic Quadrophenia, returns to his role as chief whip Bob Mellish for this production. We spoke to Phil about politics, mods, his musical aspirations and his favourite places in London.

London Calling: This House opens in a few days, how did rehearsals go and how are you feeling about it?

Phil Daniels:

It's quite strange because we did it at Chichester Festival Hall which is round, and now we've got to do it on a different stage, so we have to change everything. In Chichester there was an audience all around us but now they're just out front, which makes rehearsals a bit strange.

LC: This is a role you know pretty well. Is there anything you try to do to keep the role interesting once you feel like you've mastered it?

PD: We've had quite a few people doing various parts and they always bring something new to it. As time goes by doing it in different theatres you do get a different feel for the characters and for Bob Mellish - that's what keeps it fresh.

LC: This House focuses on a time of economic and political crisis in the 1970s. Do you think it's particularly relevant to stage the play at this time when we're experiencing another period of political crisis?

PD: In the play it focuses on the complete uncertainty of 1974 about keeping in power, Labour only had a majority of three and had to do deals with every other party, promising devolution. It's quite lucid with what is happening now in the sense that if a snap election is called there could be deals done with the Scottish National Party to keep in power, so there are similarities there. It's a very interesting time at the moment, definitely.

LC: You're known for playing relatively anti-establishment roles and focusing more on working class life. What was it like to star in a play that explores the inner workings of the establishment?

PD: It's nice to play people who have taken roles in politics, trade unions were a lot bigger in those days and there were a lot of ex-miners, people who worked for a living in parliament. A lot of people these days have gone to university and become politicians, it was certainly different in those times.

LC: Alongside being an actor you've been in a band and hosted a podcast. Is there anything other than acting you'd like to focus on more?

PD: I like the music side, in the last few years I've done Les Miserables in the West End and I sing a David Bowie song in This House, so I have been able to do a bit of singing over the years! I think I'd like to do more music, definitely.

LC: What has been the highlight of your career so far?

PD: I kind of like doing this play, and I did a TV series called Outlaws where I played a defence solicitor, and he defended anybody, any time, so that was really enjoyable.

LC: What do you look for in a script when choosing roles to play?

PD: I look for a good story, first of all. I like intelligence, and intelligent people. I really like things that have something to say, or a bit of Shakespeare, a lot of them had something good to say!

LC: Obviously one of your most famous roles was Jimmy Cooper in Quadrophenia. Why do you think it has been so popular and what was it like to be a part of that?

PD: I think because it's a film about a young man's journey through adolescence, rock and roll, and being a rebel. Also because the mod's movement has carried on, I went to an evening in Liverpool the other day and it was all completely mod, and there are still scooter clubs all over the place. I never thought it would become that big, in all honesty.

LC: You're a born and bred Londoner. Where is your favourite place in London?

PD: Crikey! Well, I like walking and running around Hyde Park. Also, Southwark by the Globe Theatre is a lovely place to walk around too.

This House runs from 19 November - 25 February 2017. Tickets are between £20 and £75. Find out more here.