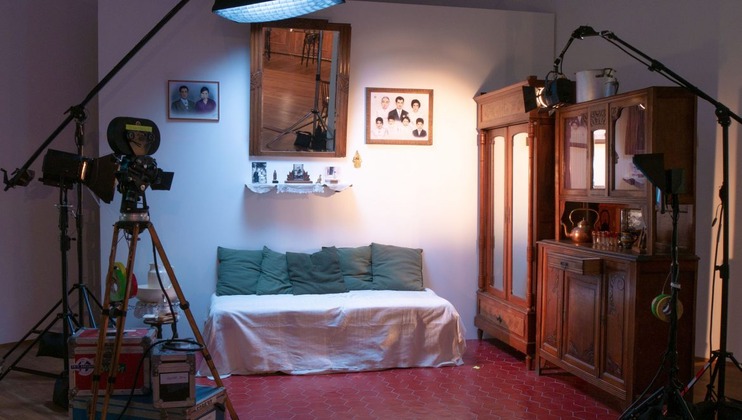 UK debut of critically acclaimed exhibition
Whitechapel Gallery presents the UK debut of the critically acclaimed exhibition Dreams Have No Titles by French-Algerian artist Zineb Sedira. Originally conceived for the French Pavilion at the 59th Venice Biennale (2022), Sedira's multimedia installation transforms the gallery spaces into a series of carefully constructed film sets which reference specific films, as well as elements of the artist's personal history.
Dreams Have No Titles addresses a pivotal moment in the history of cultural, intellectual and avant-garde filmmaking during the 1960s and 70s – particularly across France, Italy and Algeria. This fertile period was especially important for pursuing filmmaking as a vehicle for collaborative practice, and as an instrument to express solidarity with liberation struggles and promote social change. Installations inspired by scenes from co-productions between Algeria, France and Italy – such as Gillo Pontecorvo's Battle of Algiers (1966) and Luchino Visconti's L'Etranger (1967), among others – provide a stage for the artist to tell her own histories: of France, of Algeria; of decolonisation and displacement; but also of solidarity, freedom and hope
Sedira will transform the Gallery's exhibition space into a series of film sets. In one gallery, visitors will find themselves in a ballroom from Ettore Scola's iconic film Le Bal (1983), and in another, a recreation of the living room from Sedira's Brixton home. A full-scale cinema will also be constructed in the upper galleries, to screen Sedira's film of the same name, Dreams Have No Titles, in which the audience will see many of the sets that they've encountered in the exhibition as a backdrop for Sedira's own shoot.
Dreams Have No Titles blurs the boundaries between fiction and reality, using cinema and performance to foreground the importance – and joy – of collective shared experiences, while simultaneously raising a warning about the failure of the emancipatory dream that for many people remains an unfulfilled promise.
Alongside the exhibition, Sedira in collaboration with fellow film enthusiasts and specialists, will curate a programme of liberationist cinema, highlighting the international networks of cinema that emerged in the 1960s and exist to this day and inviting further discussion.
Zineb Sedira: Dreams Have No Titles runs from 15 February – 12 May 2024.
Further Information: Zineb Sedira: Dreams Have No Titles - Whitechapel Gallery