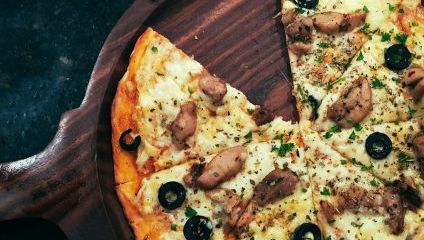 Manchester has become one of the best foodie cities in the UK and is known for its wide, eclectic range of restaurants, cafes, and eateries, including some fantastic gluten-free destinations that are definitely worth knowing about. So whether you're coeliac, gluten-sensitive, or trying to be that little bit healthier, we've rounded up some of the best gluten-free restaurants in Manchester to satisfy your every food desire.
---
Dough Pizza Kitchen
Dough Kitchen is the most important restaurant for anyone gluten-free to visit in Manchester. If you love Italian food and you yearn for delicious, perfect pizza, there's no better place to go than here. Gluten-free customers will be overjoyed by Dough Pizza's ability to make anything on their menu without gluten, and it's hard to find a better pizza base than the one they make in their restaurant. All gluten-free orders are specially made in a separate kitchen, and you'll be wowed by the friendly service, care, and consideration Dough Kitchen's staff take with every order. Not only is this restaurant great for pizza, but it also offers delectable pasta dishes too. So if you're a gluten-free foodie after an Italian fix, this is the best place you could possibly go.
Dough Pizza Kitchen via Twitter @DoughMCR
Dough Pizza Kitchen is located at 77 High St, Manchester M4 1FS.
---
Pho
There are few things more satisfying than a big, steaming bowl of hot pho, and luckily for those following a gluten-free diet, you don't need to worry about eating choices when dining here. With its extensive gluten-free menu, this Vietnamese restaurant is a haven for those looking for delicious food that won't cause any gluten-related health issues. The majority of items listed on its menu are gluten-free and accredited by Coeliac UK. There is so much to choose from here, including their specialty rice noodle soups, fresh salads, and wok-fried dishes, all made with gluten-free soy sauce and other coeliac-approved ingredients. This is a must visit pho-sure!
Pho (c) Lee Sam
Pho is located at 37 Hanging Ditch, Unit 15, The Corn Exchange, Manchester M4 3TR.
---
Evelyn's Café Bar
Based in Manchester's trendy Northern Quarter neighbourhood, Evelyn's Café Bar focuses on serving delicious, healthy food packed full of flavour and nutritional benefits. A lot of the restaurant's menu is gluten-free and its menu clearly defines what is and what isn't suitable for its gluten-free customers. The food served here is modern and classic, and many of the dishes have an Asian twist to them. Evelyn's dishes are packed full of big, bold flavours that take gluten-free dining to the next level. Korean fried chicken, seared mackerel with black rice and veg, and lamb with pomegranate salsa are just some of the many delectable options on offer here, and with their generous portions, you definitely won't leave feeling hungry!
Evelyn's Cafe Bar (c) Maria Chiara Marichesi
Evelyn's Café Bar is located at G18 Tib St, Manchester M4.
---
Mowgli
Based within Manchester's Corn Exchange, Mowgli is one of the best Indian restaurants in the city centre. Specialising in authentic Indian street food, Mowgli provides both a separate gluten-free menu as well as a vegan menu to enjoy. Traditional Indian food usually favours gram and chickpea flour over wheat flour, and as Mowgli is all about traditional Indian fare, their menu is perfect for gluten-free customers. From dahls to lamb keema and Mowgli's special sticky wings, you'll be delighted by their wide variety of eating options and wowed by their big flavours and mouth-watering spice combinations.
Mowgli (c) Luca Fabbri
Mowgli is located at 6, Corn Exchange House, 37 Exchange St, Manchester M4 3TR.
---
Sweet Mandarin
It can often be challenging trying to find a Chinese restaurant that caters for gluten-free customers – look no further than Sweet Mandarin. Not only does this Chinese restaurant provide a gluten-free menu, its wide variety of choices won't make you feel like you're being cheated out of your favourite Chinese treats. From sweet and sour battered king prawns to black bean chicken, Sweet Mandarin knows its gluten-free customers want as much choice as everyone else, and cater for everyone accordingly. This is a must-visit for anyone looking to assuage their Chinese food hankerings, and when it comes to gluten-free fare, it doesn't come much better or tastier than this.
Sweet Mandarin (c) Sweet Mandarin
Sweet Mandarin is located at 19 Copperas St, Manchester M4 1HS.